Ft. Walton Beach FL 10-10-10
Whenever a Ninja of feudal Japan went on a Mission and returned safely, it was customary for him to make a report to the elders of the tribe so that they might evaluate what he had learned and gather intelligence about things outside the tribal domain. Many times this was done by reciting the events in one long verbal de-briefing session. Either to a designated Chunin, or middle level agent. Or, to the Grand Mute. This was usually a statue where a sentry would be positioned behind or nearby to overhear the report spoken to the stone face. Or, a masked figure who did not speak, so that no one knew for sure to whom the report was made. This was part of the security of the clans so that the real leaders of the Ninja were not known even to their most loyal followers. That way they could not be betrayed even under torture.
The following activity report was made verbally to the Grand Mute upon Kim-Sensei's return from Ft. Walton Beach and was de-classified on 12 October 2010 for publication and distribution among our martial arts fellowship. Please note that the date of this meeting, October 10, 2010; 10-10-10, is a unique numerical sequence. It is the tenth day of the tenth month of the tenth year. The twelfth year in this sequence will be the Year of the Dragon.
0830-10 October 2010-Saturday
Training seminars are offered all over and many look into every means in order to afford attending these seminars, saving year-round, tips, and many other ways as well. The doors opened and registration began for the training seminar of Grandmaster Stoffel van Vuuren of South Africa who was hosted by the Emerald Coast Dojo of Shotokan Master Joe Cayer, Ft. Walton Beach FL.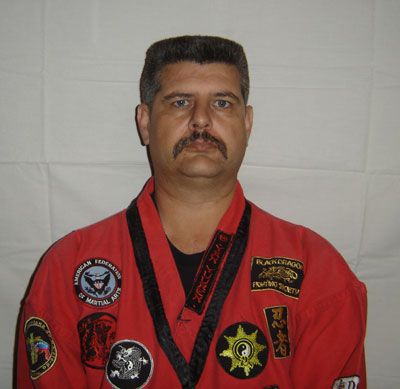 As Black Dragon Fighting Society International Grandmaster, he often makes such tours to affiliate Dojo to grade students and present new techniques for addition to the training syllabus. He is recognized by the South African government as a fully accredited Professor of Martial Arts and Science. Soke van Vuuren is a 10th Dan Ninjitsu, 6th Dan Ju-Jitsu, 1st Dan Atemi Jitsu, 10th Dan JKA Shotokan, Master Instructor Level Yang Tai Chi Chuan and Guru Kali/Escrima, 5th Degree Yamaguchi Karate - India as well as 5th Degree Shaolin Temple Master. He is a well known Martial Artist of long standing with 34 years of experience, trained in Rising Sun, Shotokan, South African Jujitsu, Atemi-jitsu and Ninjitsu. Soke Stoffel van Vuuren, Prof, Ph'D, D.Sc. is the Regional Director of AFMA in South Africa and is listed in the Hall of Fame 2001 AFMA.Shidoshi van Vuuren has trained with Grandmaster Shihan Barry Pictor and Soke Ashida Kim, Master Johan Gerber, Master Ken Wittstock, and Master Stan Smith.
"Emerald Coast Martial Arts of Ft. Walton Beach, located in the Florida panhandle is a traditional, no nonsense, private dojo nestled in between Destin and Pensacola, FL-home to the sugar white sands along the Emerald Coast! We offer Shotokan Karate Do, Police Street Tactical Instruction, Iai Do, Kubodo and Women's Advanced Street Tactics Courses. All courses taught by Grand Master Joe Cayer, 8th Dan. We are also in affiliation with the International Fighting Arts Association and Official Black Dragon Fighting Society."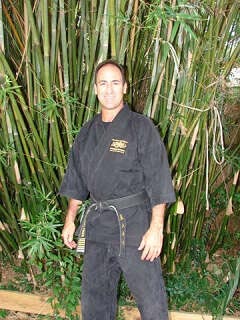 "Teaching conformity in society to a new student is minimum wage. Your wisdom is not exercised in this manner. Direct your focus. Review your Mindset. You must lead the ones that will follow. Feed the ones that will eat. Rise up the ones that will rise to all occasions. So that one day your influence on this one student is compounded and your name is whispered in reverence not jest. For one day the student will also become the teacher. Your actions and the result of your actions are seeds. Will your seeds grow prosperity and integrity or will they manifest a liability to society? Reflect now on your teachings. Teach-adjust-grow-teach again. Oss!"
The class began with introductions of the attending Grandmsters and a brief overview of the material that would be covered over the course of the next two days. Sensei van Vuuren warned them all that, "We train a bit harder in South Africa because of the history and traditions of our country and the strong influence of the martial arts that came and developed there. In our schools, many times, if there is not blood on the floor it was not a good class. So, if you get injured or bruised, know that it is in the spirit of good fellowship and serious training for real life."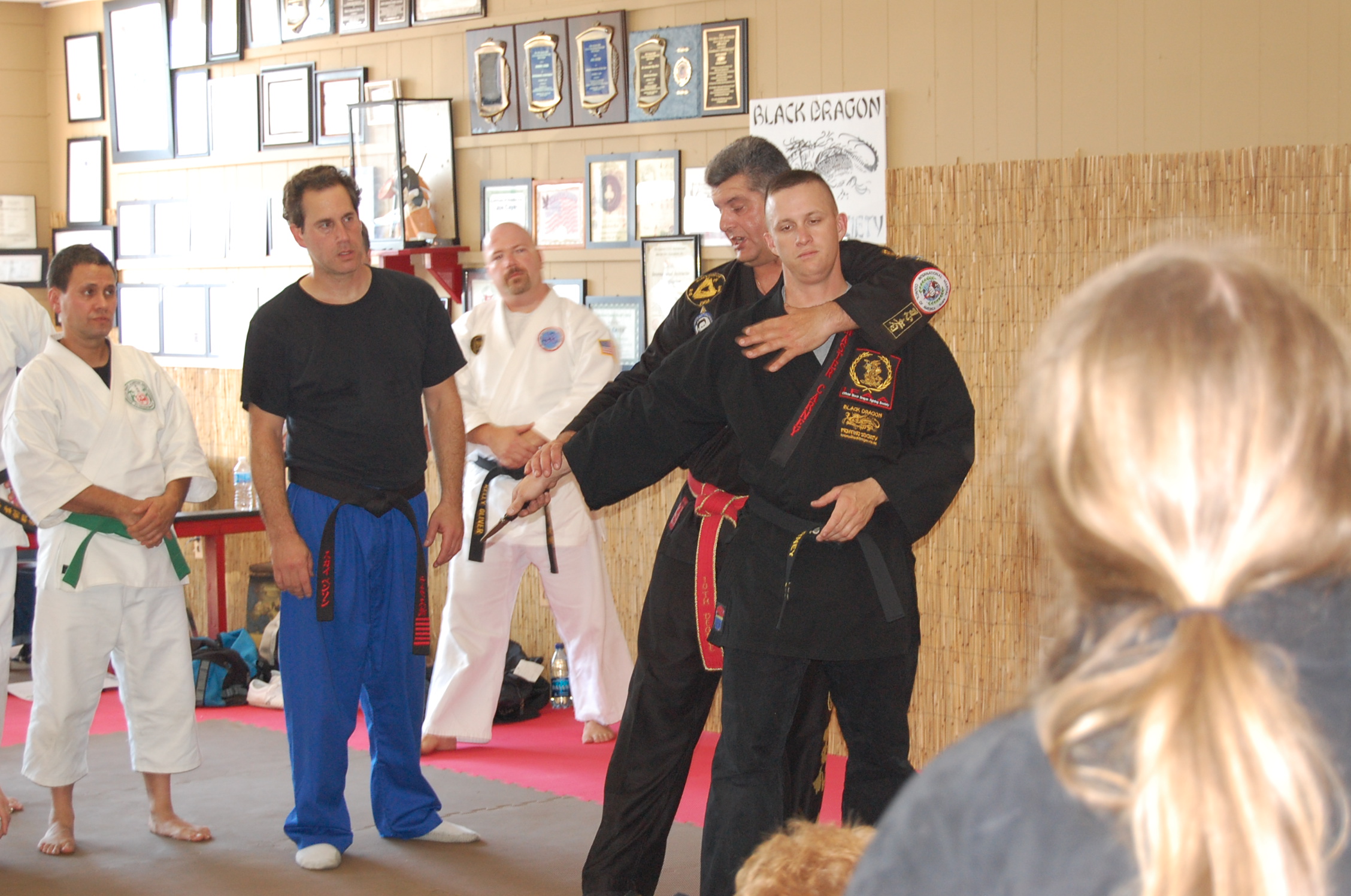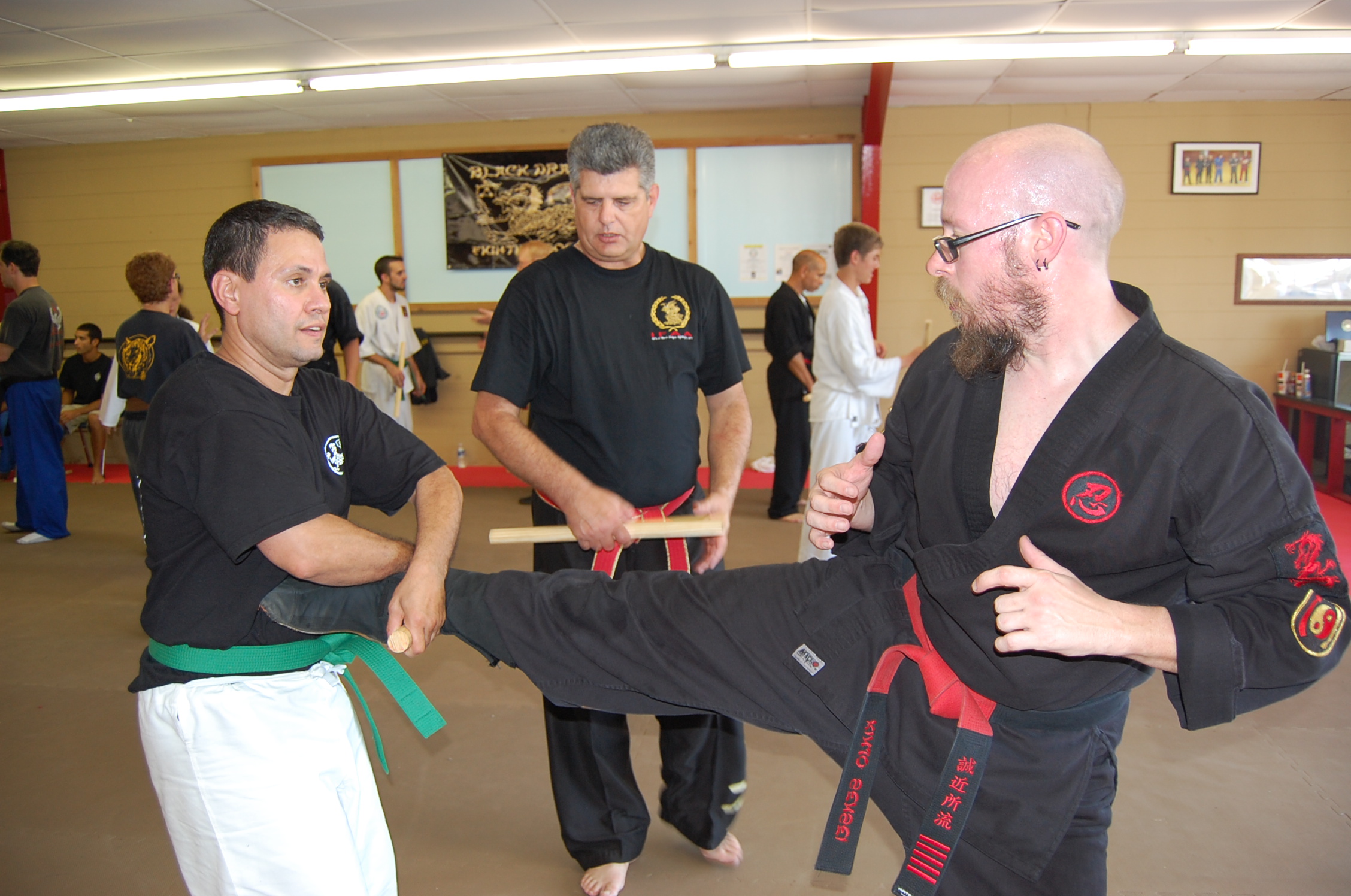 Grandmaster Stoffel van Vuuren instructing in technique and supervising practice
To paraphrase one participant, "Soke van Vurren is a great instructor! I love the intensity and the quality of the material. As a matter of fact when he and I talked briefly and I introduced myself as a Ninjitsu practitioner he immediately took me over and presented me with a Koga patch and told me to place it on my uniform and I will be honored to do so! It was another one of the great moments of the weekend. My friend and student Tony also had such a great time we will be bringing that passion to our own dojo this week!"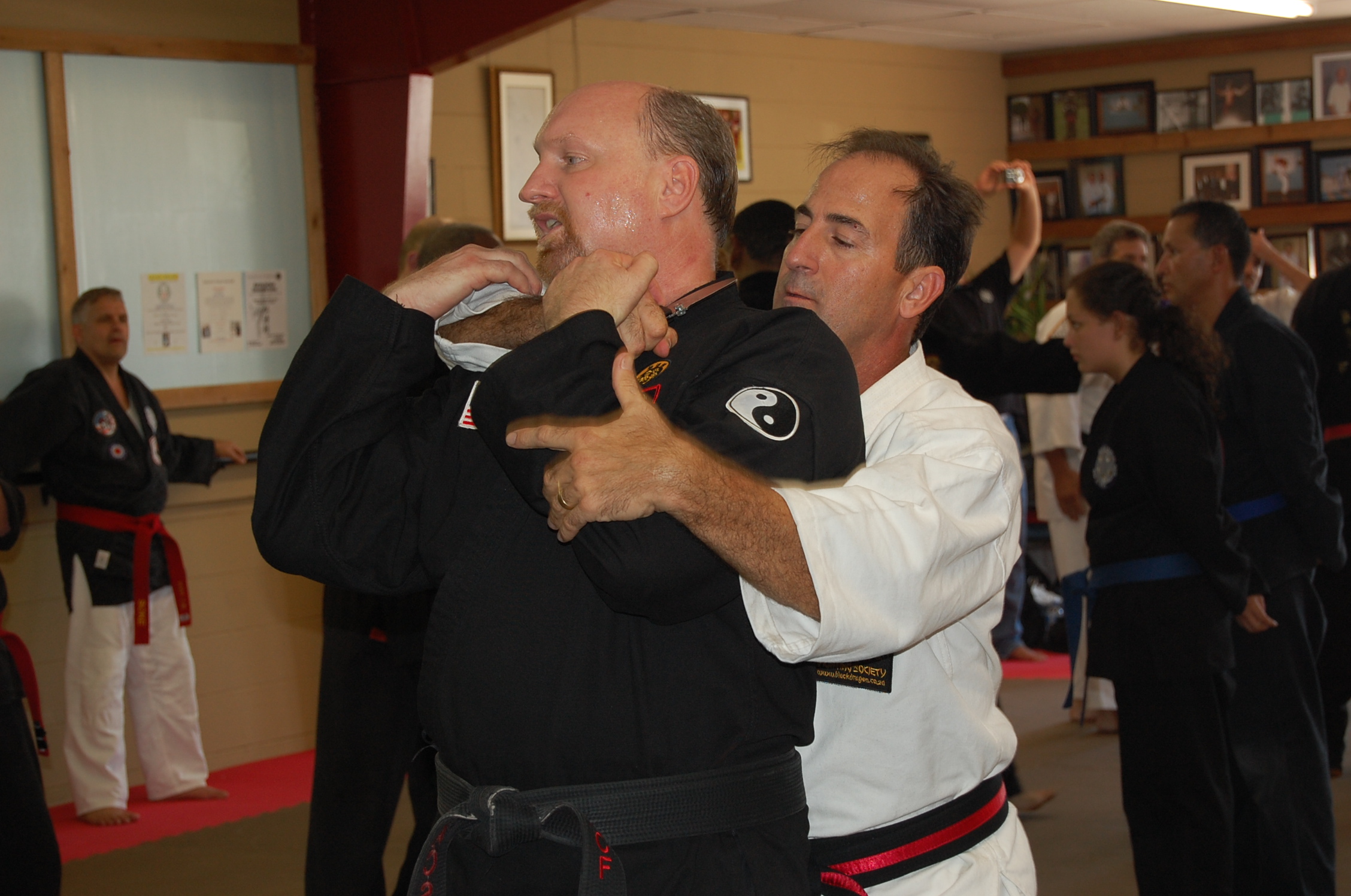 Practicing "Escape from Knife Against the Throat from Behind"
The training went on until well past noon. No one wanted to stop for lunch because they were having too much fun. But, an hour break was called to give everyone a chance to recuperate and rehydrate before the second half of the day.
Grandmaster John Enger from Shinja Martial Arts University was also in attendance. Meeting and speaking with visiting Sensei, some of whom had traveled twenty hours to take part in this event.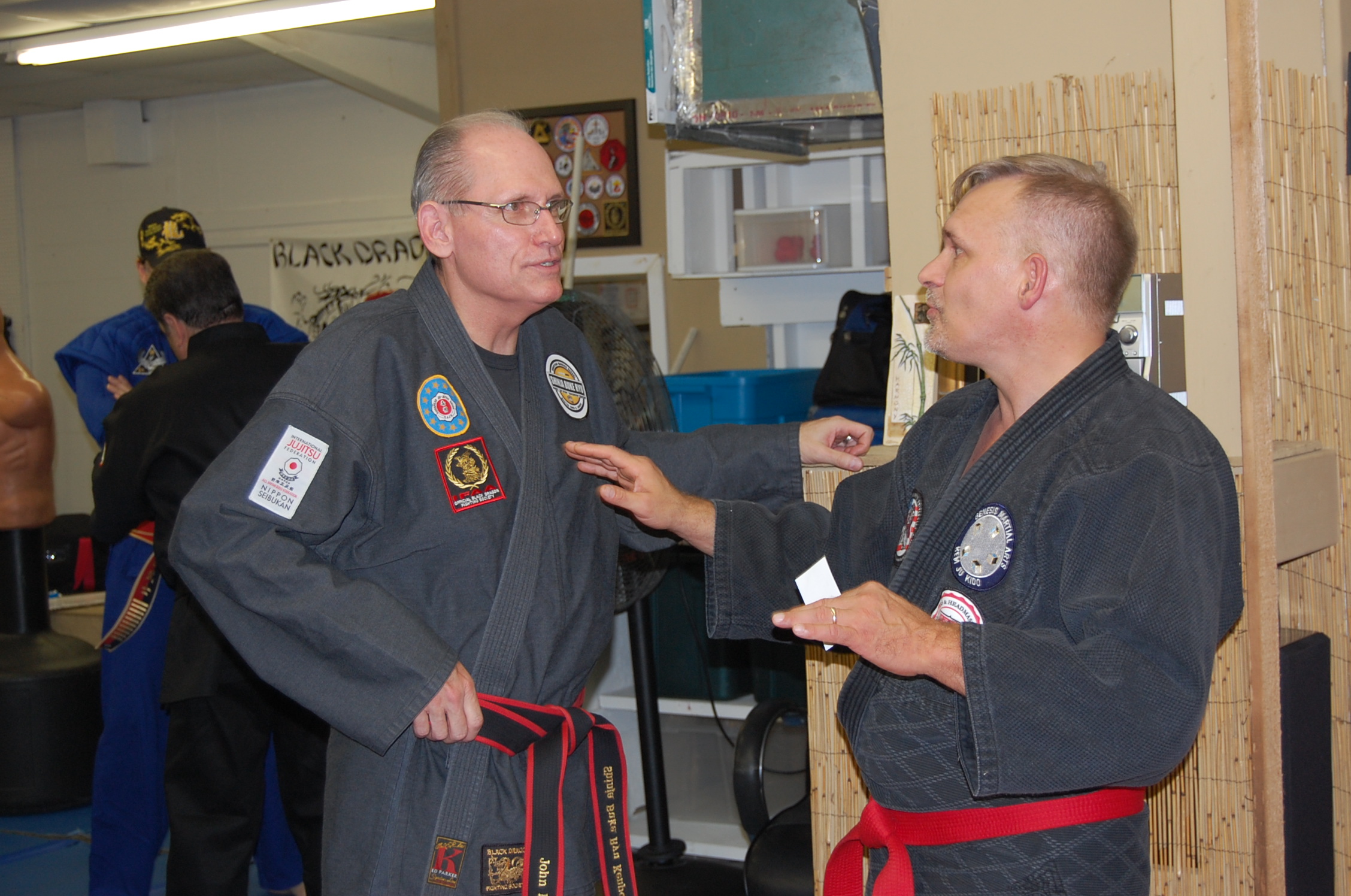 Sensei Enger is a licensed Private Investigator in the State of Florida. He is a Certified Instructor in the "Defender" self-defense tool developed by Master Peter Brusso. He is also ranked as a 1st Degree Black Belt in IPP Krav Maga/Certified Instructor -Level 2 under Master Alberto Merlo. He is Certified as a FORSVAR Defense System Instructor, Mizu No KoKoro Passive Defense System Instructor and Tactical Baton Instructor under Master Fernan Vargas. He began his martial arts training in Minneapolis, MN at the age of 15 under 1st degree black belt, Tom Simons (Tae Kwon Do). He later became a police officer for the University of Minnesota Police Department for a period of 22 years, retiring with the rank of Lieutenant Commander.  
By now everyone was relaxed and comfortable with the presentation method and the drills. The afternoon class was even smoother and covered even more material than had been planned because of the great rapport and synergy among the students. Each was able to train with a variety of partners, each had a turn as Uke and Tori, each received personal instruction from the Grandmaster as he shared his great knowledge with them. The day ended with the presentation of awards and promotion certificates by Grandmaster John Enger and Professor van Vuuren to those who had demonstrated outstanding skill and ability in promoting and practicing the martial arts.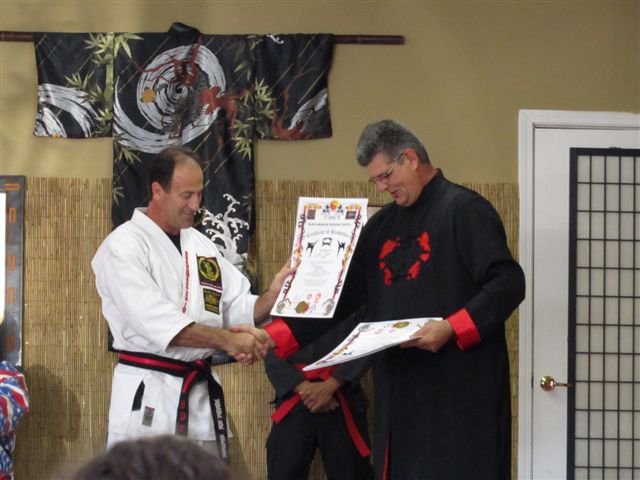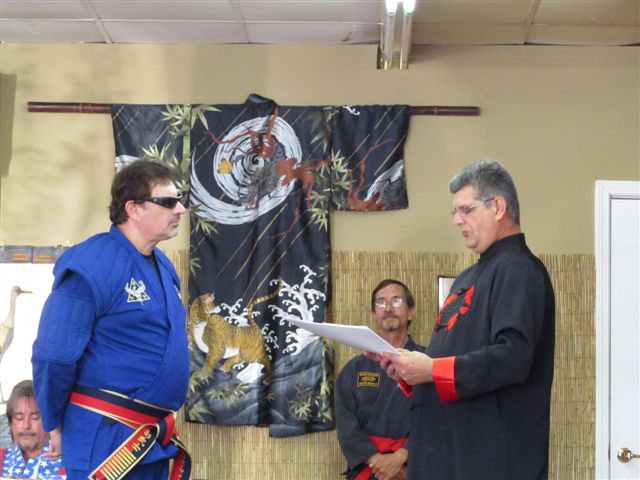 Master Joe Cayer and Hanshi Frank Dux receiving full university degrees in martial science sanctioned by the South African government
After class everyone was invited to Sensei Cayer's home, for bar-b-que prepared by our Lexington KY affiliate members, who journey at their own expense each year down the long Copperhead Road to provide this service for our brotherhood. A live band entertained the assembled crew into the night. But, no one stayed too late, because another day of training lay ahead.
0900– 11 October 2010- Sunday
The second day of training dealt with pressure points and the application of Chi, the vital life-force. Grandmaster van Vuuren, having trained extensively in Japan and China in these arts, and holding a Doctorate in Alternative Medicine is one of the few people in the world qualified to speak on and demonstrate this subject by which an opponent can be rendered unconcious with mere fingertip pressure. One volunteer collapsed entirely and had to be resuscitated using energy therapy and Chi Kung techniques ancient thousands of years ago, known only to a few, that are capable of such restorative powers.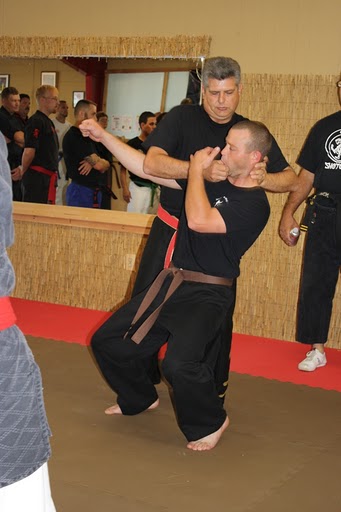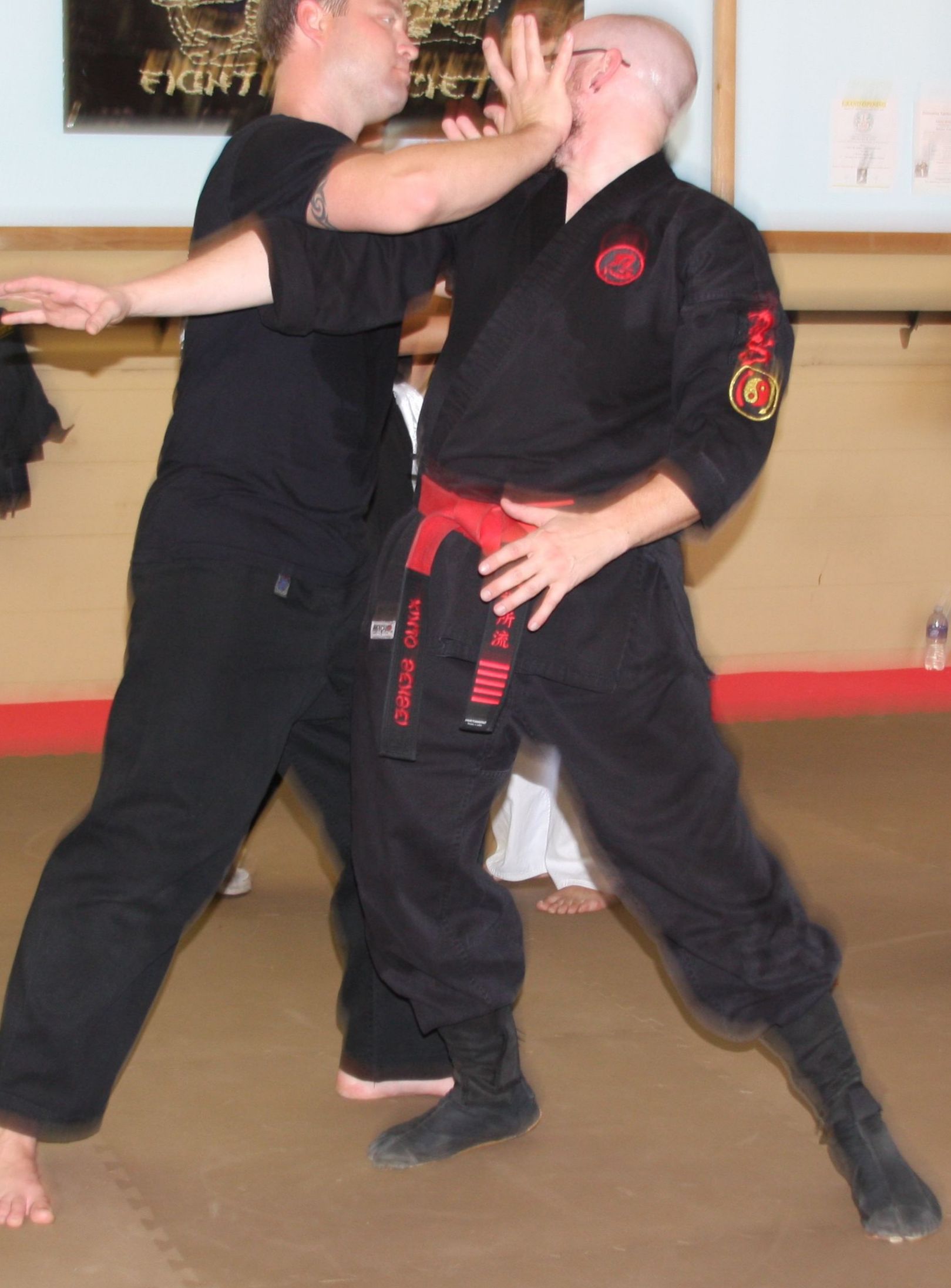 Demonstrating and practicing the Mandible Claw Technique
In Judo such techniques are called Kappo and are intended for use when an opponent has been choked out or strangled. This was a much higher level of Dim Mak, the forbidden delayed death touch of martial arts legend. Volunteers must be strong and fit. No prior medical conditions such as high blood pressure or heart condition, no one on medication or subject to seizures. Once he had passed out he was so relaxed it took three people to sit him upright. They crossed his legs to bring the blood flow back to his vital organs as Grandmaster van Vuuren administered the antidote, striking softly and pressing on several secret acupuncture points before the volunteer began to breathe again. His jaw was slack and his eyes were blood red. Slowly, with great care, he was revived, helped to stand, and "swept" of the energy that had knocked him out. In a few minutes, he was well and clear headed, suffering no ill effects. One witness to these events remarked that he had been to a thousand seminars and he had never seen anything like that.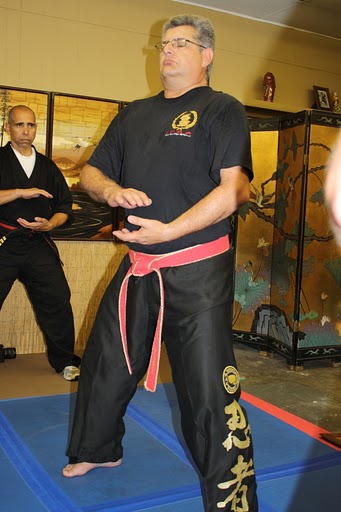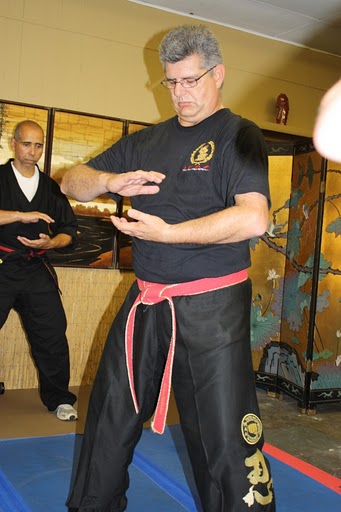 Soke van Vuuren demostrating the cultivation of Chi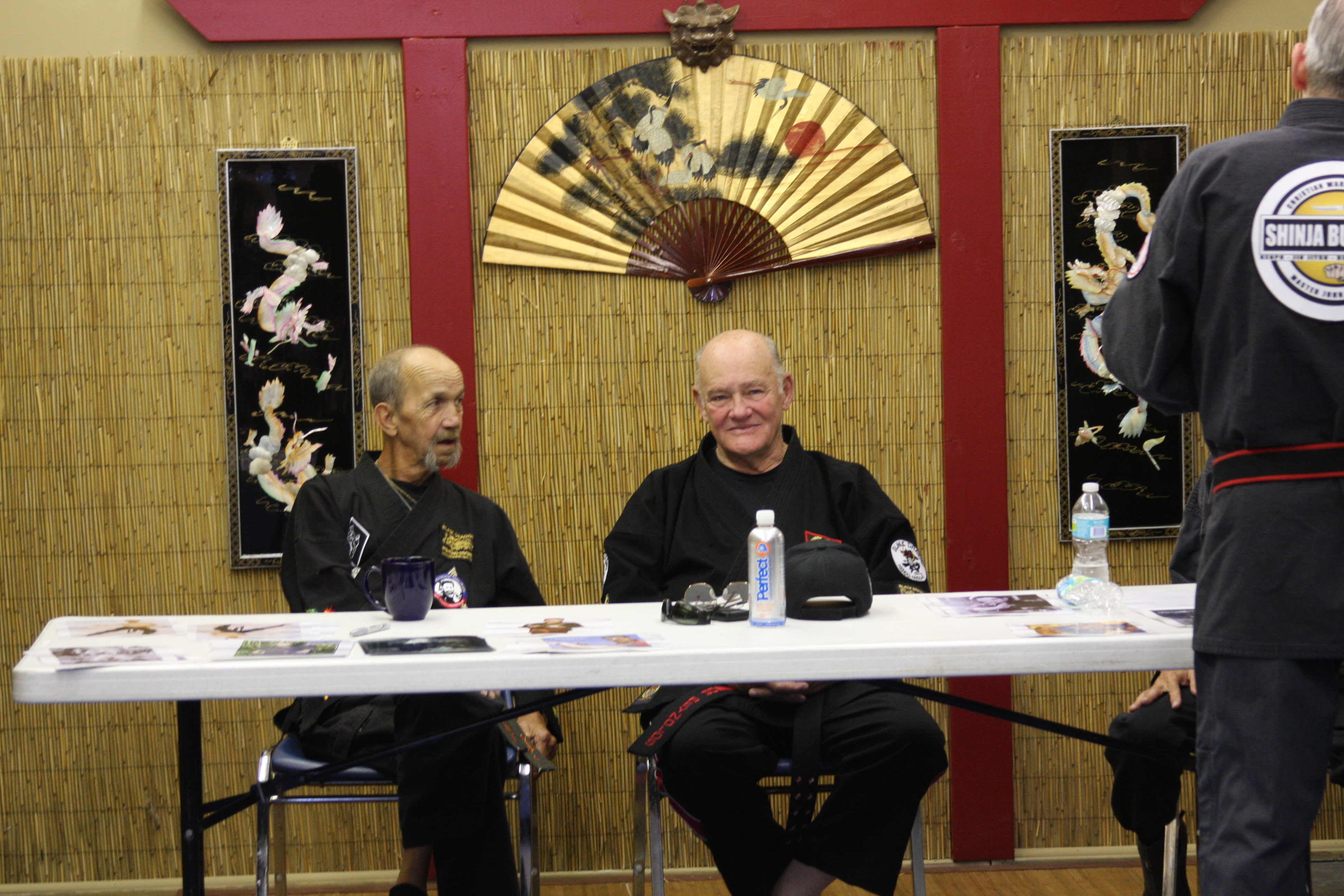 Grandmaster Lawrence Day and Shihan Ernie Reynolds observing the activities
The class concluded with a question and answer period. Then adjourned for pictures and autographs. There were many Grandmasters and Masters present at this Gathering. Not only for the training and fellowship, but also for the annual meeting of the Council of Elders, where we discuss our plans and operations for the coming year. These consultations are, of course, "sub-rosa."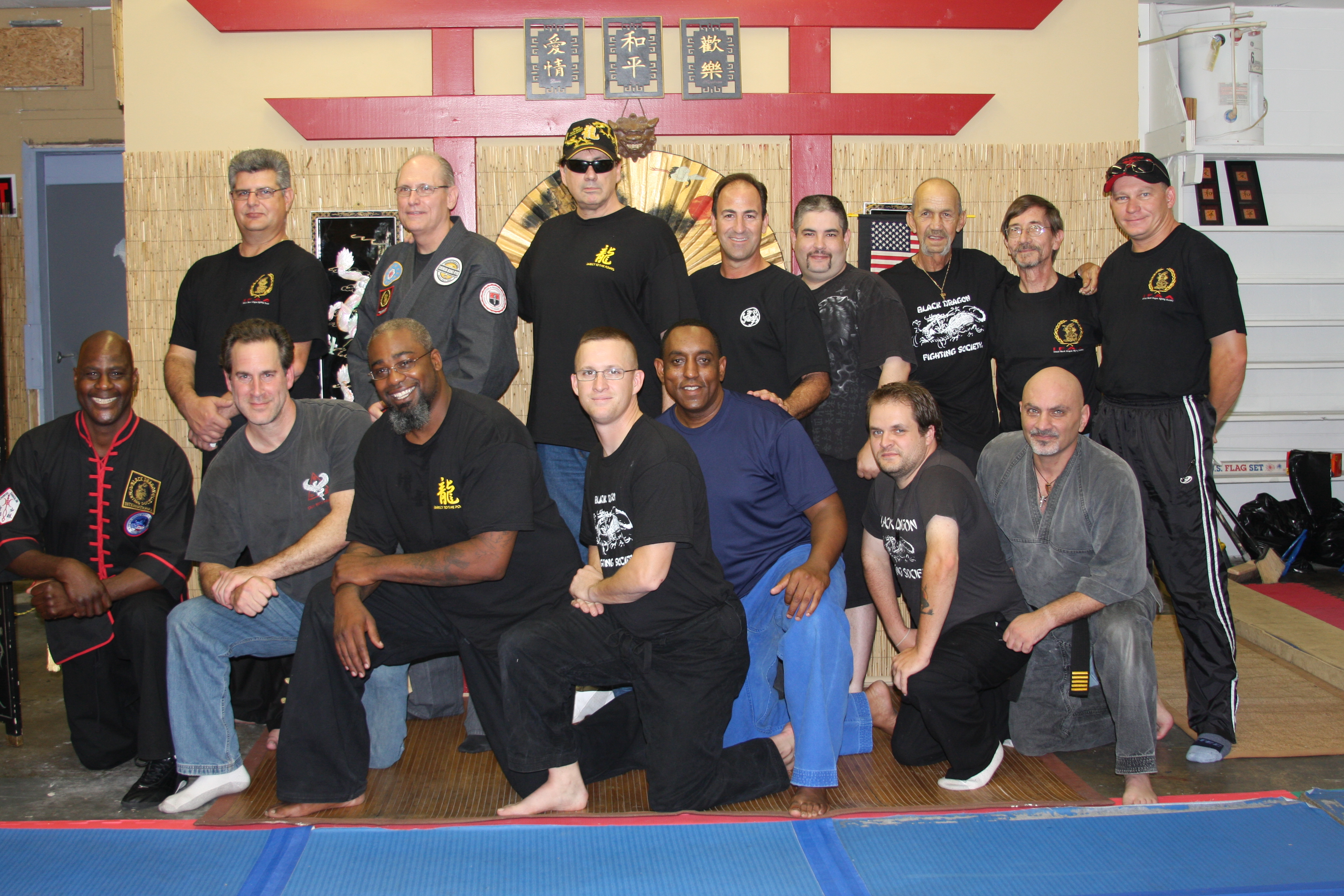 There is a great deal of controversy associated with our fraternal order. Mostly fabricated by lesser men who are jealous of our fellowship and camraderie. Some say it is a brutal street gang. Others harken back to the Japanese and Chinese heritage of our most ancient and honorable Order of Brotherhood.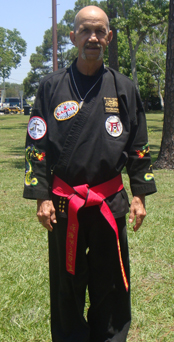 This year we gathered to hear the true history and lineage from one who was there and lived it all. Grandmaster Lawrence Day shared with us the true history of the American Black Dragon Fighting Society. How John Keehan and Doug Dwyer had trained together with Robert Trias, the father of American Karate. How they had promoted the martial arts in the mid-West and sponsored some of the first tournaments ever held on US soil. How they had broken away from Trias and formed the World Karate Federation. How John became associated with Senzo Tanaka and formed the American Black Dragon Fighting Society. How he changed his name and became Count Dante and sold the World's Deadliest Fighting Secrets through comic book ads. How Dante had written a letter that made Frank Dux eligible to participate in the Kumite and become the first American ever to win the event. He is one of the few left who know the truth of those early days of martial arts in America, and he told it to us. So, that we would remember and tell those who come after. And, light the lamps of the temple so they may find their way.
There are many grandmasters among us from many styles and all over the world and a few who are respected as patriarchs and heads of their own martial arts families. But Grandmaster Day is the heart of our brotherhood. It is his call that brings us together, to meet in fellowship and share what we have learned, so that all may benefit by it.