Hall of Honors 2013
13 September-Friday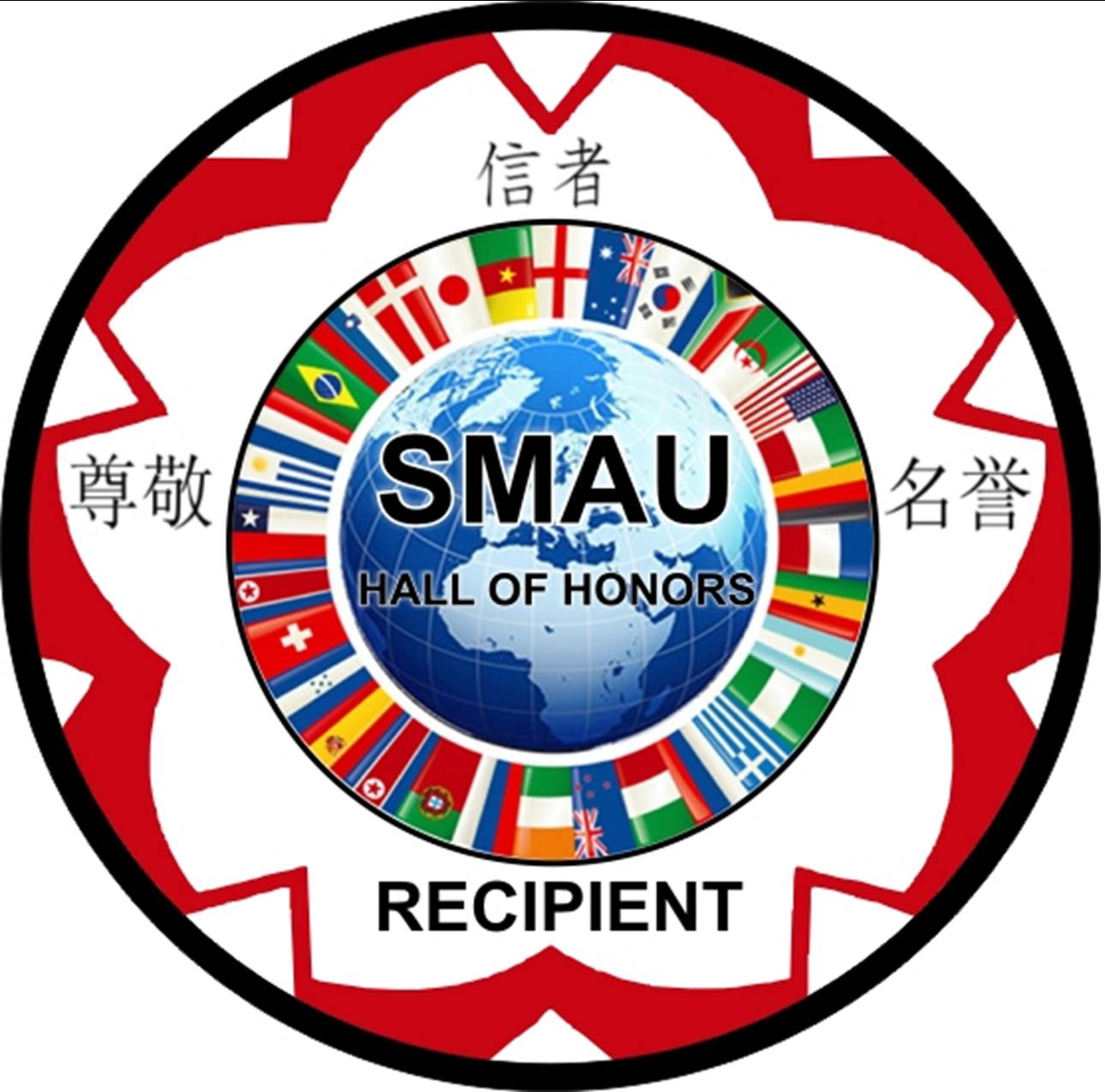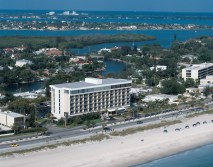 Situated on a barrier island, off the coast of Sarasota, the Holiday Inn is just steps from the powder white sands of Lido Beach. Featuring a sophisticated, yet "Florida Casual" decor, the Hotel combines a relaxed beachfront resort atmosphere with all of the amenities and services of a full service hotel. The hotel is located just two blocks away from the world famous St. Armand's Circle featuring over 140 upscale restaurants, shops and galleries. It was a perfect setting for the 2013 Shinja Martial Arts University Hall of Honors Ceremony.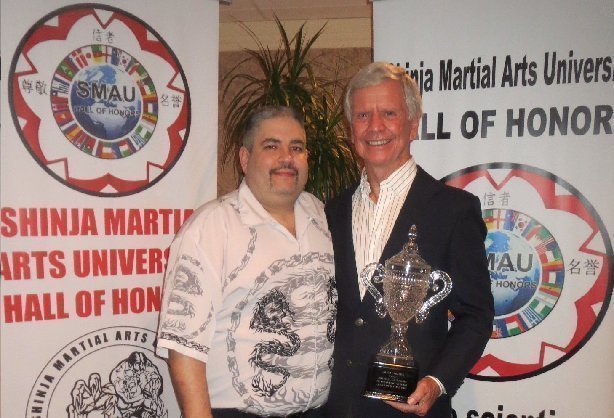 Grandmaster Harris and Dr.Carlson
Shinja Martial Arts University "Hall of Honors" honored Core Health, Dr. Ed Carlson, and 32 Facilitators/Team Members at an elegant banquet during their 3-day conference. A full day of "21st Century Martial Arts" was demonstrated with Grandmasters by Dr. Ed Carlson and Grandmaster Dr. David Harris. GM Harris is expanding energy healing emphasis for the Grandmasters. The Award Category "Energy Health Expansion" has been created to encompass this new area. Core Health Facilitators/Team Members receiving honors and awards: Dr. Ed Carlson, Founders Award, Grandmaster David Harris, Grandmaster Ashida Kim, Mary Ellen Rivera, Rick Eldridge, Rie Anderson, Phil Orth, Dr. Linn Sennott, Jewel McKeon, Johan E. Miller, Susan Butzke, Heather Honey Smith, Linda Chrystal, Linda Carlson, Brian Burke, Anthony Dennett, Daniel Funk, Beverly Barris, Jennifer Andrews, Bill Sklodowski, Matt Layman, Steve Cureton, Michael Barrett, Ellen Spivey, Dr. Livia Kohn, Dr. Carl Amodio, Alexandra, Leslie Green, Shawna Pelton, Patricia Star, Margie Lynch, Stephen Brewer. Guests: Dr. Cynthia and Dr. Courtney Clark. The "Outstanding Author Award of Distinction" was also presented to Dr. Carlson.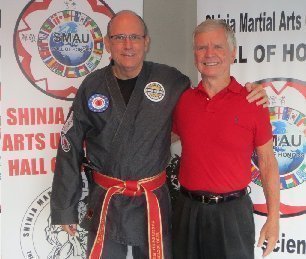 Grandmaster John Enger and Dr.Carlson
Grandmaster Enger writes: "We have formed a lasting friendship with you and your organization. What a great group of people that are part of what you are doing. I was so honored to be able to meet them. You were instrumental to making this a very successful event and I would be BLESSED to have you be part next year and be on our Senior Council."
Soke John C. Enger is the president of Shinja Martial Arts University. A worldwide Christian Martial Arts organization that oversees the following arms of the SMAU: Shinja Masters and Headmaster Council; Masters College of Martial Arts; Shinja Chaplain Corp; Shinja Ministerial Association, SMAU Hall of Honors.
John started his private martial arts training in Minneapolis MN at the age of 15 years old in Tae Kwon Do. John later became a police officer for the City of Forest Lake Police Department for a period of five years and the University of Minnesota Police Department for a period of twenty-two years, retiring with the rank of Lieutenant Commander.
During his career, he trained with numerous martial artists with various backgrounds and also received many Defensive Tactics Certifications, Classroom, Firearms and Tactical Baton Certifications at the local, state, and federal levels and was certified as a Defensive Tactics Instructor from the Federal Bureau of Investigation.
Soke Enger has taught many law enforcement officers, security officers and private individuals how to defend themselves on the street. During his career, John has received numerous commendations as well as four Citations for Heroism in the line of duty. His focus of study in the martial arts has been in Kenpo (American, Chinese and Combat), Tae Kwon Do, Combat Karate, Combat Hapkido, and Krav Maga. His emphasis has always been on martial arts that are reality based and street effective. He holds earned Black belts in several styles of martial arts and continues his Tae Kwon Do training as a 3rd Dan under United States Olympian-Luong Pham (5th Dan)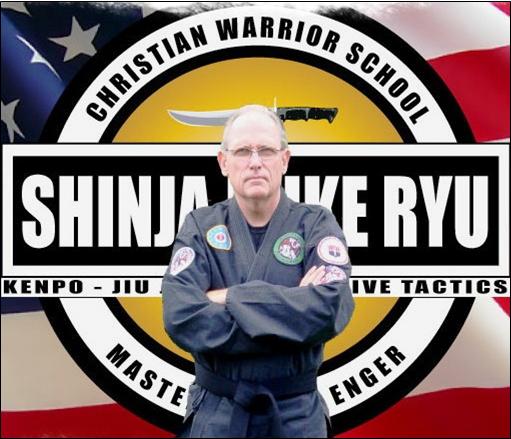 John was honored after extensive testing, review and many years of study by being awarded his 10th Dan ranking (Judan) as Founder/Soke in Shinja Buke Ryu Kenpo by Grandmaster Javier Galan of the Original European JuJitsu Union under Hanshi-President Javier Galan. Recognized as Shodai Soke by the United States Soke Council as well as the International Martial Arts Headfounders/Grandmasters Council. John has been honored by the South African Institute for Advanced Studies with a Doctorate of Martial Science and Professor of Theology and Science degrees. He has also been awarded the Doctor of Budo degree by the European JuJitsu/Jutsu Union-Vernon Bell Martial Arts Academy –World Presidium of Martial Arts.
John has been an ordained minister of the Gospel for many years and a Certified Master Chaplain with the International Conference of Police Chaplains and Senior Pastor of the Shinja Ministerial Association. He was the first Police Chaplain to start an effective Chaplain's program in a major state university, University of Minnesota. John was also the Chief Chaplain for the Sarasota Police Department for a period of three years and was awarded the Civilian of the Year Award for his work as a Judicial Liaison and Chaplain for the Department. John also spent three years as the Risk manager and Assistant Director of Operations for a the State of Florida Department of Juvenile Justice Program/Juvenile Corrections, housing high risk Criminal and Sexual Offenders.
He is a Pastoral Counselor, holding earned Graduate Seminary degrees (D.Min., Ph.D., Th.D.) as well as a Specialized Associates Degree in Paralegal Studies and Management. He has authored The Prevailing Power of the Peace Officer and Fingerprints. John has written many theological, counseling, and Biblical study courses for several seminaries and Bible Schools as Adjunct Professor and has been awarded several honorary degrees for his work in these areas.
John holds a State of Florida Private Investigator's License and has worked as a Private Investigator in the State of Florida. He is also a Personal Protection Expert and Security Consultant.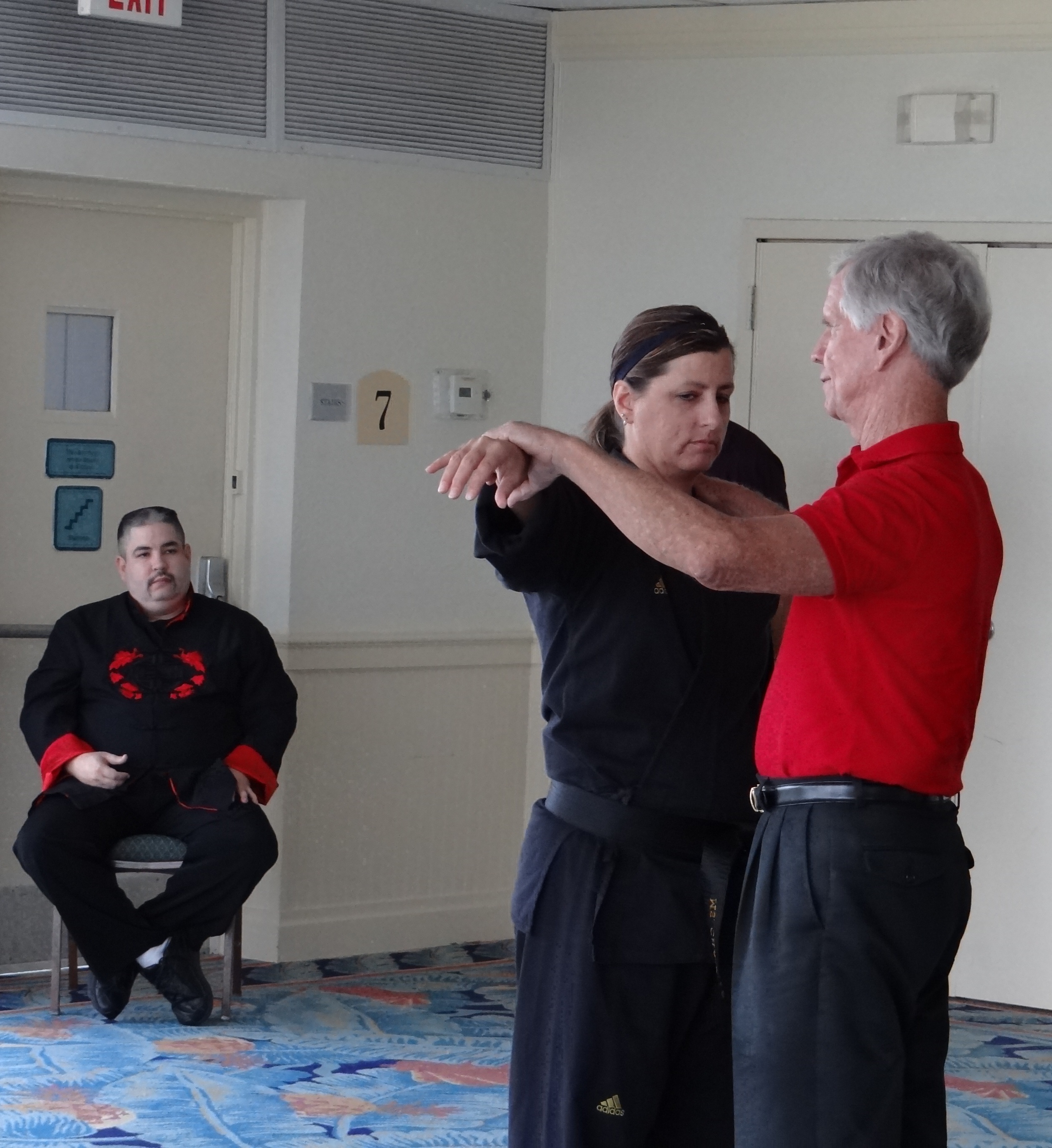 21st Century Martial Arts
Grandmaster Harris and Dr. Carlson presented the first seminar of the gathering. Showing how Core Health and Shun Shen Tao techniques could be used to enhance the performance of skills already developed. As Grandmaster Harris explained, "The whole of the universe cannot be put into a test tube nor under a microscope. To understand martial arts, one must look deeper than styles. One must look inside themselves. Martial Science and Martial Studies are all reflections of you. Because all knowledge ultimately means self-knowledge of mind,body and spirit. The study of one's self is what martial arts are truly about."
Dr. Carlson's focus was on factors that enhance Life Energy. He demonstrated the common causes of imbalance and self-limiting behavior using the same Muscle Response Testing Method used by chiropractors and physicians for centuries to detect illness and disease. Then, using the practical applications of Core Health, showed how to overcome and dispel those forces so that natural energy can flow in harmony and good health.
The class was a great success, with everyone learning Iron Body and the Three Treasures of Shun Tao, Qi, Jing, and Shen.
Mang Ho Bully Awareness and Self-Defense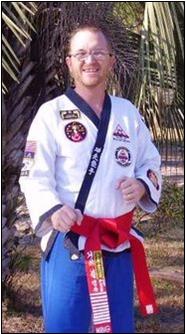 Next up was Soke Jay Blanton. Soke Blanton was born in Sheffield AL in 1959. He was born with a cleft palate which impaired his speech. He was one of those unfortunate students in school who got picked on all the time. Which led him to study martial arts. Soke Blanton started his training in Martial Arts in late 1974 at a local community center by suggestion of a friend to give him confidence and the ability to take care of himself. He took Tae Kwon Do under Master Hee Sang Choi from 1974-1979 He studied under Master Haeng Ung Lee and Master Richard Hedrick, who was founder of the Professional Amateur Karate Union in the styles of Tae Kwon Do, Isshinryu, Kung Fu, Jujitsu, Judo, Aikido from 1979-1987 He received his 1st Degree Black belt in Isshinryu Karate in 1981; in 1983, he received his 3rd Degree Black belt in Tae Kwon Do and was promoted to Alabama State Representative and State Director for the PAKU from 1983-1987 In 1985, Soke Blanton was awarded the Alabama State Instructor of the Year from PAKU, inducted in a Karate Museum in Gatlinburg TN and received the Presidential Sports Award from President George Bush Sr. Soke Blanton was a member of the PKA (full contact karate) from 1980-1984 and retired from the circuit in 1985.
Soke Blanton studied under several different instructors and in 1989 received his 4th Degree Black Belt in Tae Kwon Do from Master Bo Jick Ro; also in 1989, he received an award from Tae Kwon Do Times Magazine. From 1990-1992, Soke Blanton trained under Master Y. K. Kim in Orlando FL and received his International Certified Instructor and Examiner and Judge certifications.
In 1992, Soke Blanton joined the World Black Belt Bureau and trained under Master Kang Rhee, the instructor of Elvis Presley, and earned his promotion in 1993 to Master 5th Degree Black Belt in Tae Kwon Do, and in 1995 Master 5th Level Black Sash in Kung Fu and earned a Black Belt in Pasaryu Karate. In 1993, Master Rhee named Soke Blanton's style of Martial art Mang Ho, or "tiger," which was Master Rhee's nickname for Soke Blanton.
In 2002 Soke Blanton was granted Sho Dia Soke of Mang Ho and promoted to 10th Degree Black Belt by the Hawaii Martial Arts International Society, founder Professor Jaime Abregana Jr. and the American College of Martial Science, Dr. Jason Hunt. And, on May 24th 2006, the European JuJitsu Union also promoted Soke Blanton to Grandmaster 10th Degree Black Belt in Mang Ho by Dr. Javier Galan Vasquez.
Dynamic Training Drills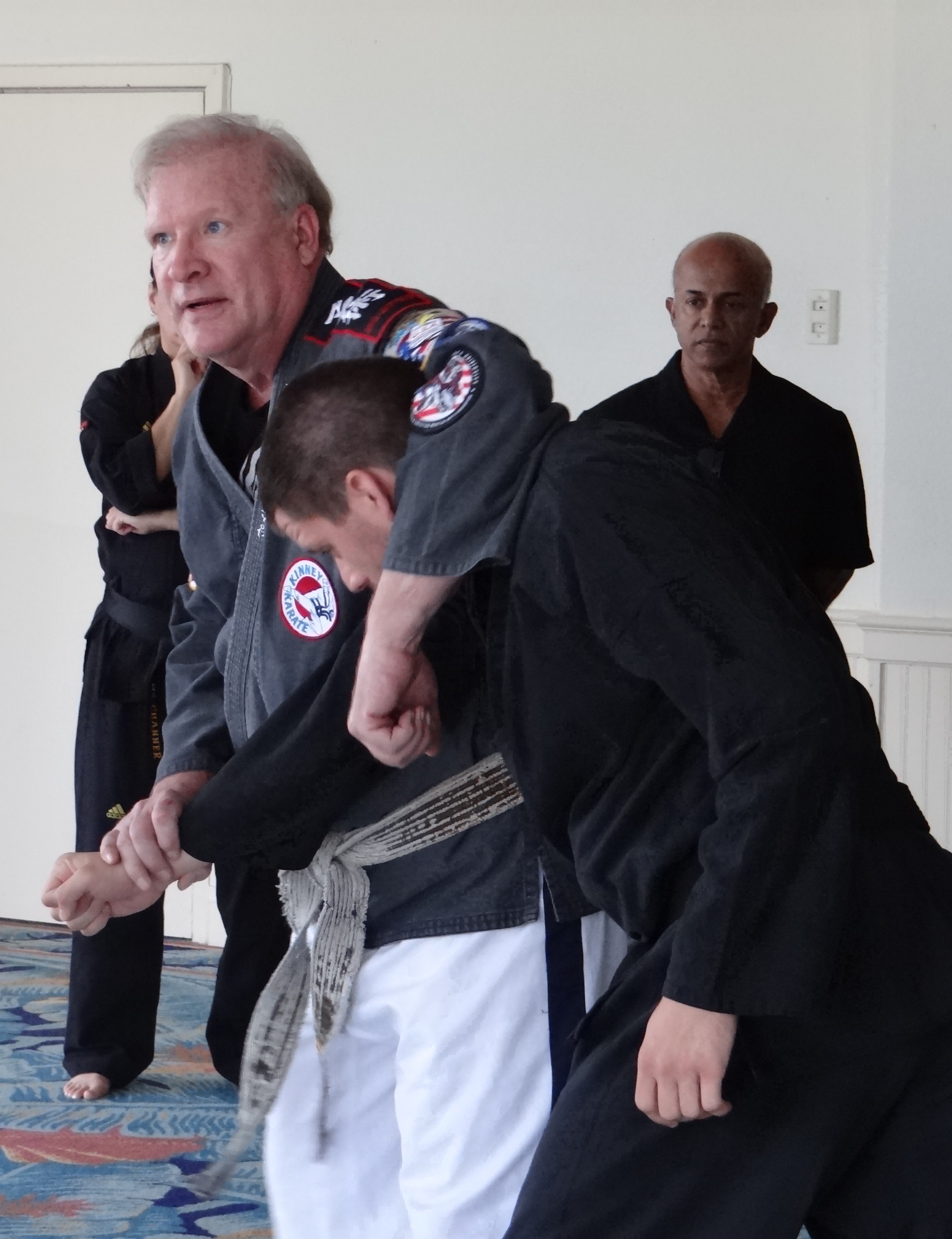 After lunch it was Grandmaster Michael Kinney's turn to demonstrate many of the dynamic action drills that have made him a legend in the martial arts world. He has been featured in Black Belt Magazine, U.S. News and World Report, Professional Karate Magazine, Washington Post Magazine, and Karate Illustrated,among others.
Mr. Kinney serves on the Executive Advisory Board of the EUSA International Martial Arts Association.
His numerous television appearances have included NBC's Today Show and ABC's Wide World of Sports. Mr. Kinney was also the host of Kinney Karate World, a series syndicated nationally and produced by Group W Television.
During his martial arts career, Michael Kinney has earned an international reputation as a leading competitor, coach, competition official, seminar leader and instructor.
Mr. Kinney is the founder and director of Kinney Karate and currently teaches in St. Petersburg FL Kinney Karate is one of the largest Karate schools in the nation and is recognized internationally. Kinney Karate has produced over a thousand Black Belts, many of whom own schools throughout the world. His enthusiasm and willingness to share his knowledge and experience never fail to inspire.






Principles of Street Combat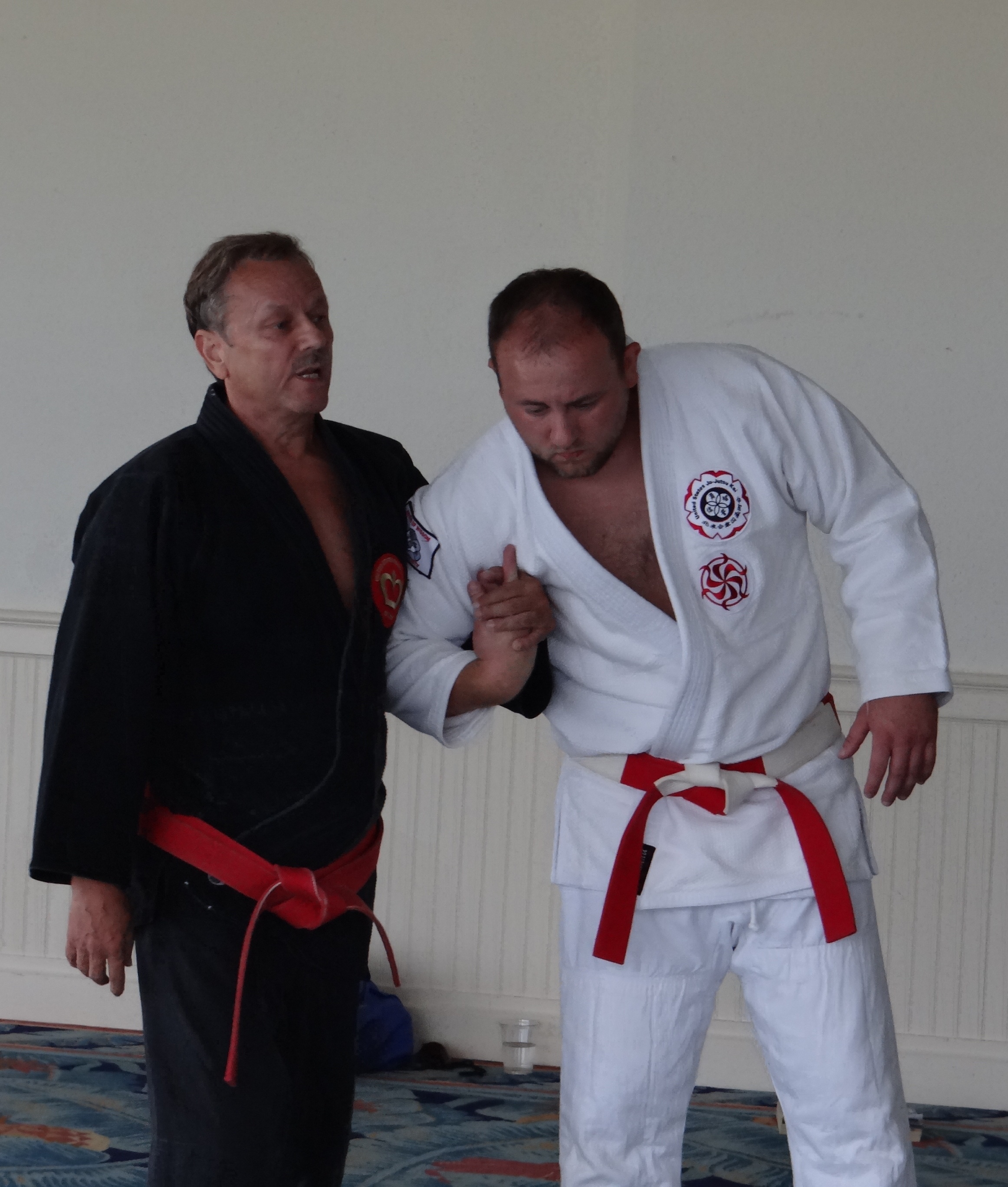 Shodai Soke Rick Greene and Nidai Soke Chris Greene were next up on the agenda. Their system, Bushi Ryu Ju-Jitsu was founded in 1986 by Soke Rick Green. He began his training n 1978. Since that time he has been practicing various martial arts. Bushi Ryu Ju-Jitsu has a wide range of techniques and set drills to help the student understand self-defense and fight control. The art is fifty percent standing and fifty percent ground grappling. The art is recognized by the United States Ju-Jitsu Kai and many more.
The philosophy of an art gives direction to that art, Bushi Ryu Ju-Jitsu is an excellent example of this, in that it has a philosophy of preventing further violence. Thus, all the techniques are approached with the idea of Contact, Capture, and Control.






Friday Night
The first day ended with the assembled classes, students and masters chatting about the day's events and the anticipation of even more to come on Saturday. The weather was glorious and the local cuisine was excellent. Just the right time for a long moonlit walk on the beach, gazing at the clear night sky and enjoying the evening fireworks in celebration of the weekend.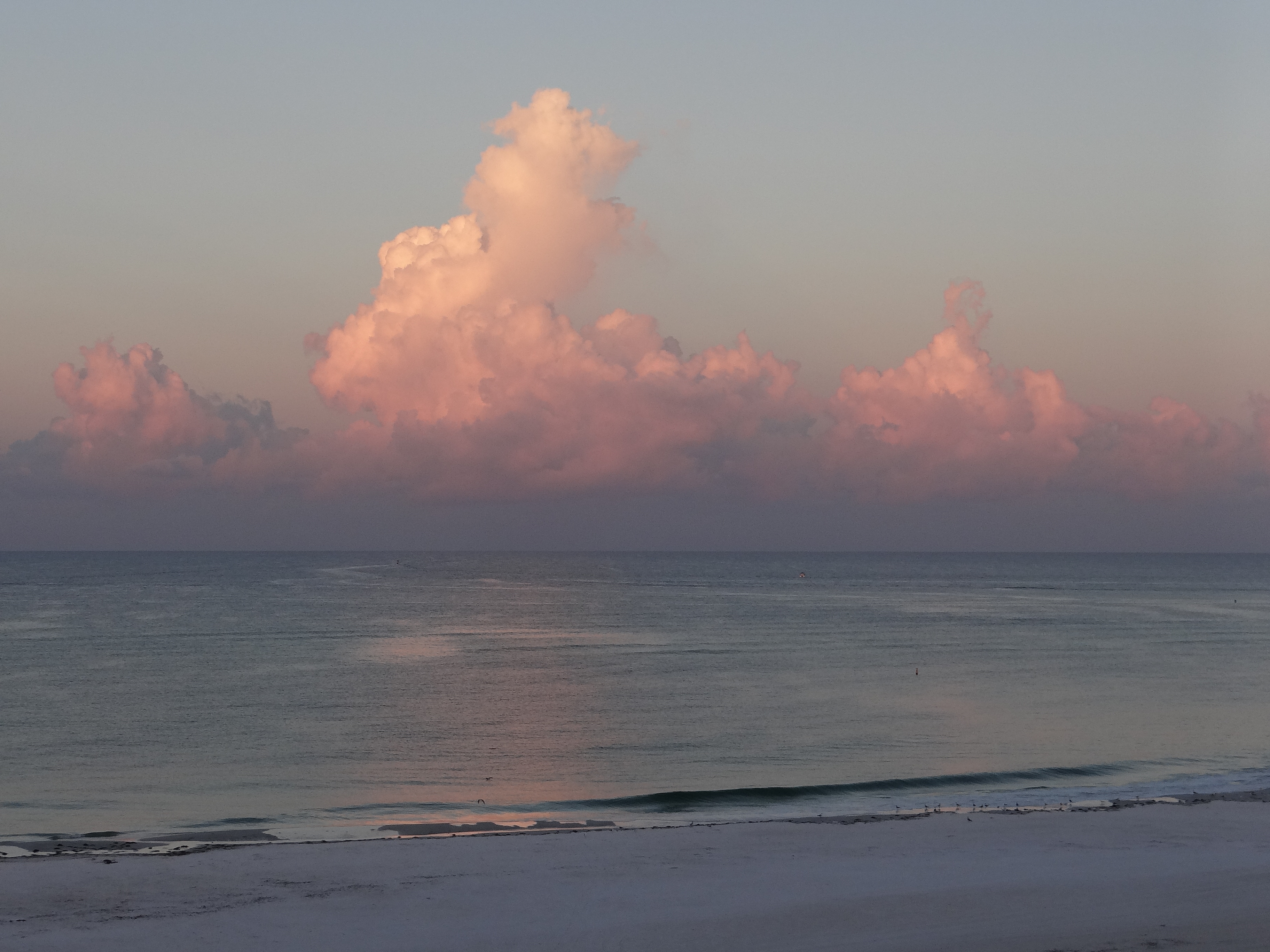 14 September-Saturday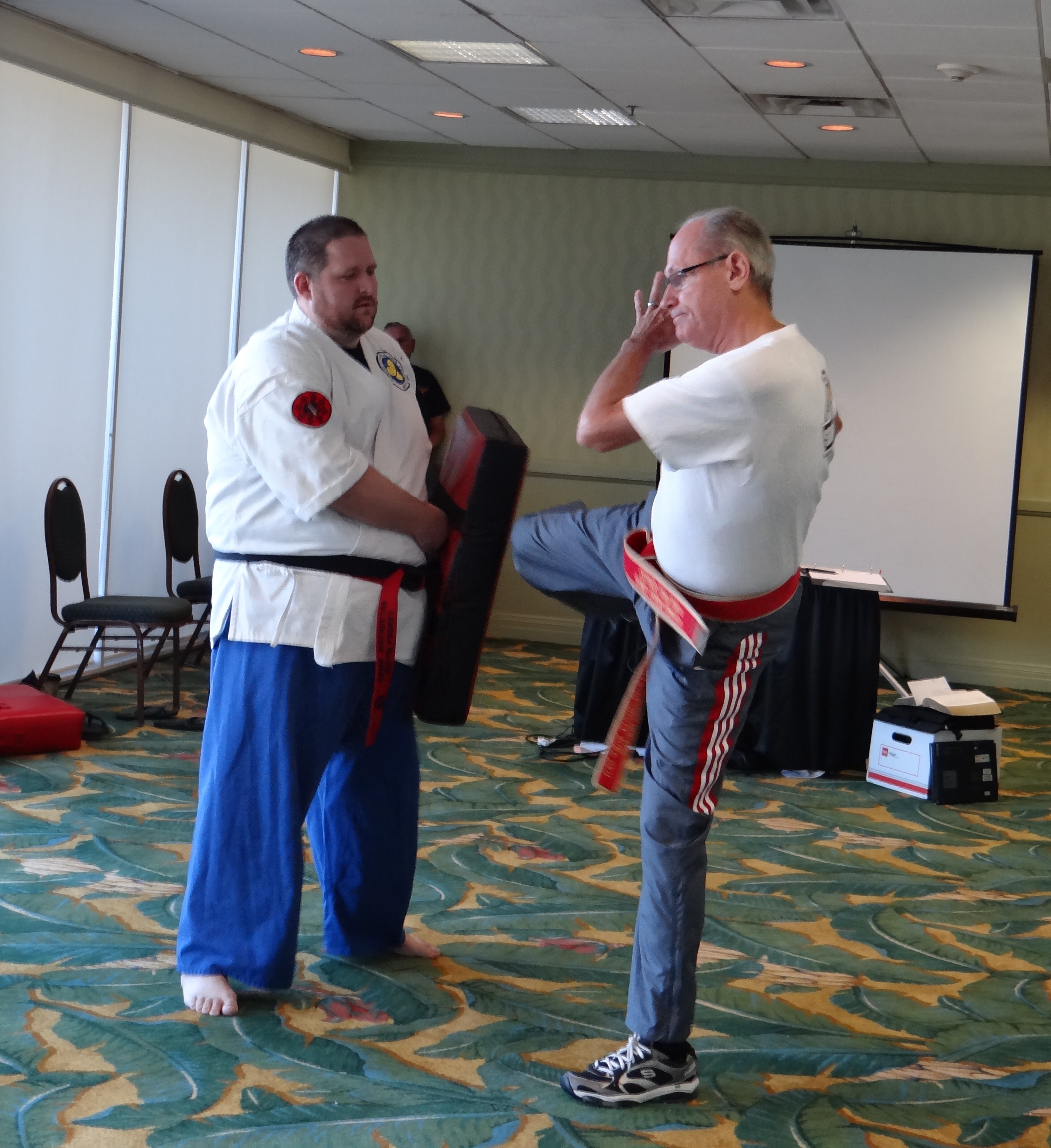 Satuday morning Grandmaster John Enger and Master Keith Foskey began the activities with a presentation of Shinja Buke Ryu Kenpo.
Master Foskey is the founder of the Bokujin Bujutsu and Kodiak Life Protection Systems, Senior Pastor of the Sovereign Grace Family Church, a 5th Dan Black Belt with rankings in karate, Jujitsu and Modern Arnis.
He is also certified by the National Rifle Association as a Firearms and Personal Protection Instructor and a certified Defensive Spray Instructor.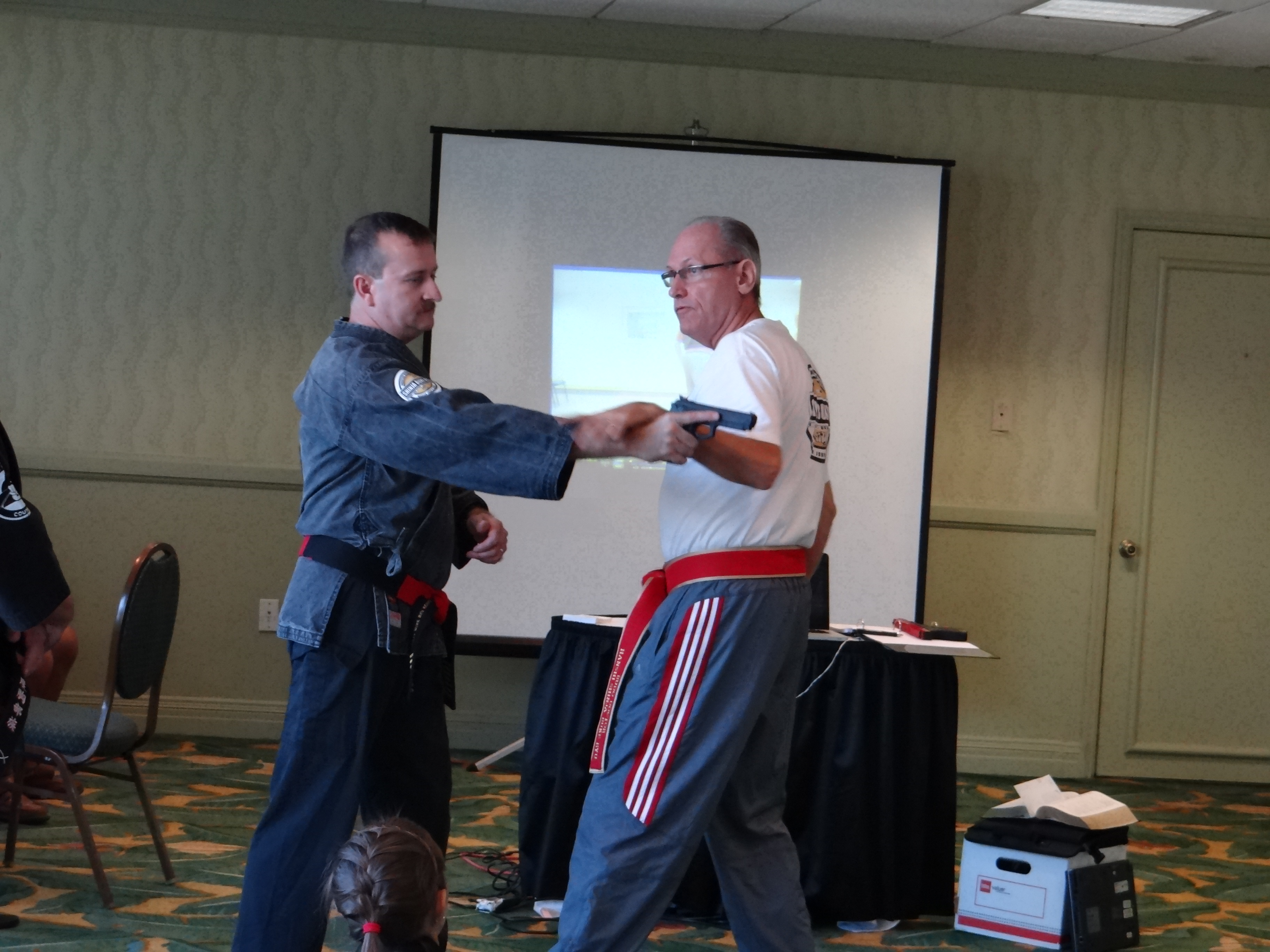 Grandmaster John Landry, 9th Dan founder of Modern American Combatives, Professor of Criminal Justice, Certified Police Instructor, retired State of Florida Law Enforcement Lieutenant, former state of Florida Emergency Response Team Member, former member of the Homeland Security Strike Force, published author and Police Detective, assisted Grandmaster Enger in demonstrating the application of the Shinja techniques.






Blocking and Trapping your Opponent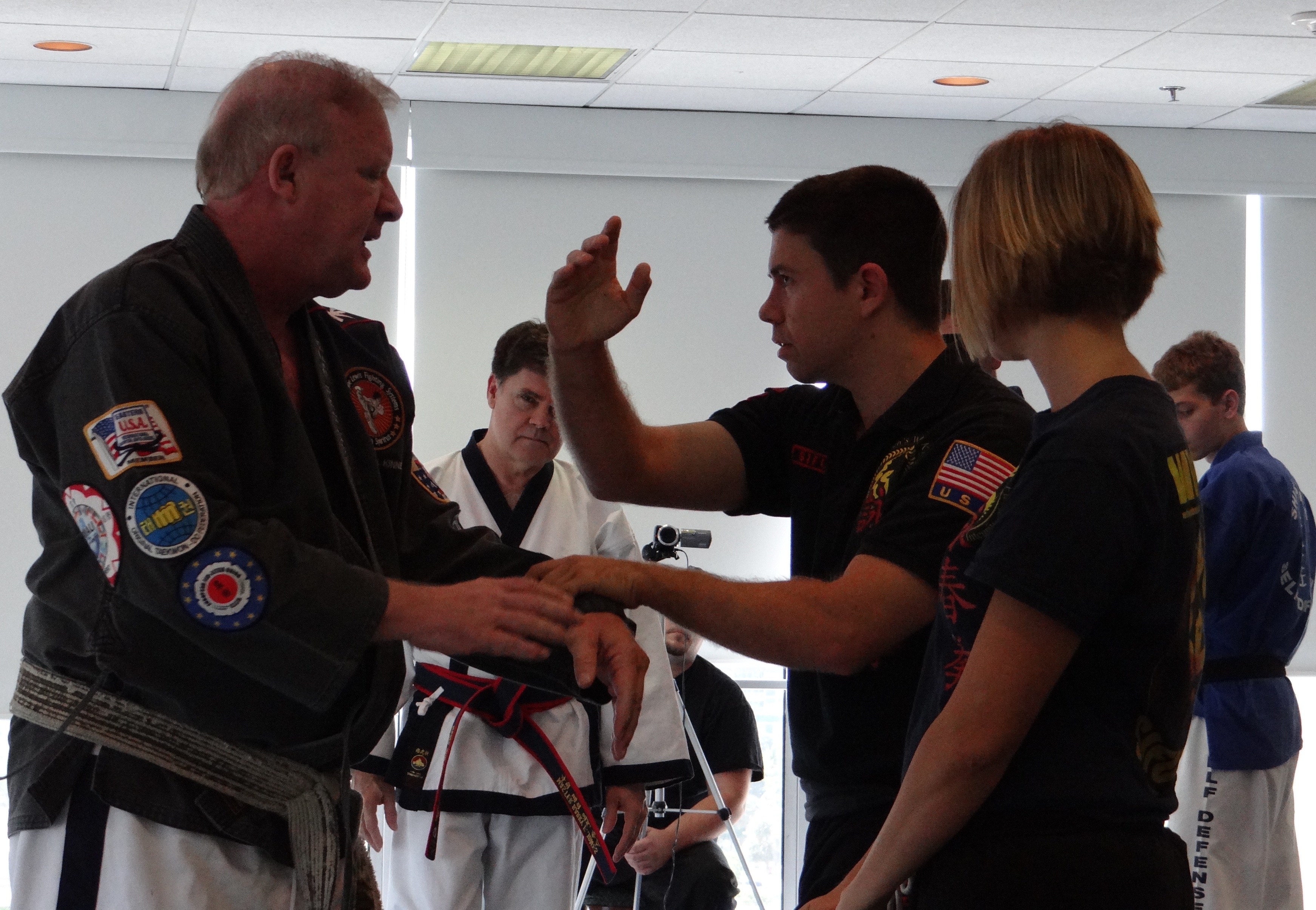 Grandmaster Kinney held his second seminar of the weekend, demonstrating "perfection of the guard" techniques. These involve deflecting, blocking, trapping, capturing and locking your opponent's arms in such a way that he cannot attack you, yet is open to your offense. Many of these methods are similar to and found in Wing Chun Kung Fu the first style studied by the great Bruce Lee. Soke Kinney and Sifu Justin Och of the Lakeland Wing Chun Academy had a great time exchanging techniques and demonstrating "sticky hands" as well as other entangling guard movements.
In 2009 Sifu Justin Och achieved the Black and Gold Sash in the complete system of Wing Chun Kung Fu under Grandmaster Steve Lee Swift and Master Dr. Nelson Rios. That same year, he was awarded National Instructor of the Year by the Eastern U.S.A. Black Belt Hall of Fame.
In 2010 Sifu Justin Och was awarded the Inspirational Leadership in Combative Wing Chun Kung Fu for his constant striving towards the combative nature, protection and fighting concepts and capabilities of Ip Man Wing Chun Kung Fu style. Sifu Och's constantly seeking to know more and instill this protection in others around him gained him this prestigious award.
In 2011- Sifu Justin Och returned from advanced training in Europe (England, Switzerland, France, Italy and Germany). There he met with practitioners from the powerful Wong Shun Leung System of Fighting and Individuals that trained directly with the family members of Ip Man including his sons (Ip Ching and Ip Chun) and even visited the Lo Man Kam Lineage. Sifu Justin Och was also awarded in 2011 "Certificate of Appreciation" for his charity work with the Peace River Center; a non-profit women's and children's shelter that works to prevent domestic violence, rape, battery, verbal and psychological abuse.
Fit Fighter Seminar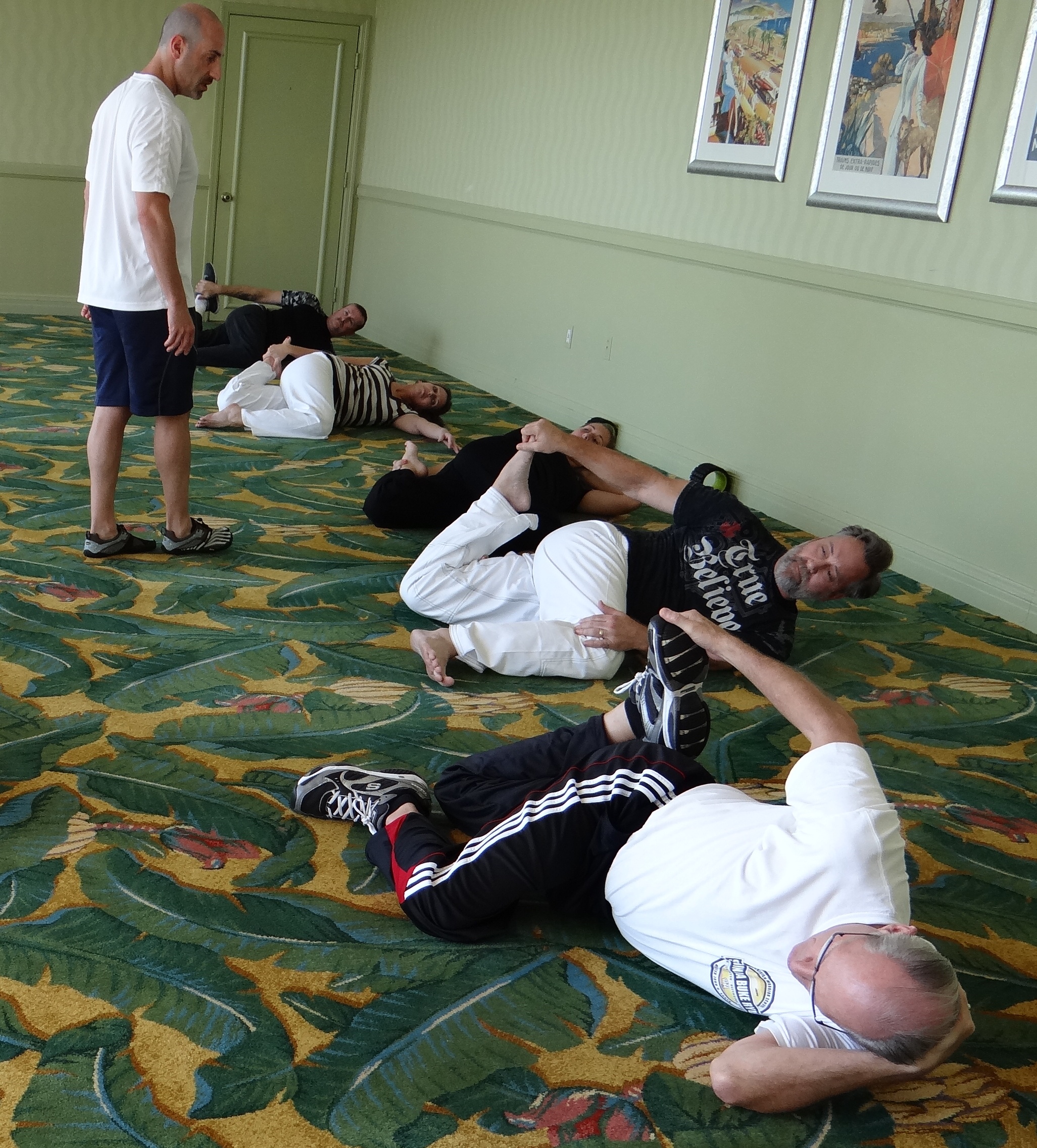 Bryan Fass holds a Bachelor's Degree in Sports Medicine and is nationally certified and licensed as an athletic trainer, a Certified Strength and Conditioning Specialist, a paramedic and has numerous certifications in manual therapeutics and soft tissue techniques. He is recognized as an expert in corrective exercise, functional movement analysis and tactical training with a specialty in spine stabilization with over sixteen years experience.
He is the author of Fit Responder Fitness and wellness techniques for the public safety professional, and has co-authored three other books on health and fitness. Bryan writes a regular column for Officer.com.; ems1.com; firerescue.com and has been published in EMS magazine. He is regularly contacted for expert opinion on public safety, injury prevention, ergonomics, pre-hospital patient handling and fitness issues and contributes regularly to numerous public safety web outlets.
Bryan has lectured and taught for numerous county and private organizations and national level trade shows including EMS expo, Firehouse World, Enforcement Expo, ECA Fitness and State conferences throughout the US. Bryan also teaches a corporate wellness and travel fitness program for corporate clients throughout the country. Bryan is the founder and president of Fass Consulting LLC, based out of Charlotte NC. Fass Consulting specializes in Public Safety Enhancement and Fitness Testing. A passionate presenter and teacher, Bryan has a very unique approach to injury prevention, That approach comes from over sixteen years of clinical rehabilitation with a specialty in Spine and Postural re-education and over eight years on the street as a Paramedic.
Trap/Control/Break with Kyoshi Jason Carter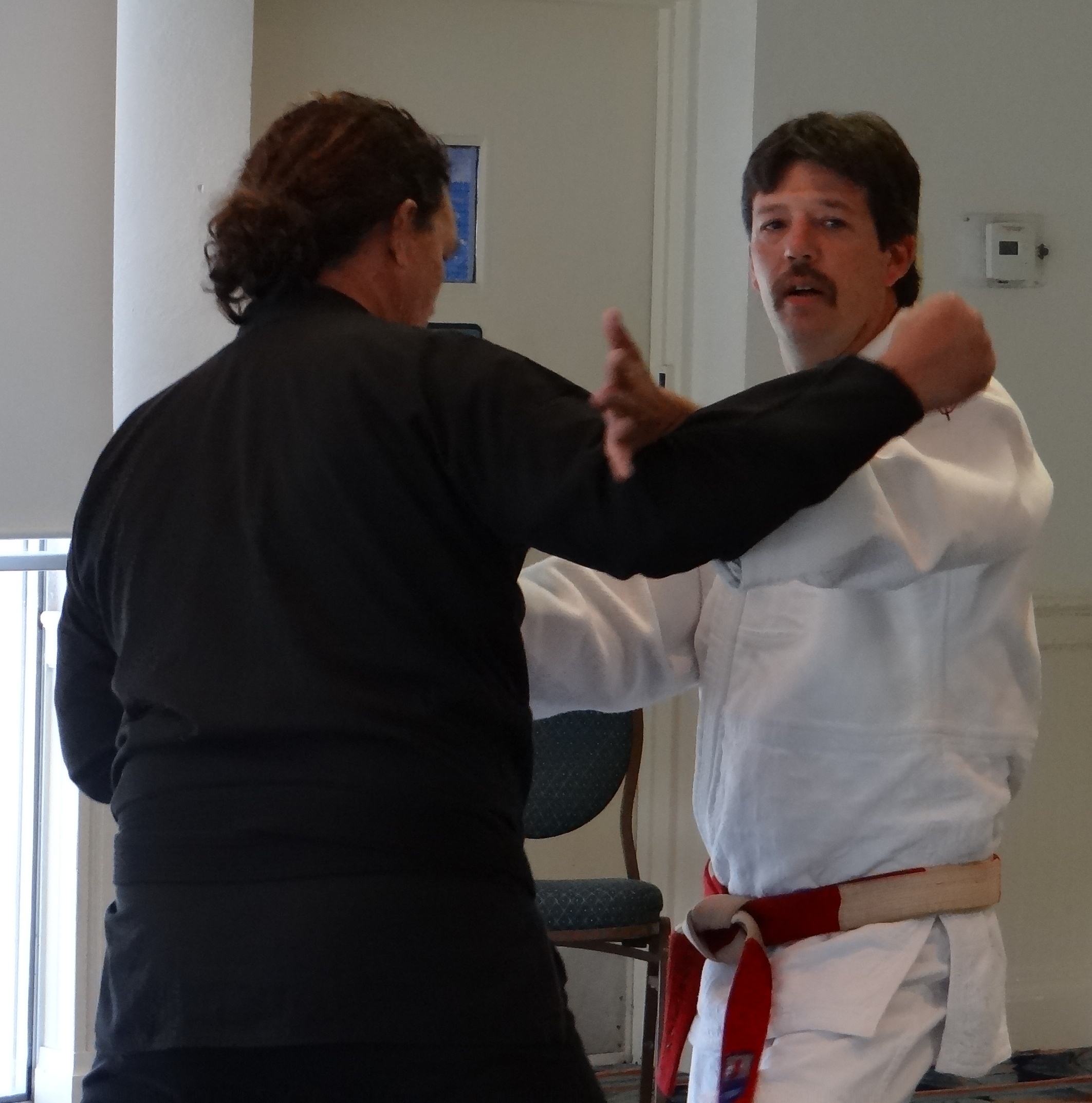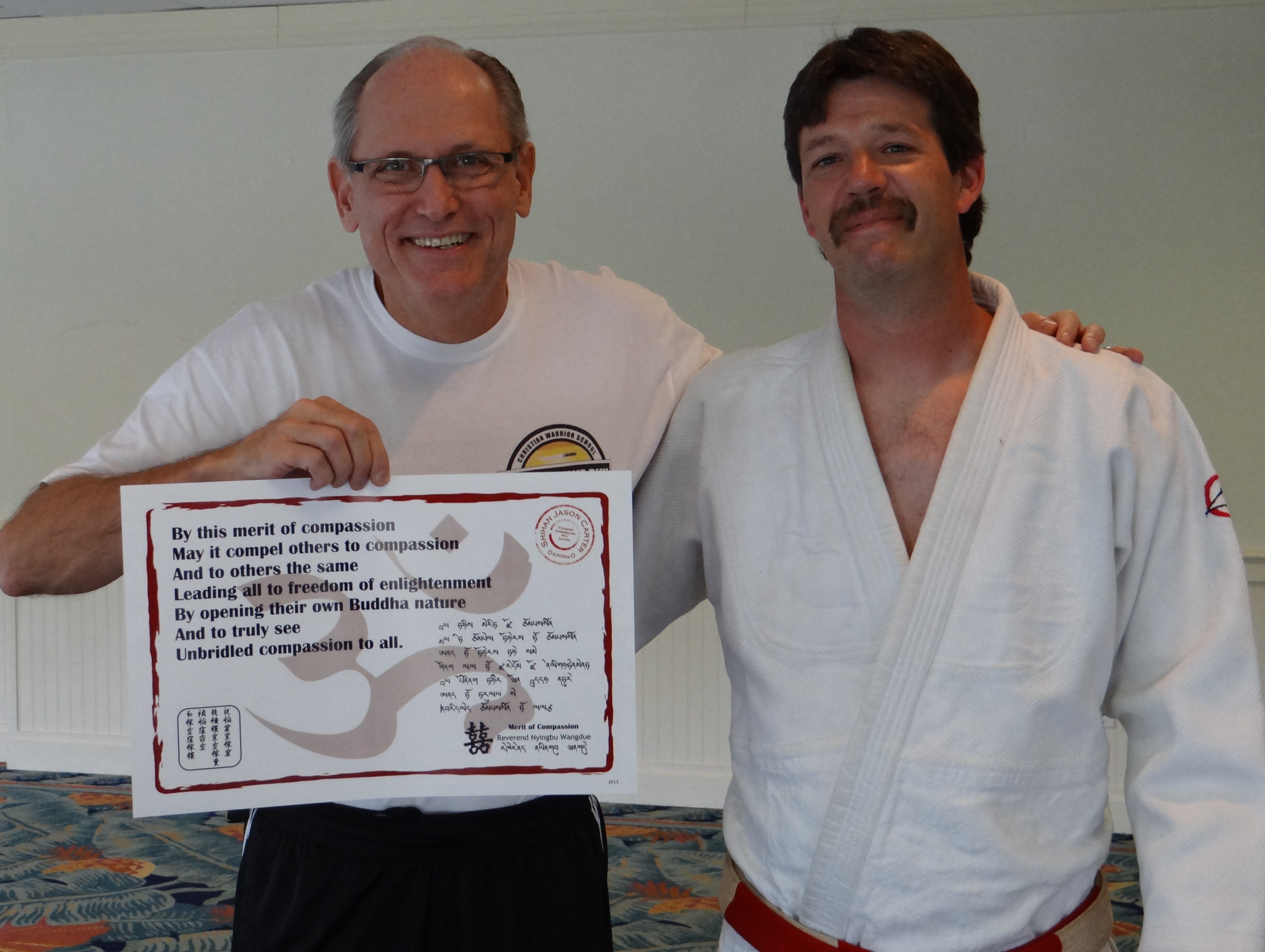 Jason Carter is a certified Master Jujitsu Instructor, founder of Nying Bulam Jujitsu and is a certified Kyoshi in Bu-jitsu with the rank of Hachidan, 8th Degree. Mr. carter founded Nying Bulam Jujitsu in 2001. It is now recognized by the leading martial arts organization European Jujitsu Union (EJJU), International Budo Sensei Organization, Budokai International, and the International Bujutsu Federation.
Mr. Carter has received an honoris causa Doctor of Philosophy-Asian Martial Arts and Sciences from the International Fellowship of Martial Artists (USA) and his Doctor of Martial Arts Science from the Shinja Martial Arts University-Masters College of Martial Arts(USA) Jason Carteris also the Chief Instructor and owner of Snow Lion Martial Arts Jujitsu Academy which has been in existence, teaching self-defense and Jujitsu, since 2002.
Currently, he holds Black Belts in Shotokan Karate and Seishindo Jujitsu and has been honored by receiving the Original European Jujitsu Union's Award of Honor and the Shinja Buke Ryu Humanitarian Award for service to the community.
The Evening Banquet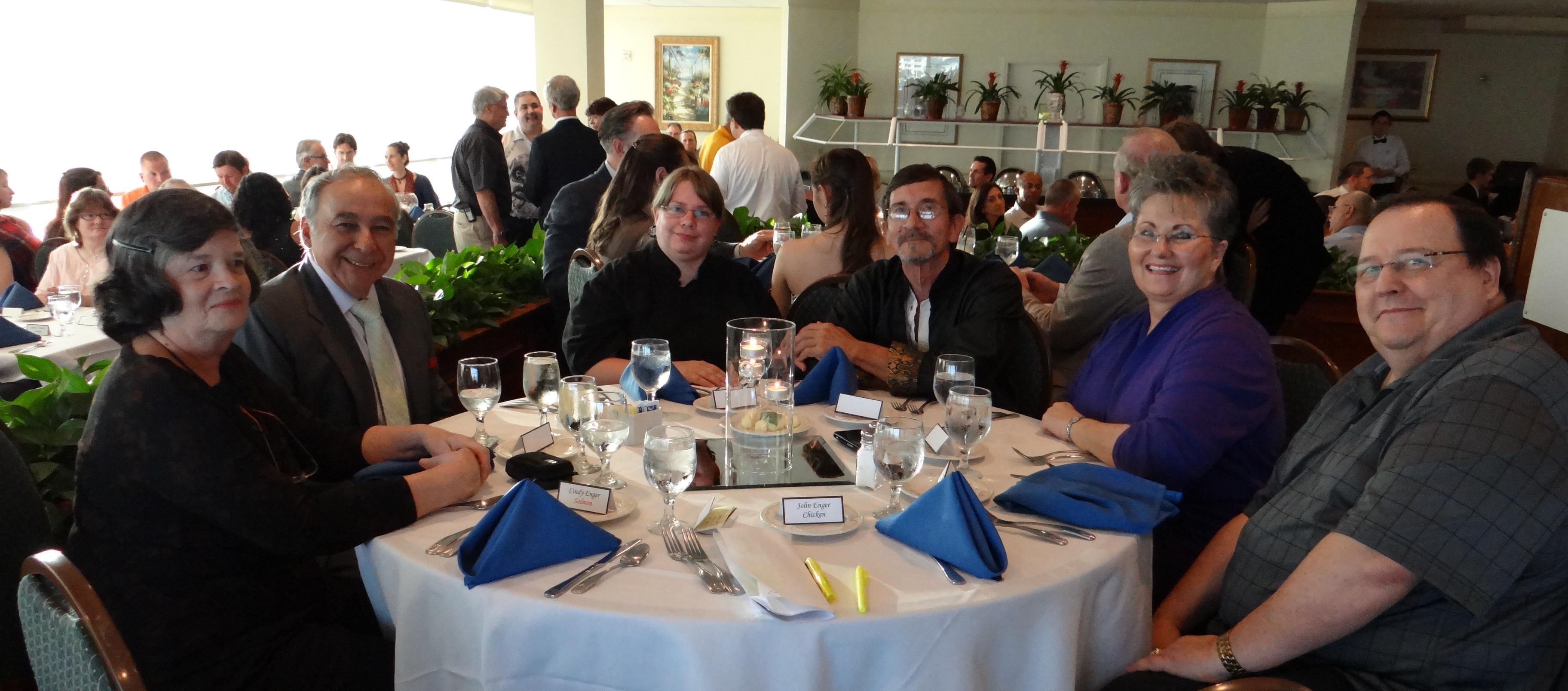 (l-r) Drs. Barthelmess; Tiff Higgins and Ashida Kim; Terrie and Ray Foley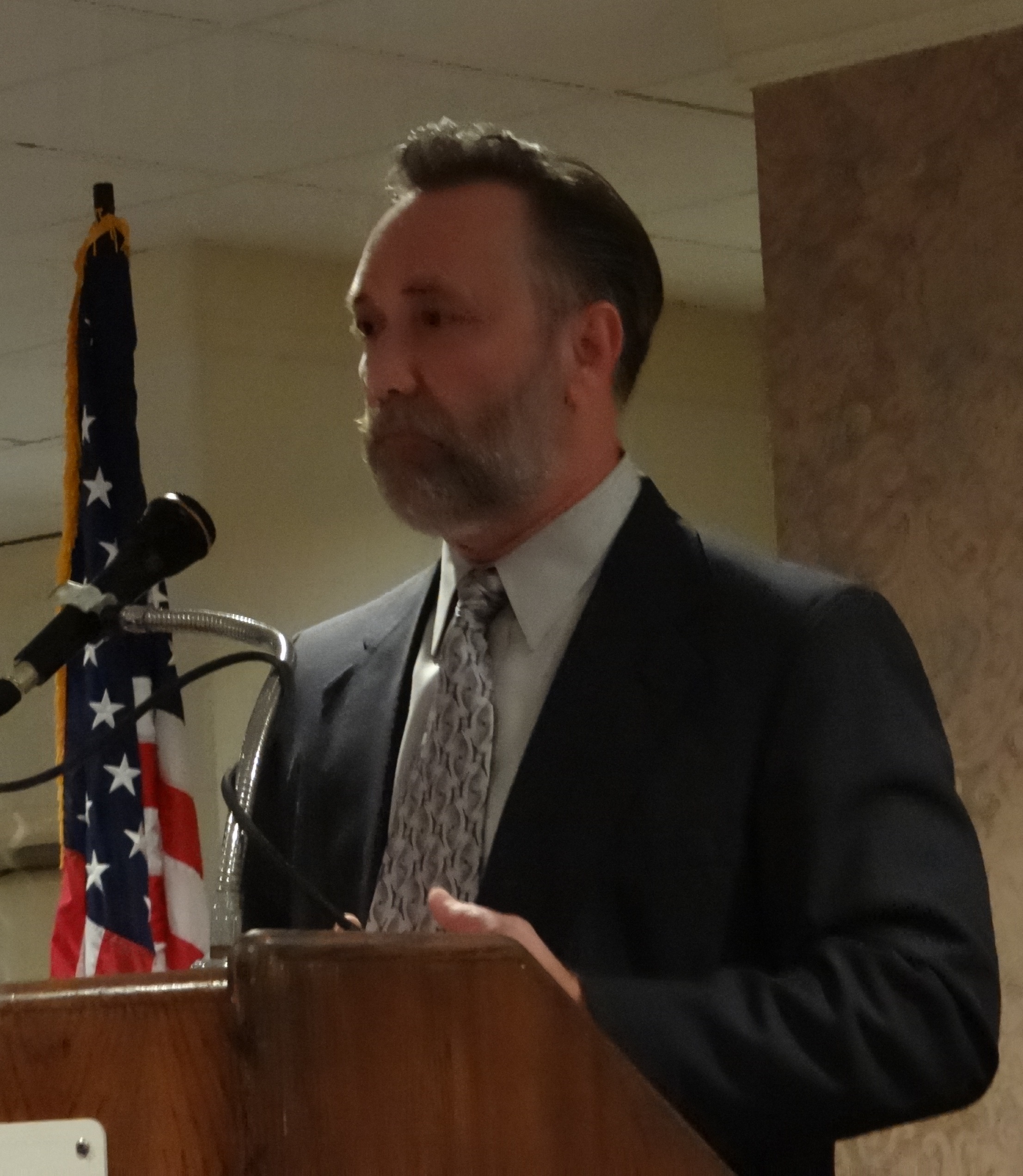 Keynote speaker for the evening was Sensei David Skelton, Nidan-Neshamat Elohim under Master Steve Pinder; Nidan American Street Karate under Grandmaster Danny Passmore; Gokyu-Kodokan Judo under Master Kim Mesa; first student of Master Pinder to open a school; vice-chairman American Black Belt Council; certified COBRA Self-Defense Instructor under Chris Sutton; NESTA Certified TACTIX MMA Fitness Instructor; who leads missions as a producer, editor and videographer for LIFE Outreach International.
David has studied martial arts since 1993 and then in 2003 he joined Steven Pinder at Shady Grove church where he was teaching Matsumura Seito Shorin Ryu. He started helping Steven with his vision to change the system into what would honor God and was key in naming the system and translating Japanese into Hebrew. Between Steve and David's martial arts background, Neshamet Elohim is a blended system that is currently only taught to the youth in order to establish the foundation they need.
He is blessed to travel the world while working for LIFE Outreach where he produces and shoots video of the need for water, food, shelter and rescue. One of the main campaigns that has affected him has been human trafficking and this has added to what and why he teaches martial arts, seeing first hand the evil there is and how easily someone becomes trapped. His impassioned speech inspired and motivated everyone to strive for even higher goals and do more to help others.
The Awards Presentation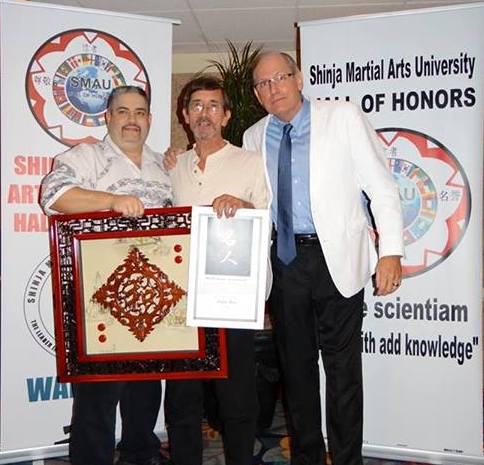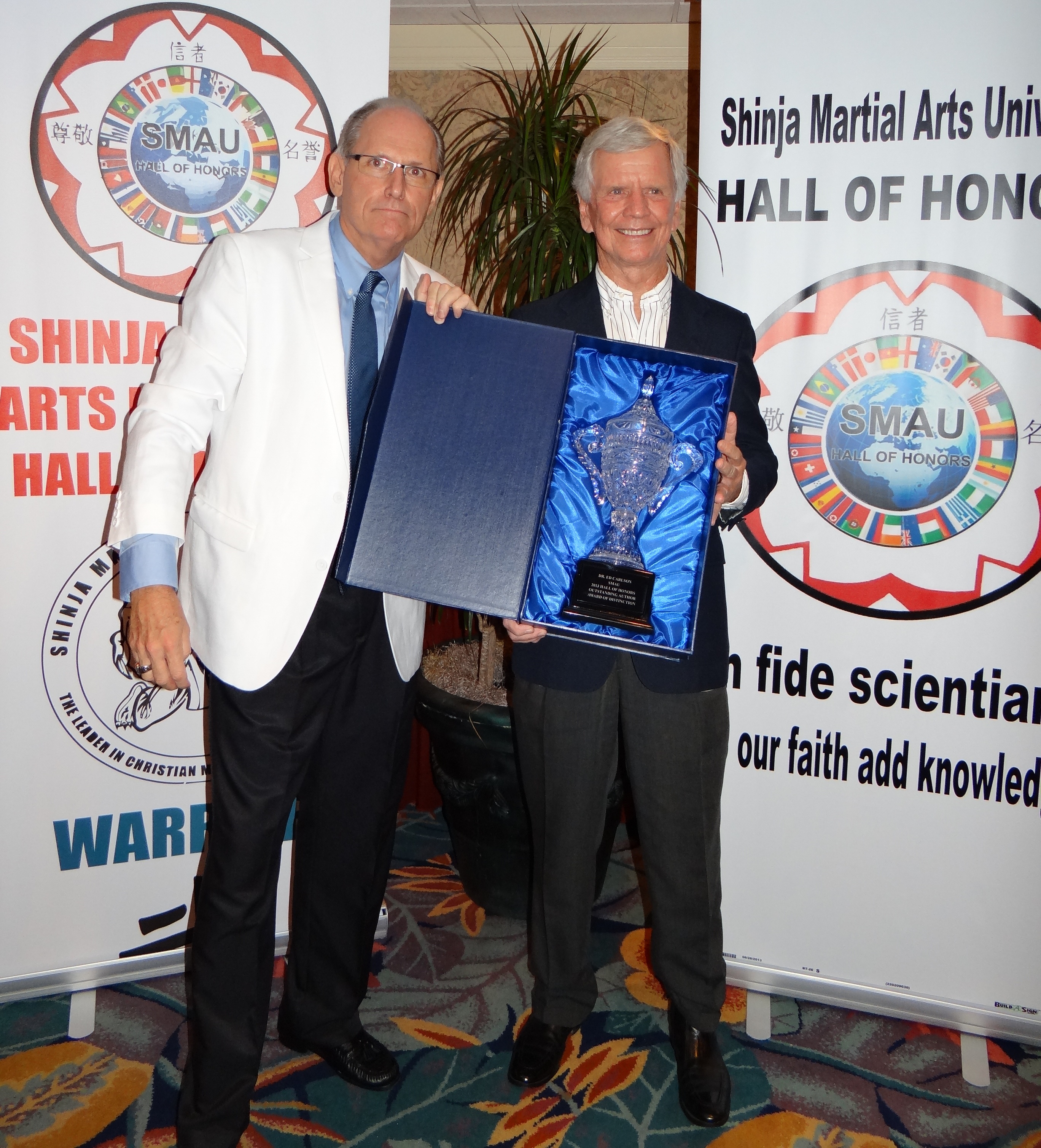 Ashida Kim receiving the Meijin Award Grandmaster Enger and Dr. Carlson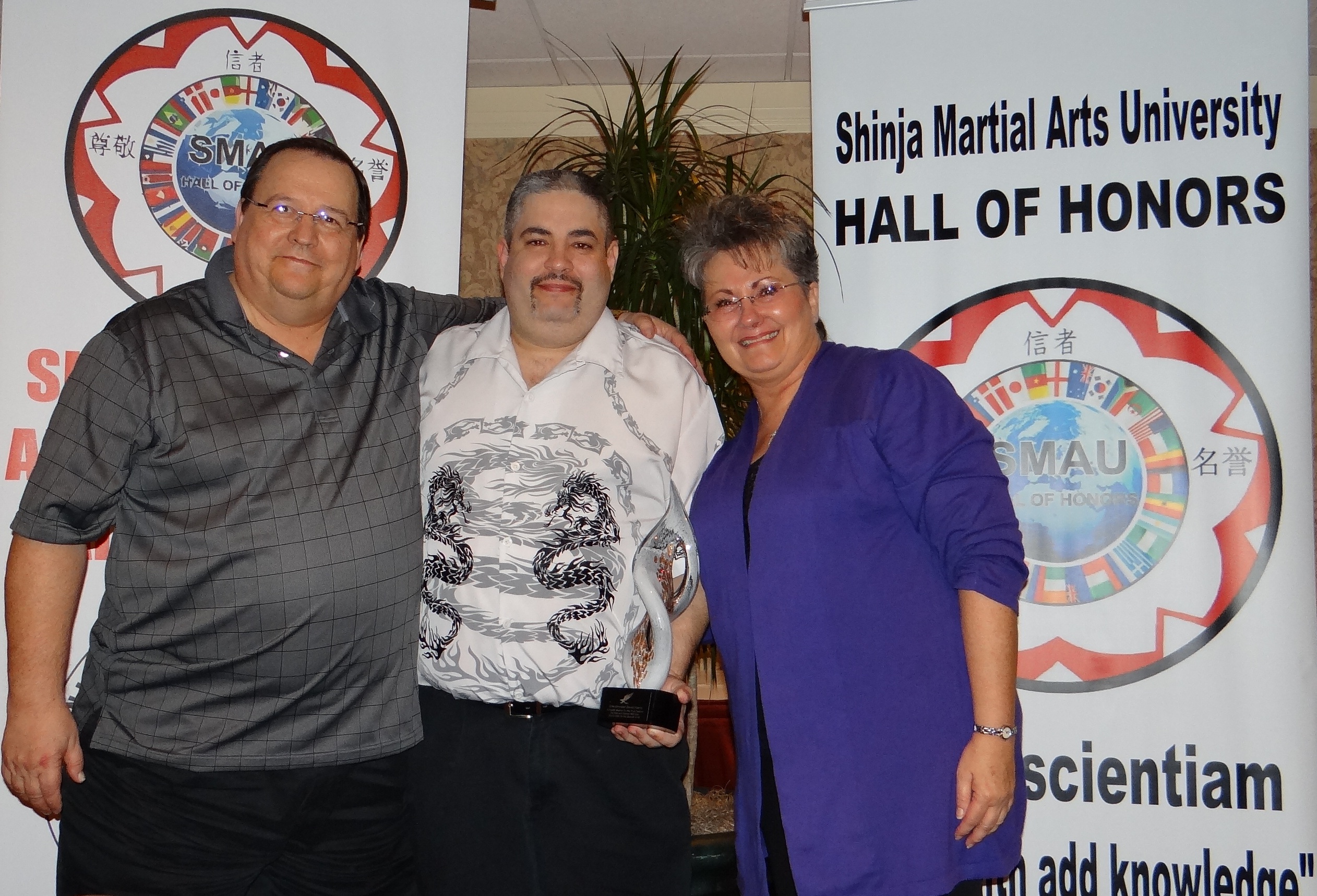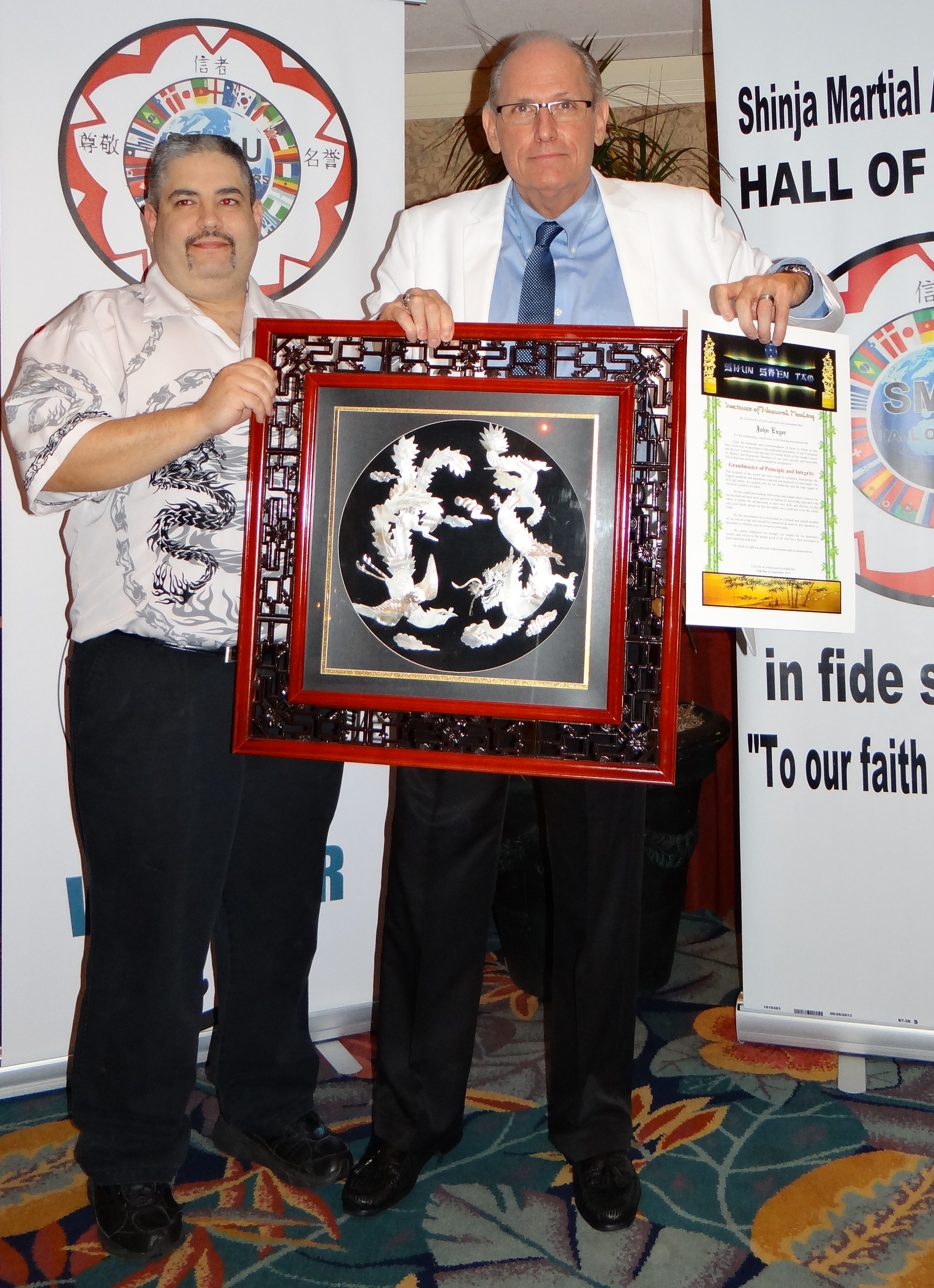 Dr. Harris receiving the Gye Nyame Award Dr. Harris and Grandmaster Enger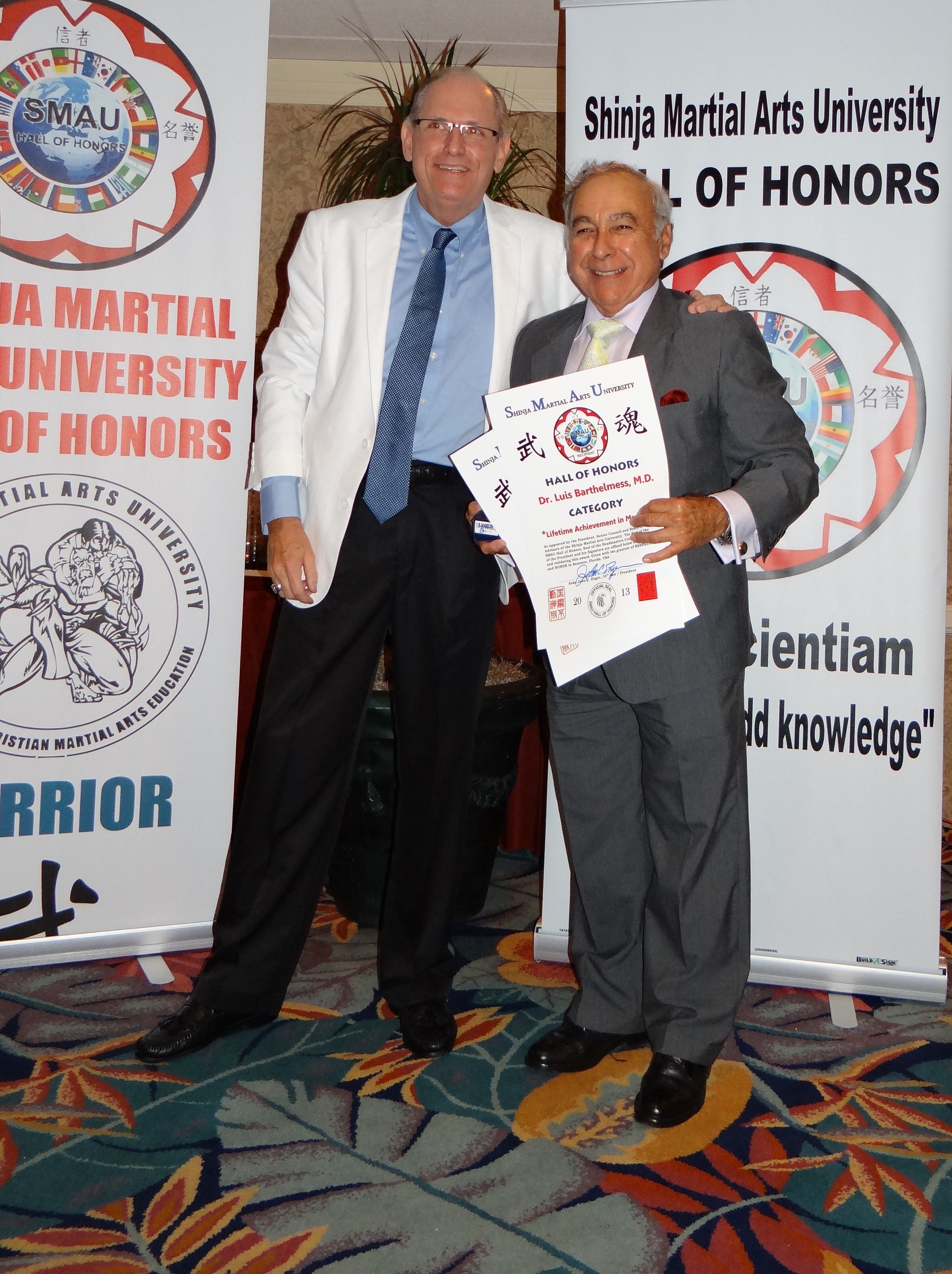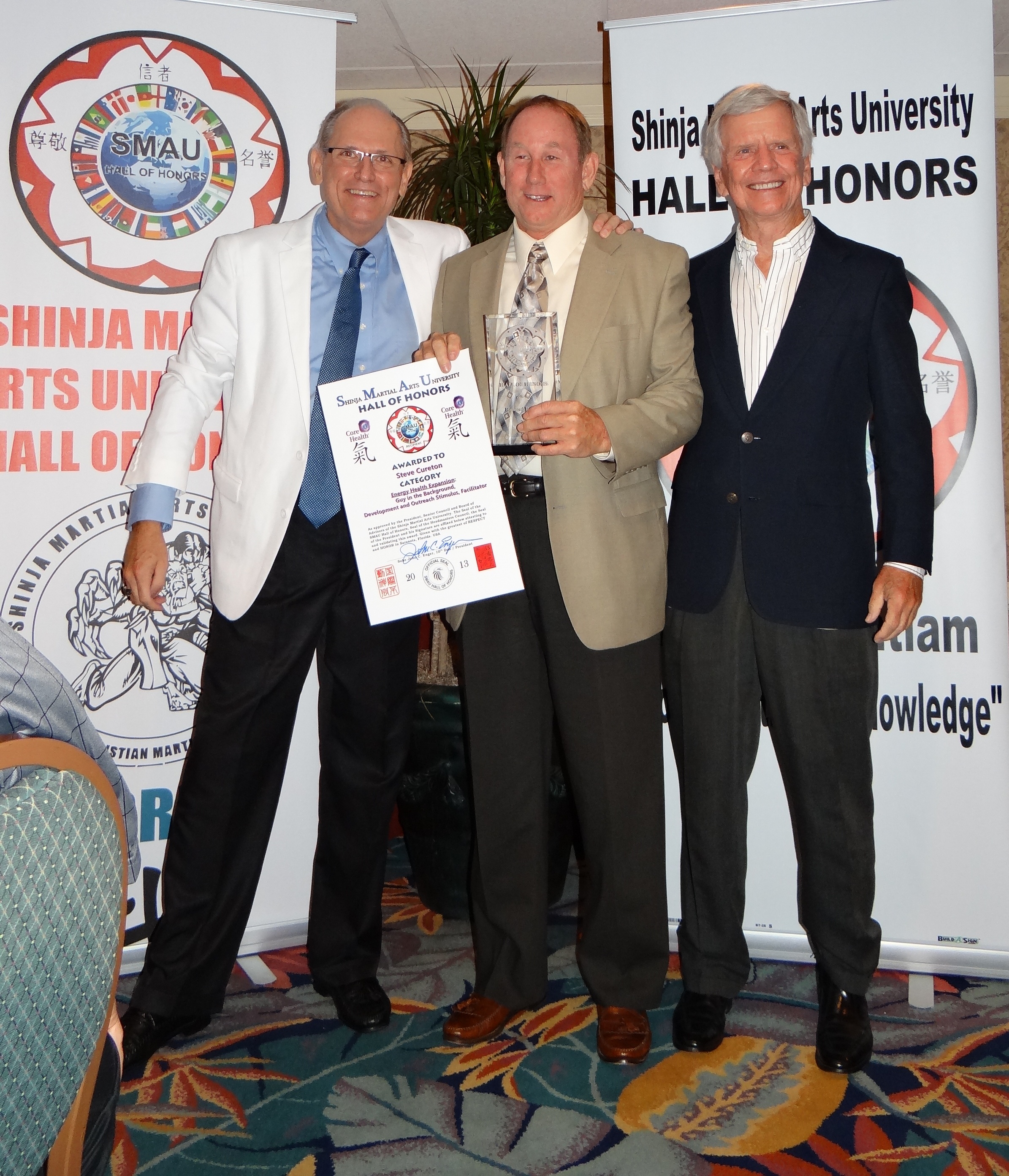 Grandmaster Enger and Dr. Luis Barthelmess Grandmaster Enger, Steve Cureton, Dr. Carlson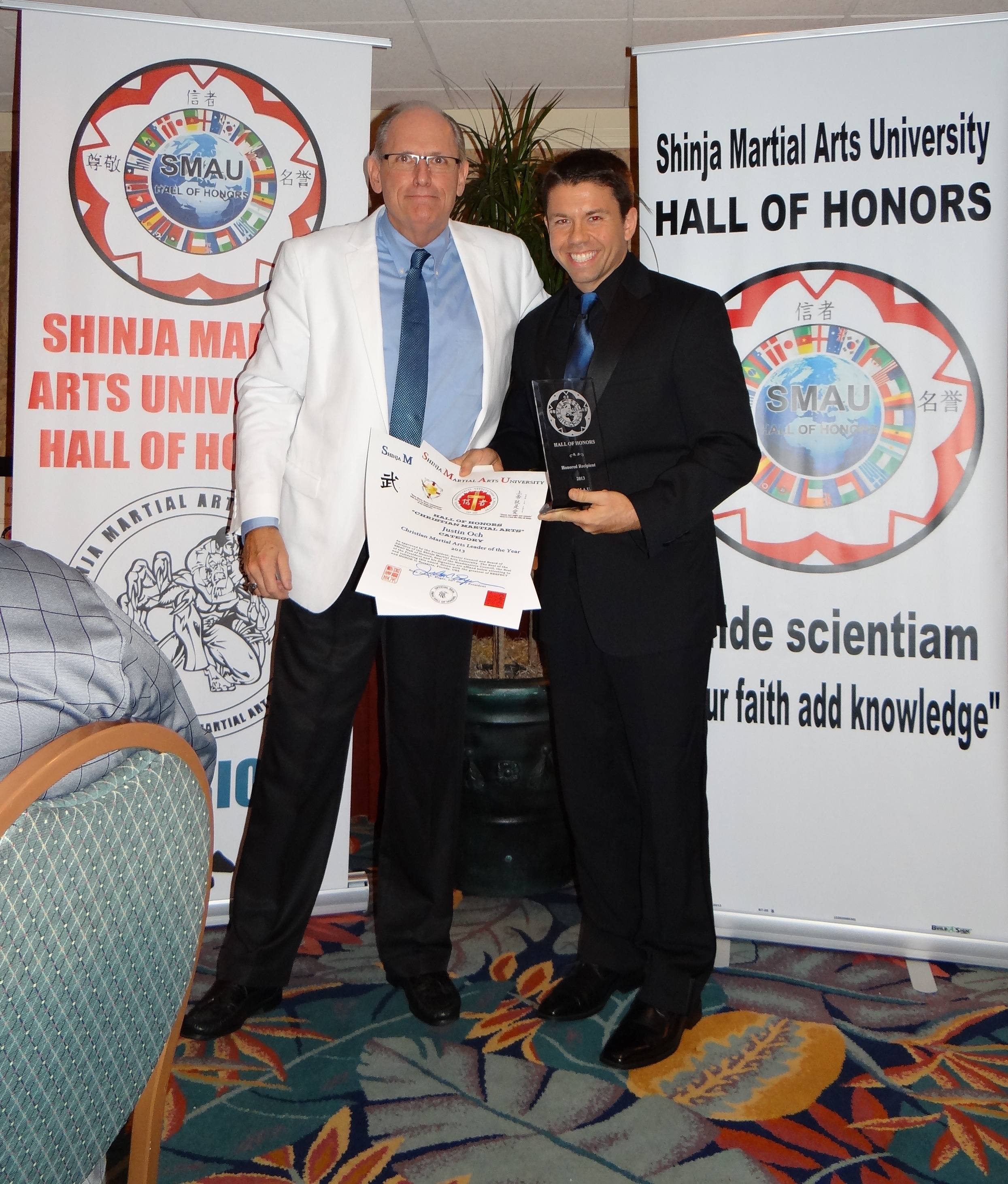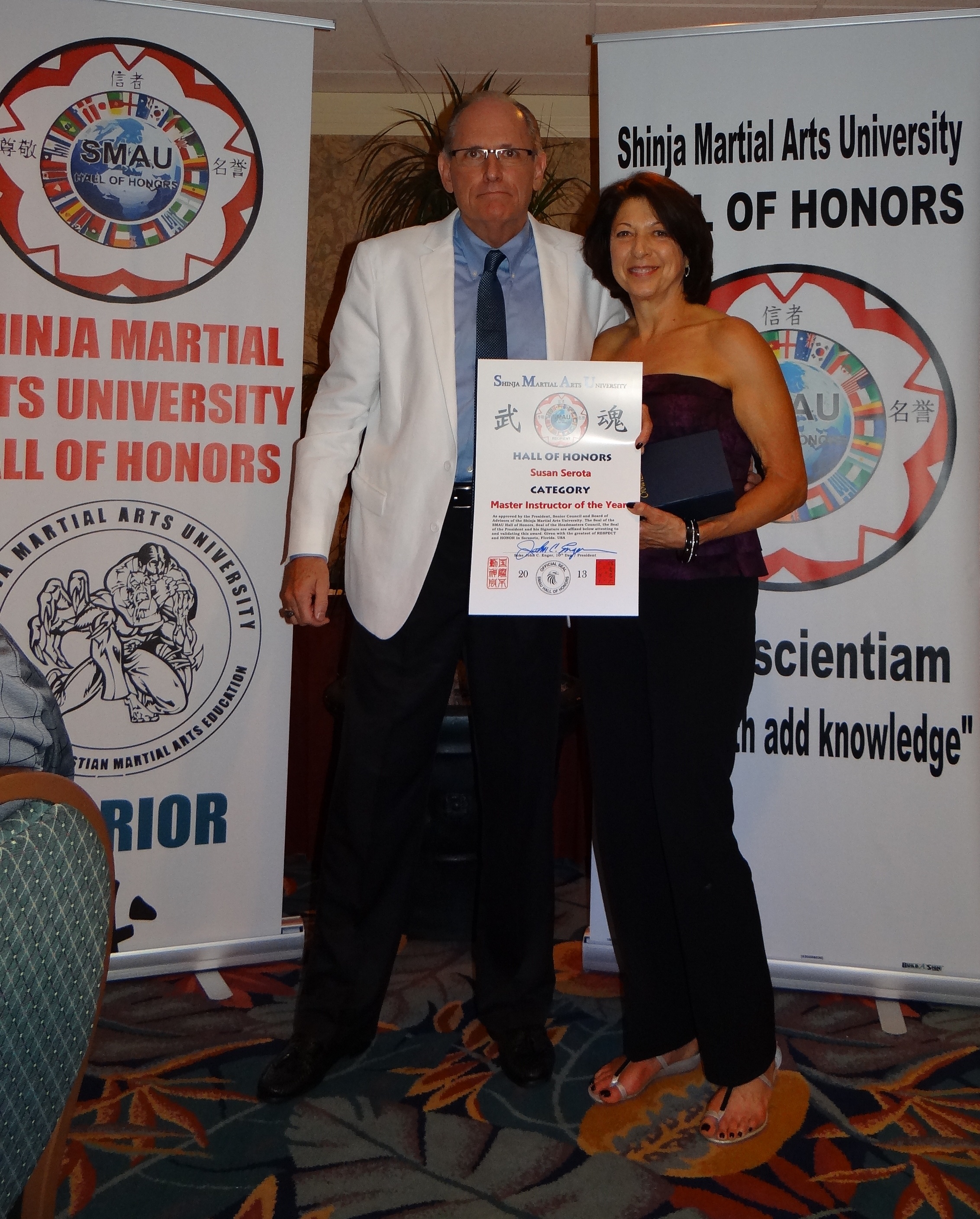 Grandmaster Enger and Sifu Justin Och Grandmaster Enger and Master Instructor Susan Serota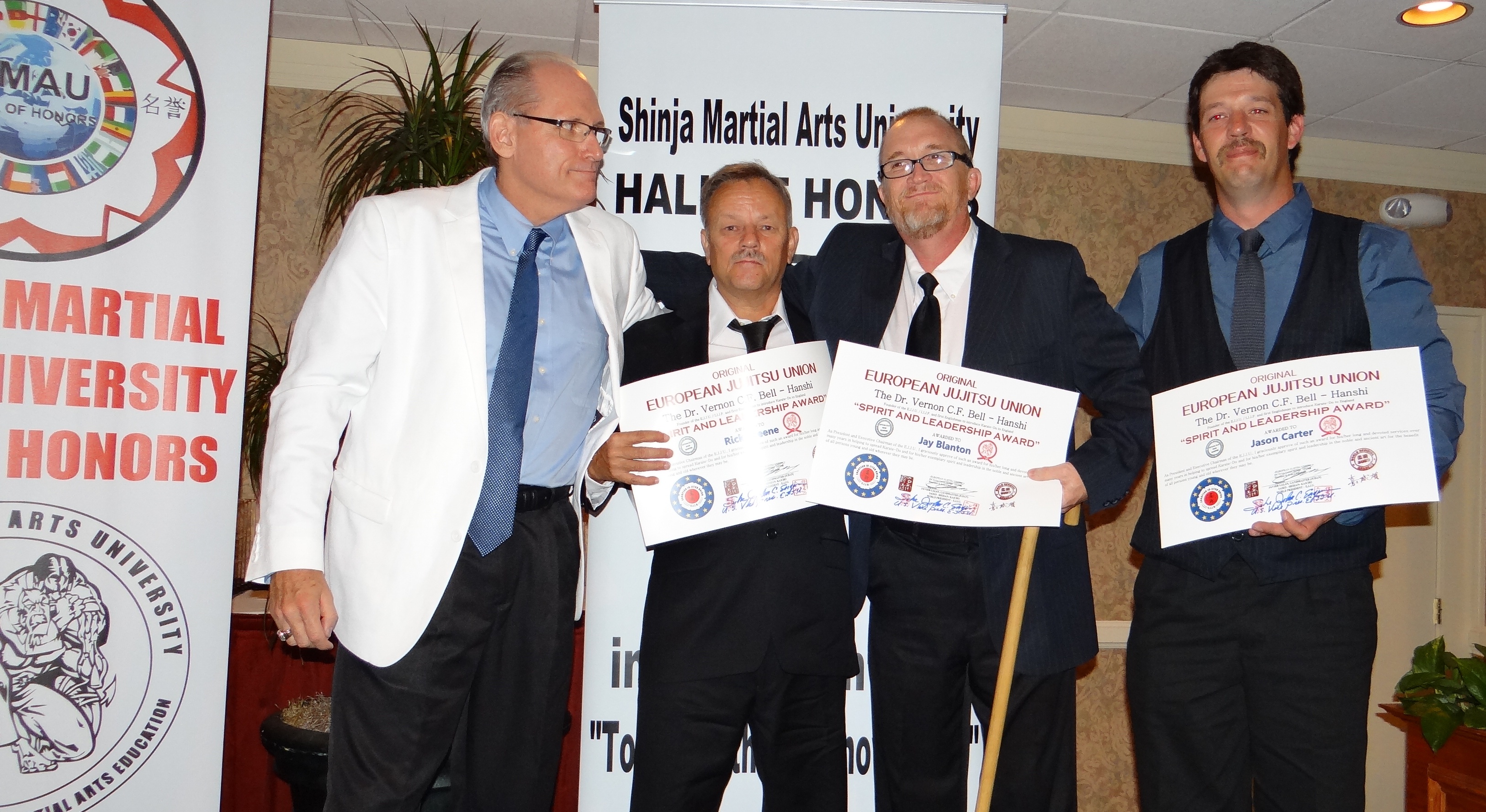 Grandmaster Enger Rick Greene, Jay Blanton and Chris Greene European Jujitsu Union Award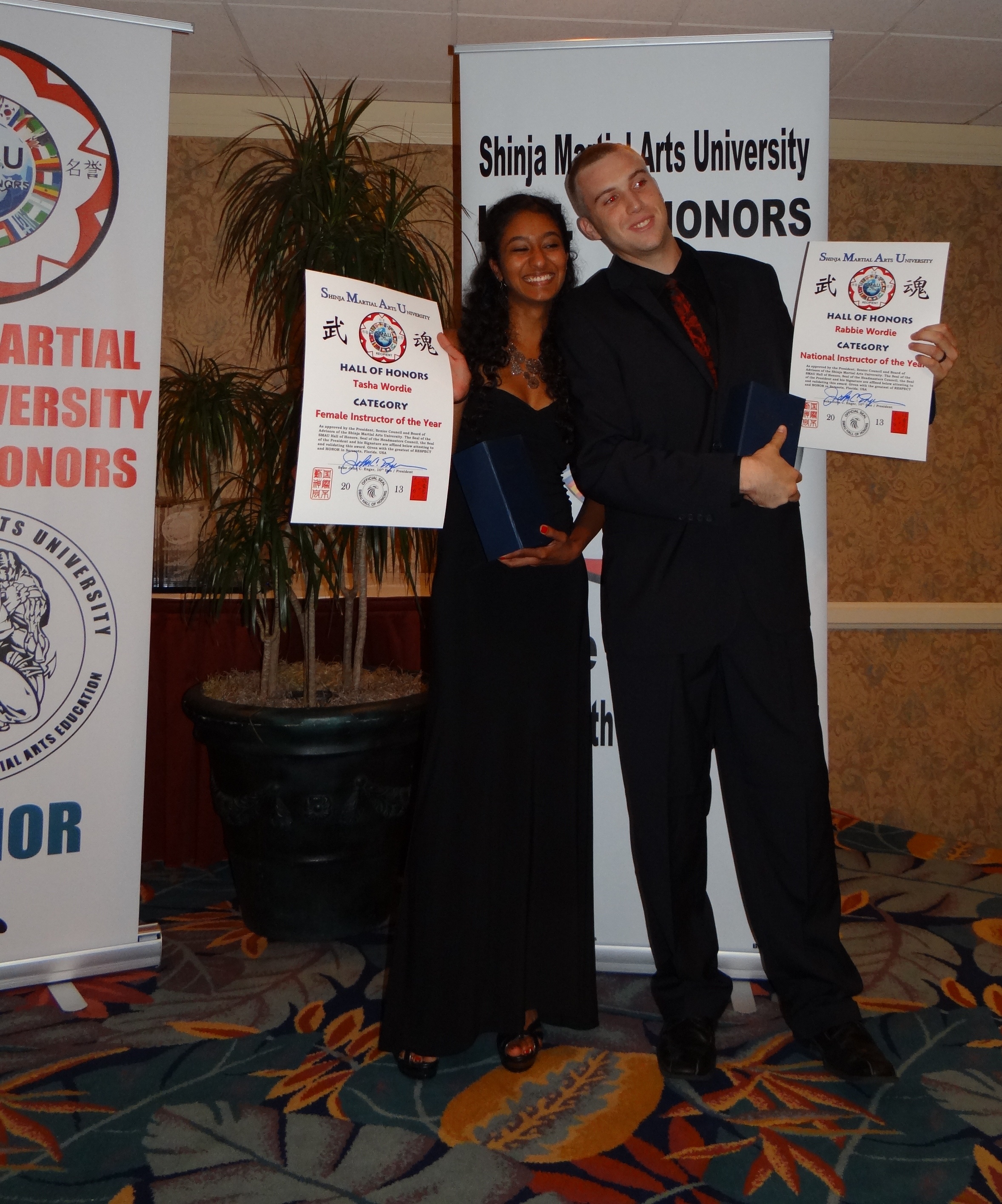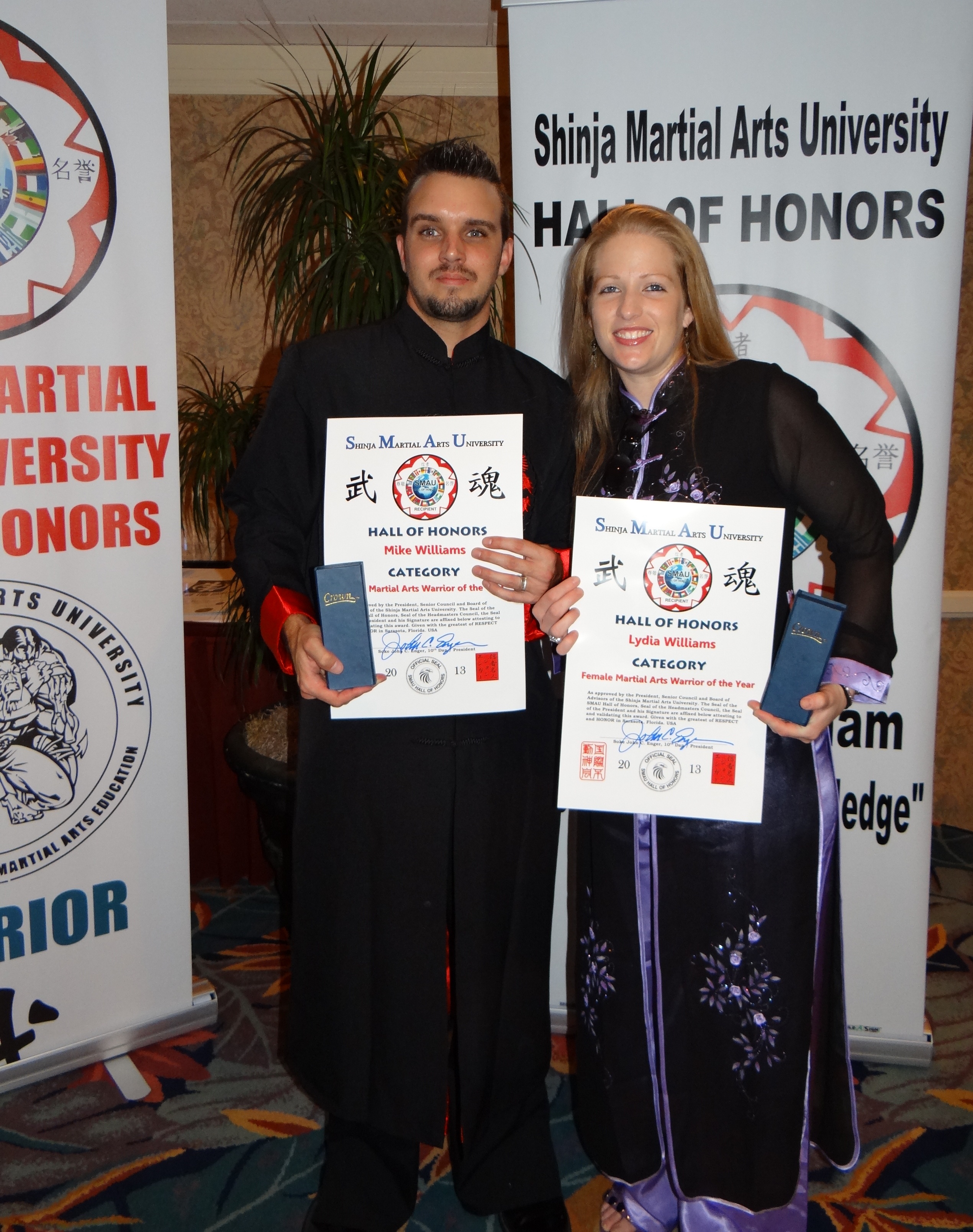 Tasha and Rabbie Wordie Mike and Lydia Williams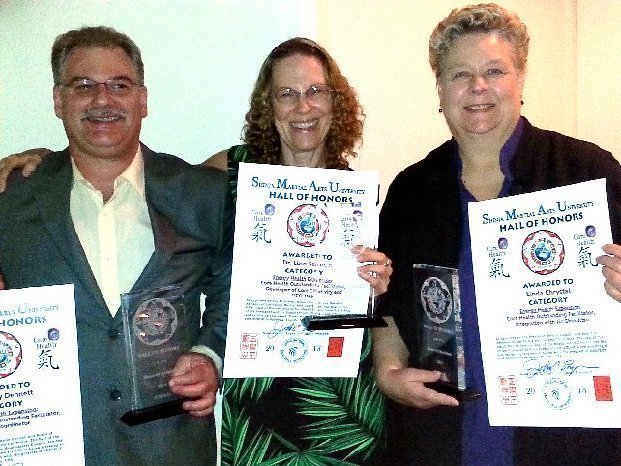 Core Health Honorees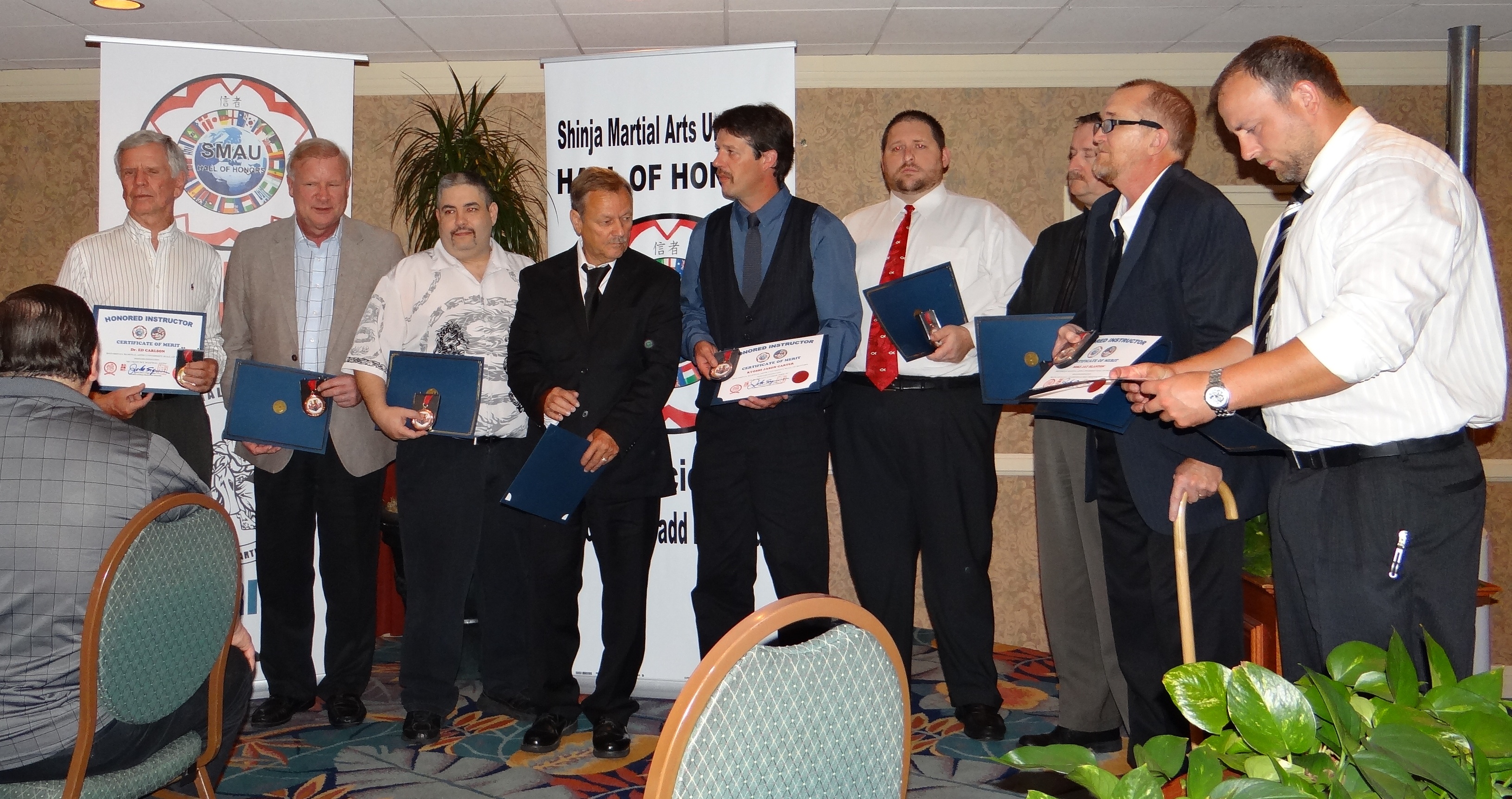 The Evening's Honorees Assembled
More than 132 recipients took home awards at this year's event.



15 September-Sunday
Shinja Buke Ryu Kenpo Part Two
The day began with Shinja Buke Ryu Kenpo Part Two followed by more gun defenses and weapons retention techniques, No need to have attended the first session, all the exercises were specific to each class and could stand alone or be part of a larger whole.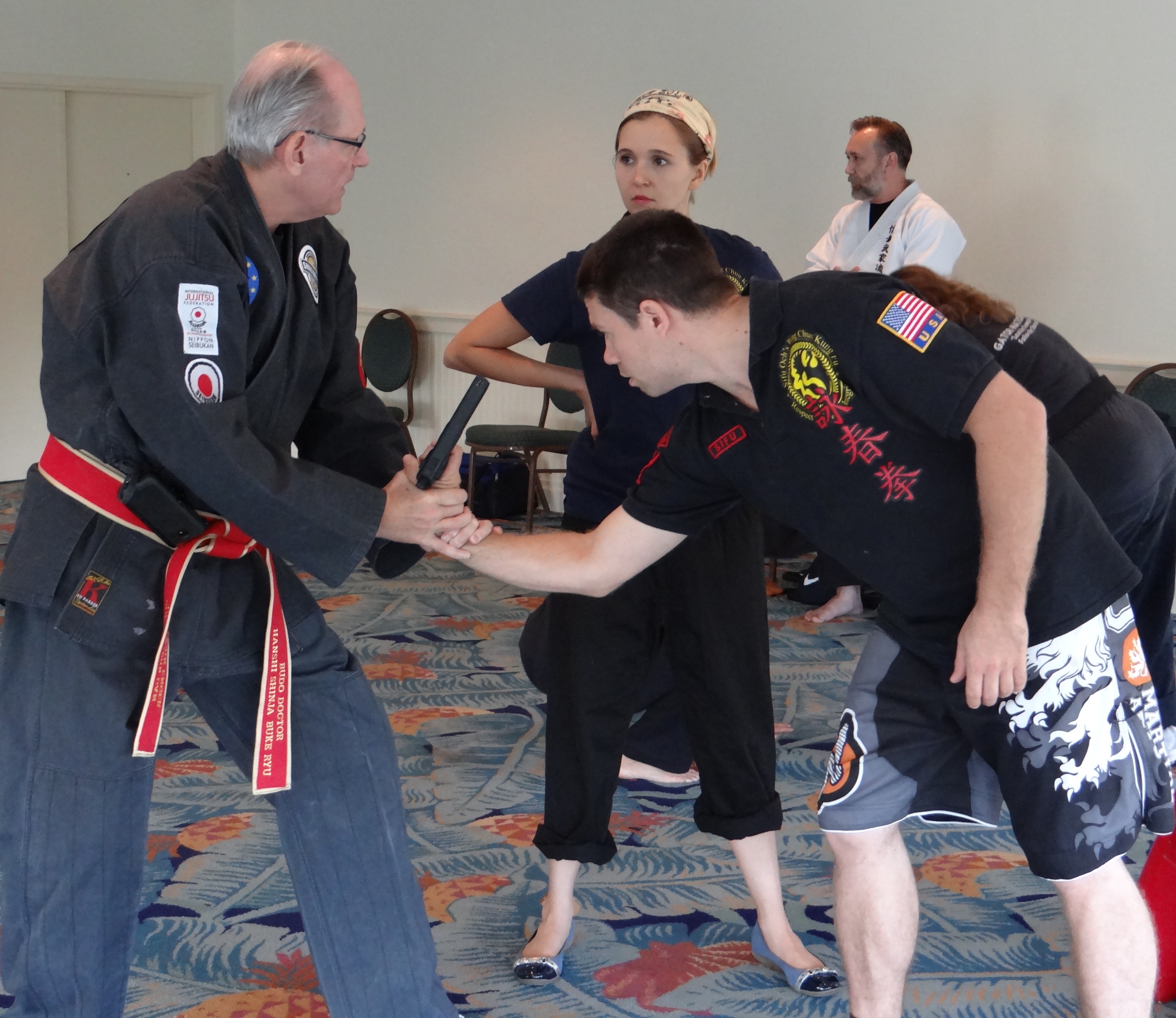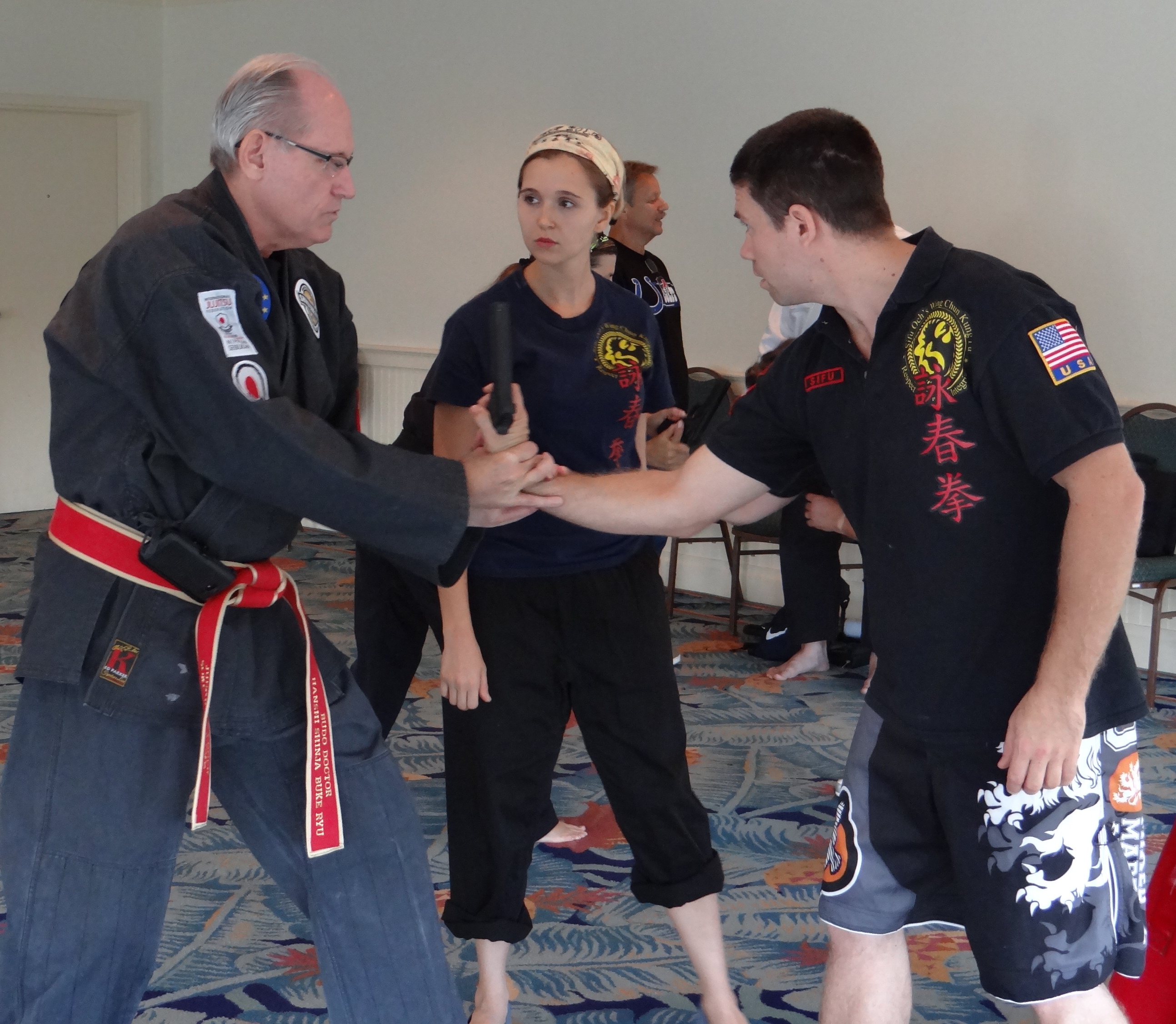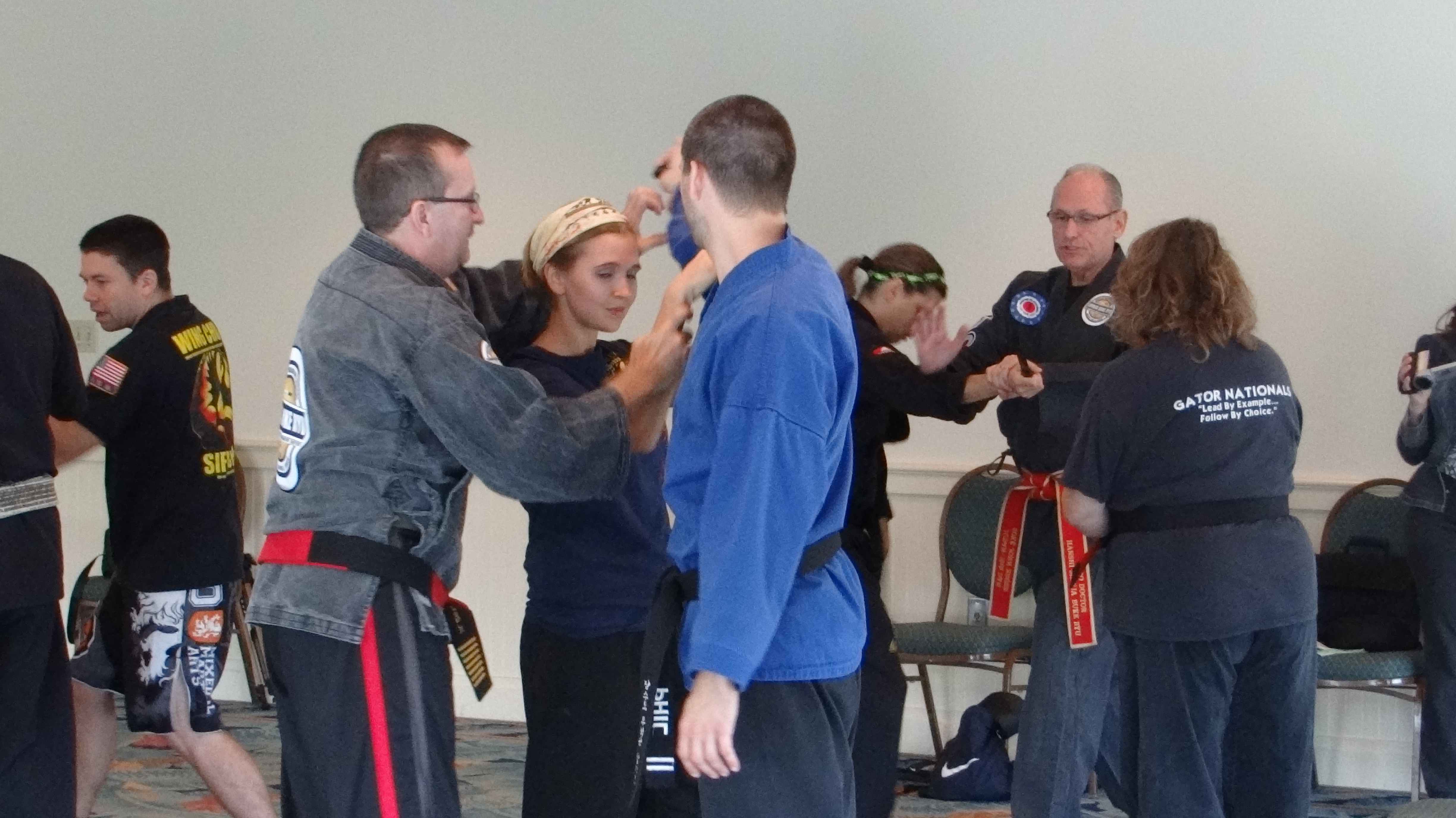 Grandmaster Kinney's Secret Vault
After lunch, Grandmaster Kinney shared some of the "secrets" or subtle techniques that made him famous on the tournament circuit and as a master of martial arts worldwide.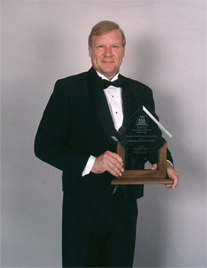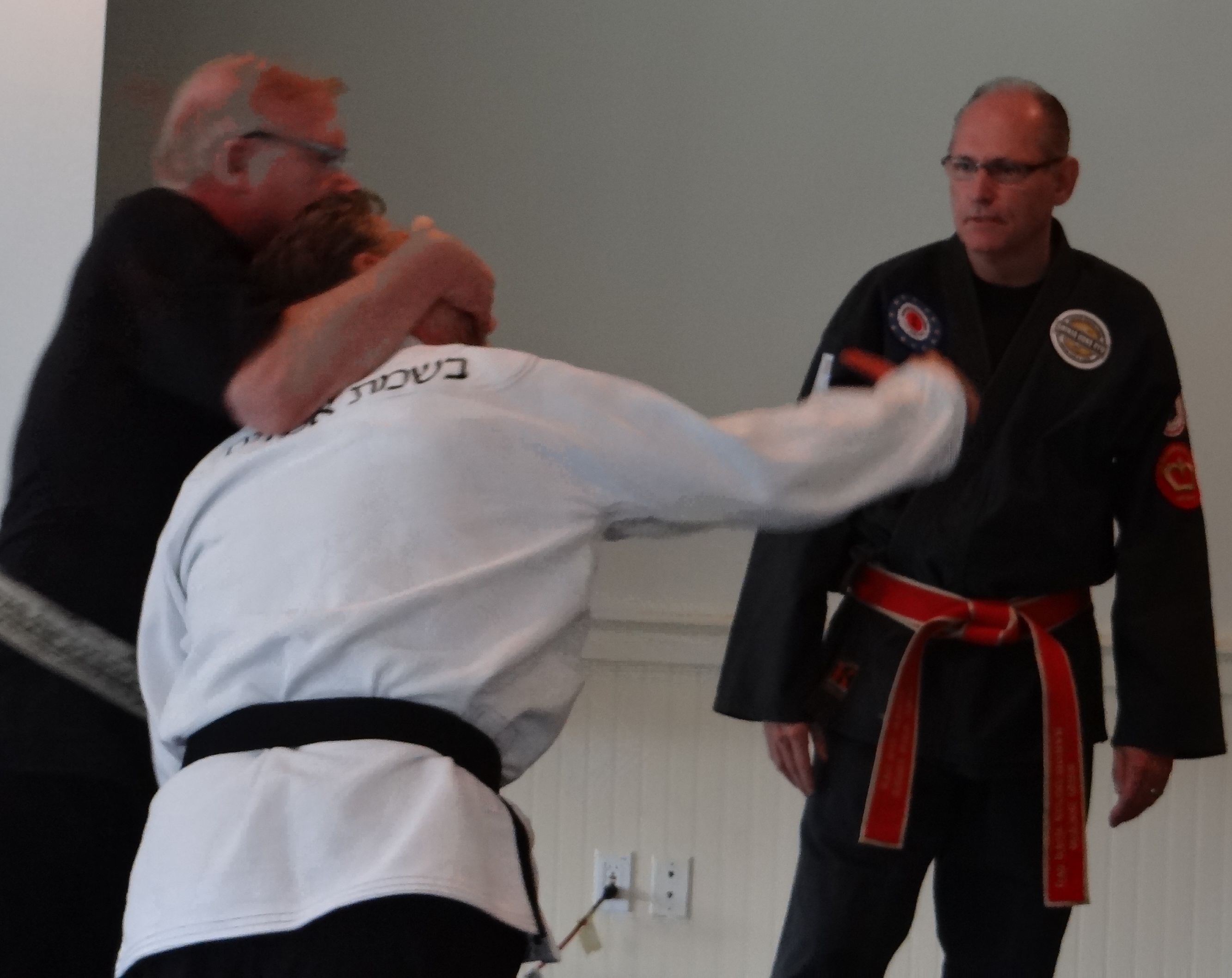 Tactical Stick Fighting
With Master Keith Foskey was the last official event of the day. But, as usual parting company was hard to do.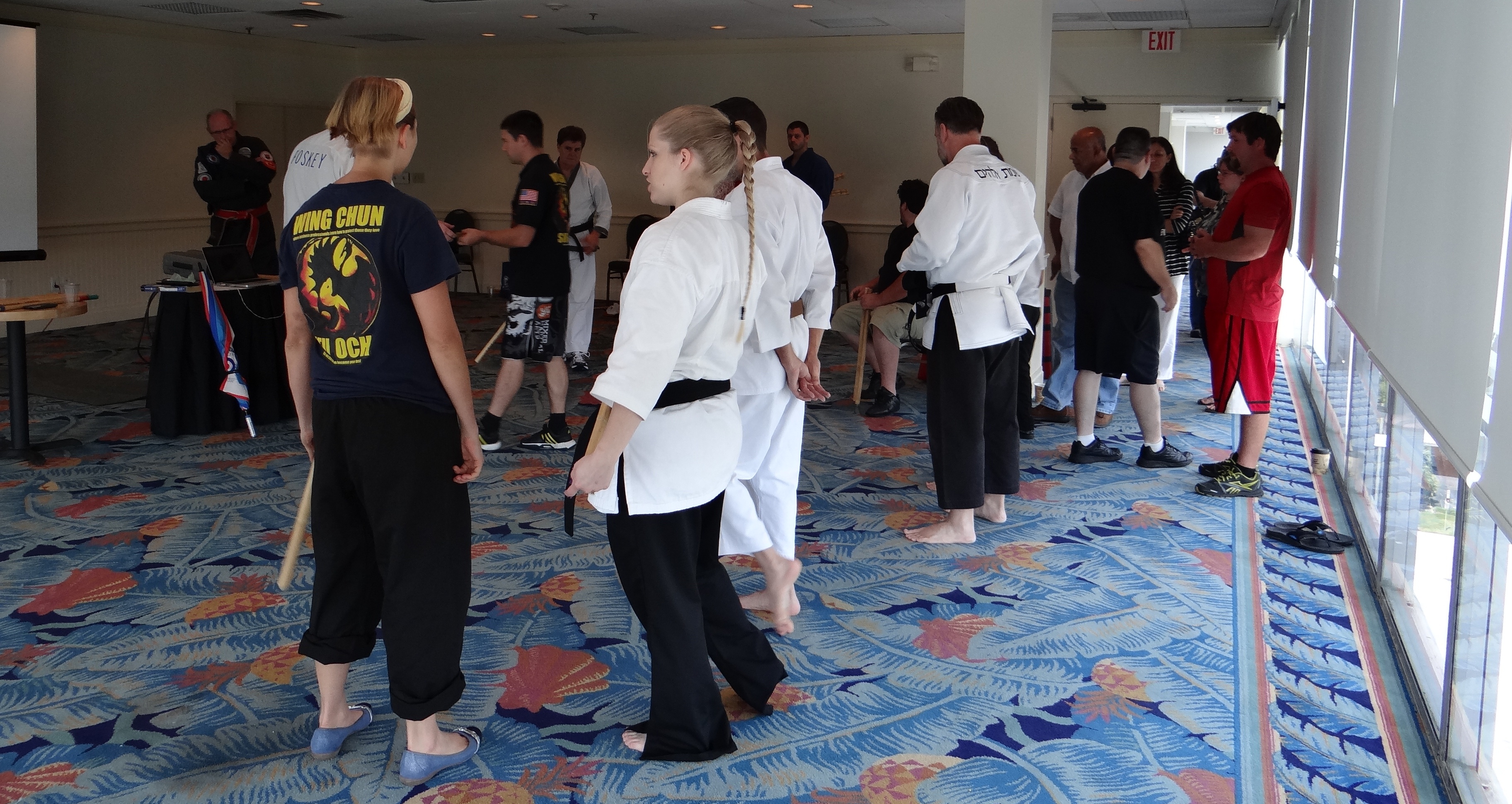 They lingered long after the event was over, talking, exchanging phone numbers and techniques having pictures taken, getting Qi Gong Therapy from Grandmaster Harris, talking to Ray Foley about the SRC4U martial arts programs.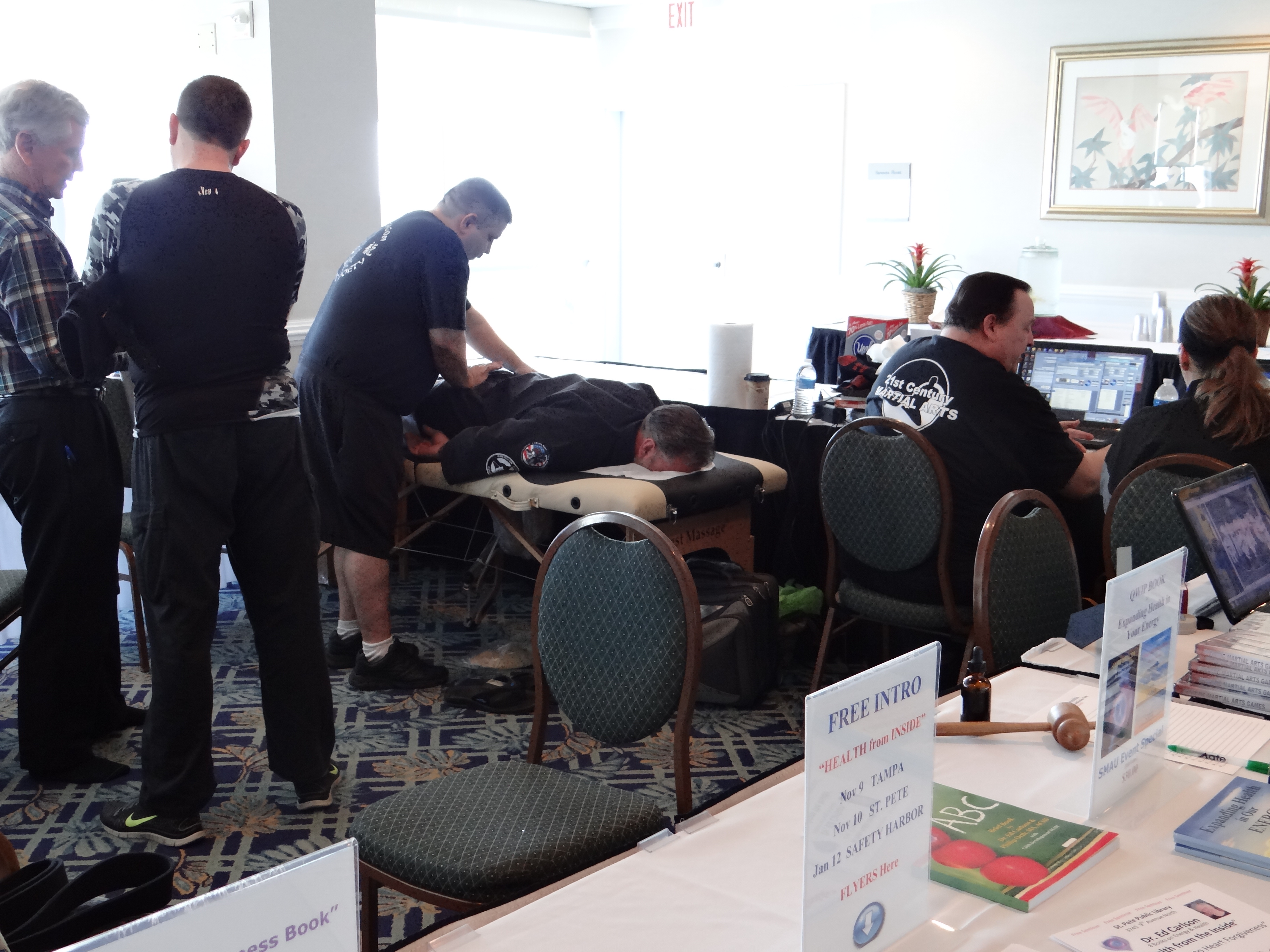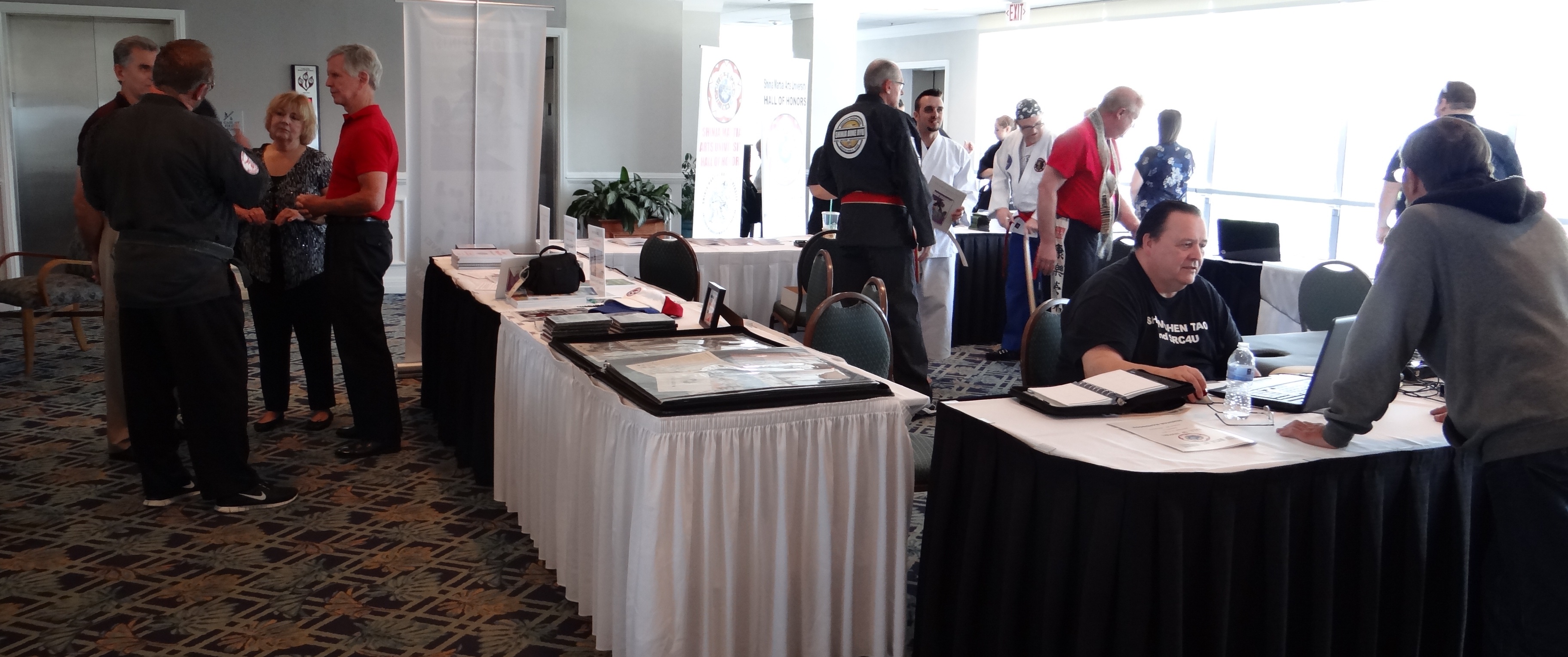 It was sad to see it end, but a thrill to have met so many fine people and enjoyed such fellowship on beautiful Lido Beach.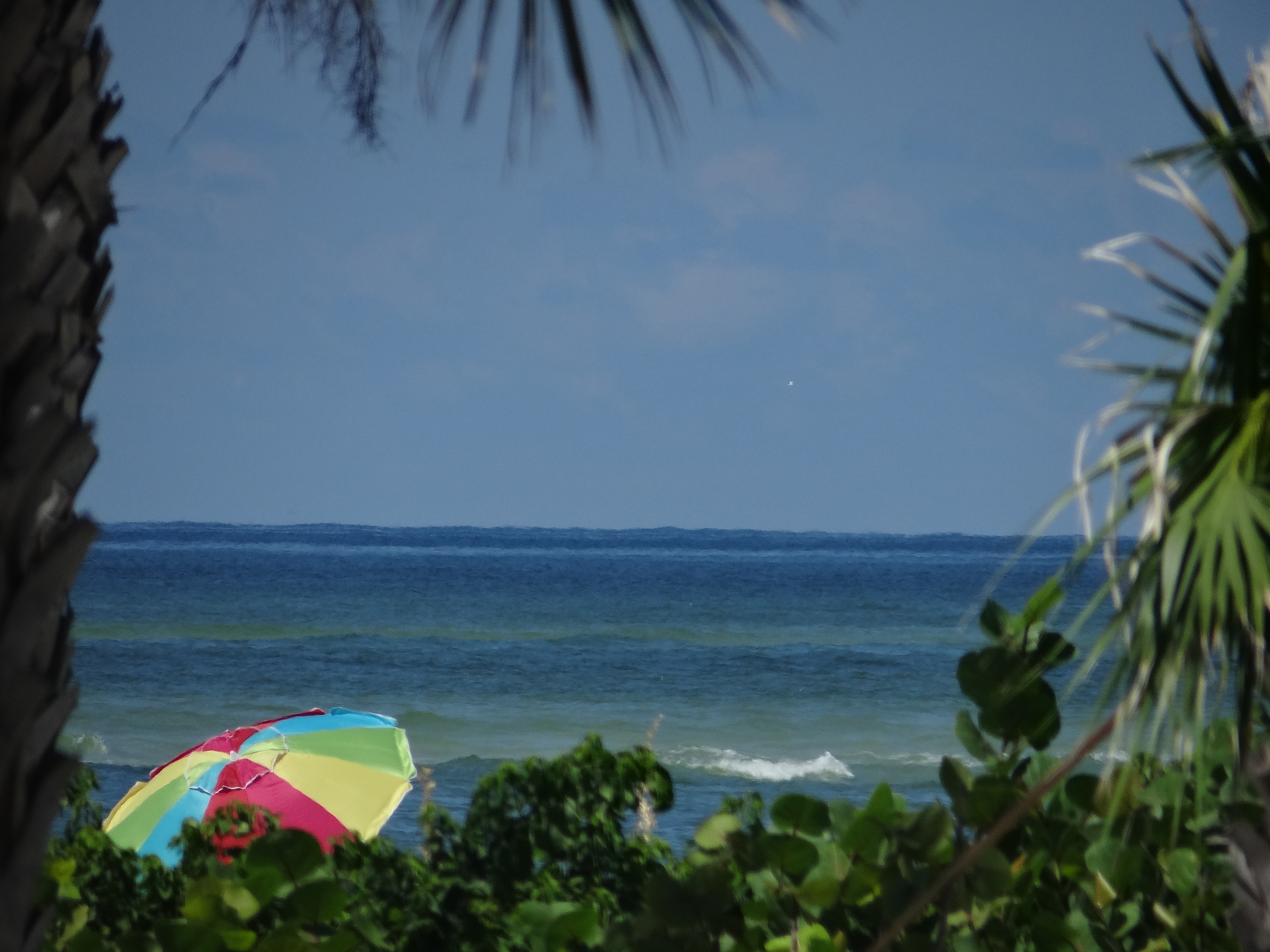 Thanks to Shinja Martial Arts University for hosting the event, we look forward to doing it again next year.