Black Dragon Fighting Society Reunion 2012
Clarion Hotel, Lexington KY October 5-7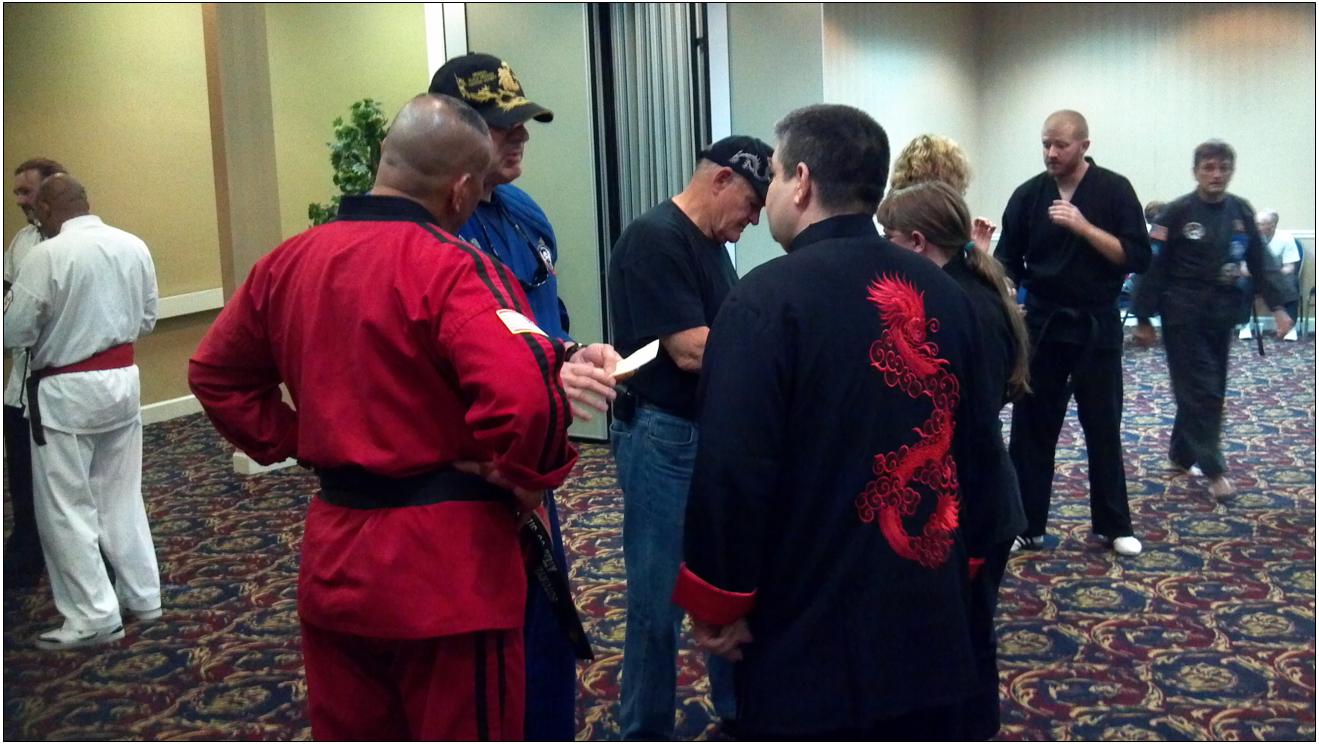 "Listen!" the voice of Grandmaster Lawrence Day echoed through the grand ballroom of the Clarion Hotel in Lexington KY. "Quit coming up to me and asking if I can get Frank Dux to 'sign this for me.' Go ask him yourself. He'd be glad to do it for you." With that he quietly turned back to what he was doing before. And so, it became the First General Order at the Black Dragon Fighting Society Reunion. "Check your ego at the door." We were there to train and share what we had learned, no rank, no style, no color, no politics, no show-offs. Just martial artists who love what they do and believe it makes a difference.
Hanshi Frank Dux, the inspiration for the classic martial arts film , Bloodsport had arrived at the end of the previous day following a series of seminars in Louisville KY. He entered quietly and embraced his friends, mentors and students equally without disrupting the class in progress. Some, like Dr. Don Miskel, he had not seen for thirty-five years.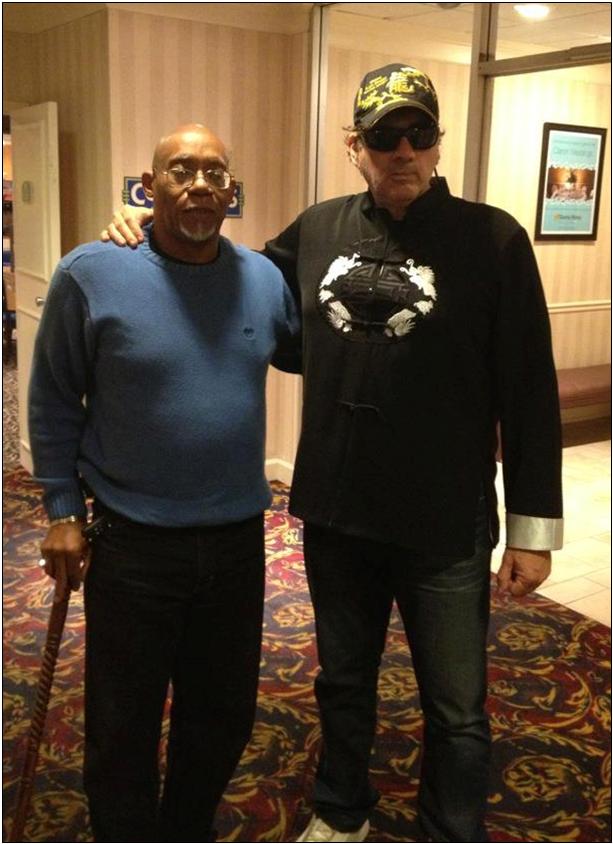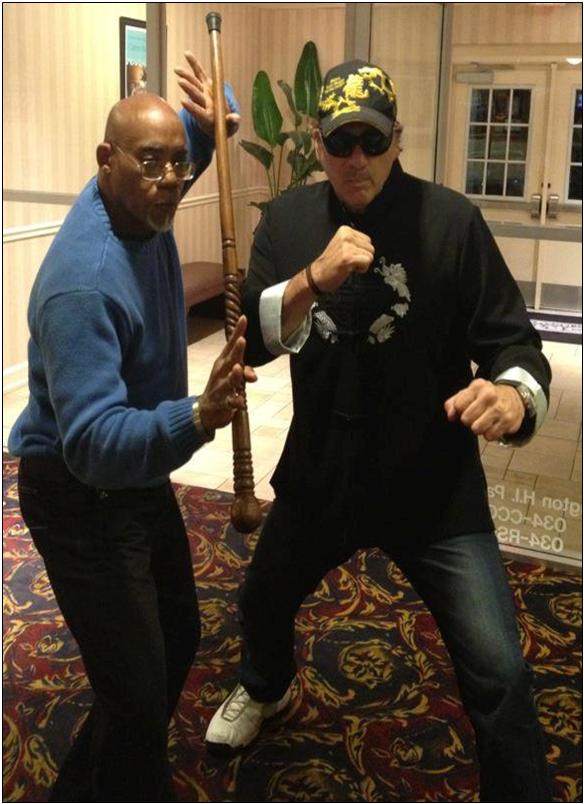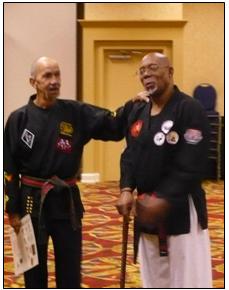 Dr. Day introduced him as a "kid who had to fight his way across Southside Chicago to take Karate lessons from Count Dante," who had lived with and trained with him until the end in 1975. "I was a street tough kid in a rough neighborhood of an unforgiving city. I studied the martial arts more for survival than for any esoteric reason. I wasn't interested in competing or in demonstrations. They say that necessity is the mother of invention and where I grew up fighting prowess was a necessity not a nicety. It was about survival and not art. When I sought a martial discipline and an instructor I needed someone and something based in reality."
"Because of the nature of my MOS in the armed services, I had more than a few opportunities to use the training that I underwent in the WKF and the BDFS. I credit it for keeping me alive when others around me fell. I am sixty two years old and I still work out and train. Aside from my martial arts training I lift weights and strength train regularly. I'm a minister, pastor and Christian Counselor; and while, for the most part I like to think of myself as somewhat of a pacifist, I am still able to give a good account of myself if need be. That, with the many memories that I cherish, is the gift that was given me from the 'old days'."
Chicago was basically ignored by the martial arts media during the mid and late sixties due to the hard knocks approach to the martial arts that was so common. John Keehan took on the persona of Count Dante, a near mythical character, part hero and part villain. John could be theatrical and pretty volatile and he was combative if confronted. Needless to say, there was a lot of confrontation 'back in the day.'
In Chicago 1969, the American Black Dragon Fighting Society was founded by John Keehan (AKA Count Juan Rafael Dante) who was co-founder and mid-west director of the United States Karate Association (USKA) until 1962. John Keehan allegedly resigned from the USKA in 1964 due to the USKA patronizing "whites only" facilities in conducting its tournaments as well as refusal to promote minorities other than Asians to Shodan. (Black Belt, 1st Degree)
In Chicago, allegedly under the auspices of international Black Dragon Society members, Count Dante, who had participated in Kokuryukai style Kumite Death Matches on the forbidden Chinese mainland, returned from Asia to promote the first open to the public, full contact, mixed martial arts tournament. Keehan's relationship with his overseas contacts and his black students inspired him to not give the martial arts world of that day any respect for the way it divided people because of their skin color, like preventing Victor Moore from competing for a title. When the opportunity presented itself Moore, an original (BDFS) bested the likes of Bruce Lee, Joe Lewis, Bill Wallace, Chuck Norris, Mike Stone and alike. If not for original Black Dragons taking over a 'whites only' hotel and outnumbered 20 to 1 and risking going to jail, Vic never would have his chance to fight and become the first Black World Karate Champion. Back then there was a lot of prejudice in the martial arts community. The BDFS changed all that. In fact, it was during the 1968 protests at the Democratic National Convention fighting for such rights that Ashida Kim became acquainted with the organization.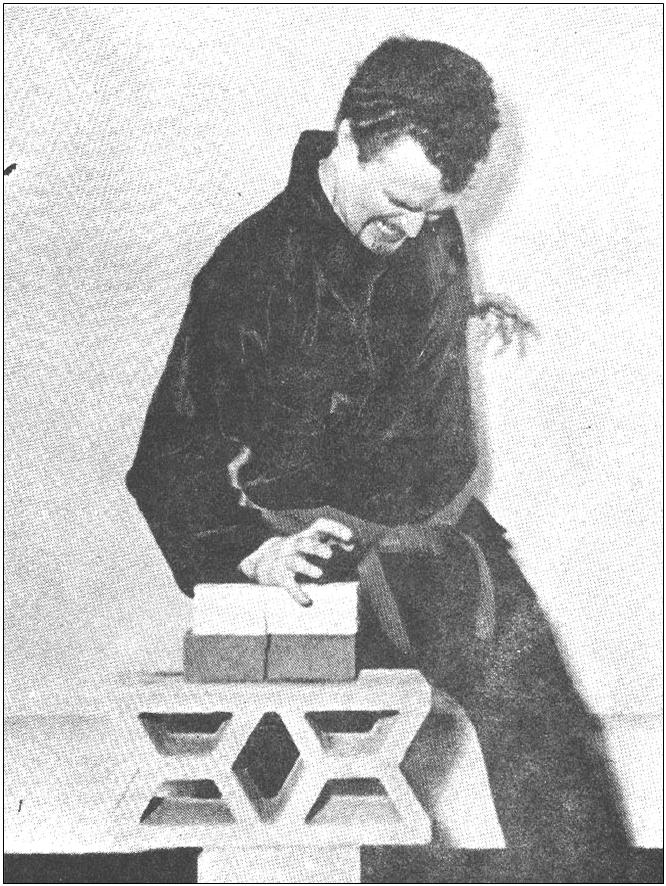 The event was held at the University of Chicago, on July 28, 1963. Many other such tournaments were hosted by him during the 1960s, pairing practitioners of different styles against one another in these bare-knuckle, no-holds-barred, last man standing events. Keehan's early tournaments attracted a host of martial arts luminaries—like Ed Parker, Jhoon Rhee, and a pre-Enter the Dragon Bruce Lee—as well as new students. Keehan was one of the few men who could side-kick or punch a brick in half, though at one event it took three strikes and Keehan wound up breaking five bones in his hand. Still, he showed up at the dojo the next day, his hand in a cast.
In May 1975, at age 34 Keehan passed away unexpectedly. According to urban legend the death touch Tibetan Iron Palm strike was allegedly administered to John Keehan. Killed over his flamboyant transgressions and associations regarding Black Dragon ties to the Chicago and Japanese Mafia.  Nonetheless, as legend goes, with his death the invitation to fight went to another protégé of Senzo Tanaka, Frank Dux, the basis of the 1988 classic film based on true events in the life of (BDFS original member) Frank Dux.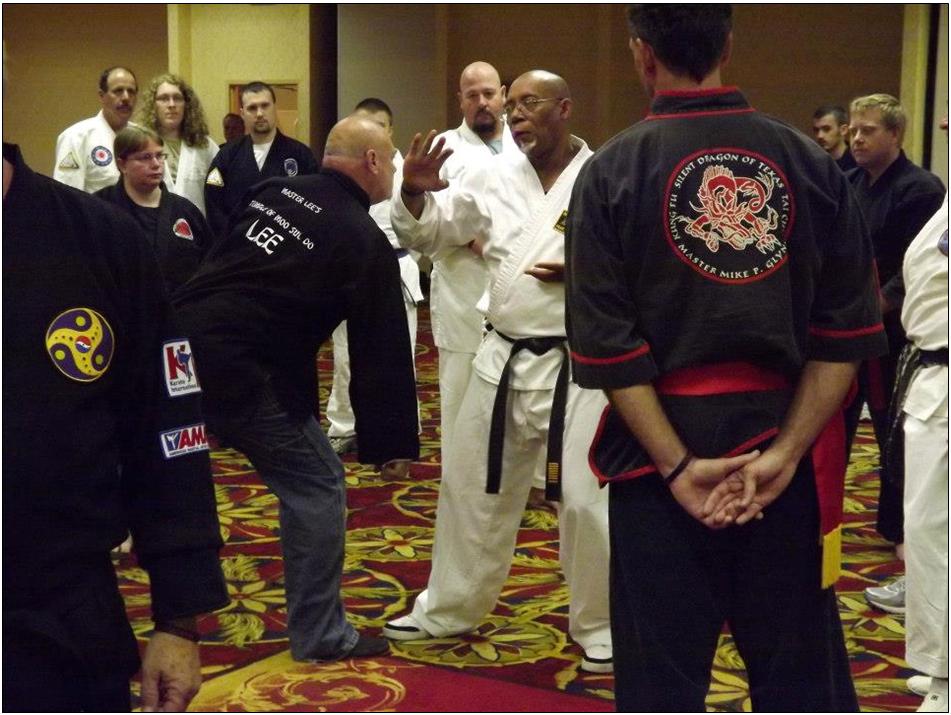 The martial arts offers more than just a handful of fighting techniques. The United States military man spends only a few days in hand-to-hand training. That includes the special operations types such as the Green Berets and the Navy SEALs. I was trained in those arenas and I was never offered more than a few hours of H2H combat training. But, with only their minimum of training, I would hazard to guess that these soldiers could give the average martial artist the lesson of his life. The trained soldier is able to fight; but, their training doesn't offer the benefits that the martial arts gives, if properly taught.
Through an education from martial arts movies and cinema, the martial arts student often comes to the Dojo expecting more than a lesson in fighting. Caught up in the martial arts mystique, he seeks moral and spiritual direction from his chosen Sensei or "teacher." Watching a host of Jackie Chan and Bruce Lee movies, his expectations have been set. He is looking not so much for a 'Cobra Kai' type of instructor (as in the Karate Kid) but more for a 'Mr. Miyagi' who will teach him a more enlightened way. This expectancy places the martial arts instructor in a unique position. It offers an opportunity to sow spiritual seeds into the hearts and minds of these eager seekers of knowledge.
The martial arts have deeply spiritual roots. Many of them were born in Buddhist and Taoist temples. There is a reason why spirituality was traditionally woven throughout the arts. It offers a balance that must be maintained to keep well trained combatants from becoming psychopaths, murderers and bullies. The samurai had Bushido to balance out their ability to hurt and kill. The warriors of the Silla dynasty in Korea had the Hwarang philosophy. A balance needed to be kept to maintain the humanity of those trained warriors. Balance is all important in the life of every human being; but, it is especially important in the life of the warrior. The martial arts are a wonderful vehicle for self-discovery and physical improvement. It teaches discipline and it will, hopefully, enable a student to defend himself should the need arise.
The teaching and learning and sharing went on all weekend long. Seldom do so many grandmasters assemble in one place. It was a golden opportunity to see and meet and train with the best of the best, who have proven themselves in the ring, on the battlefield and over long years of practice and study. 2012 is the Year of the Black Dragon in Chinese astrology, so it is only fitting that we come together again, to share what we have learned in 36th Chamber, the Dojo of the world.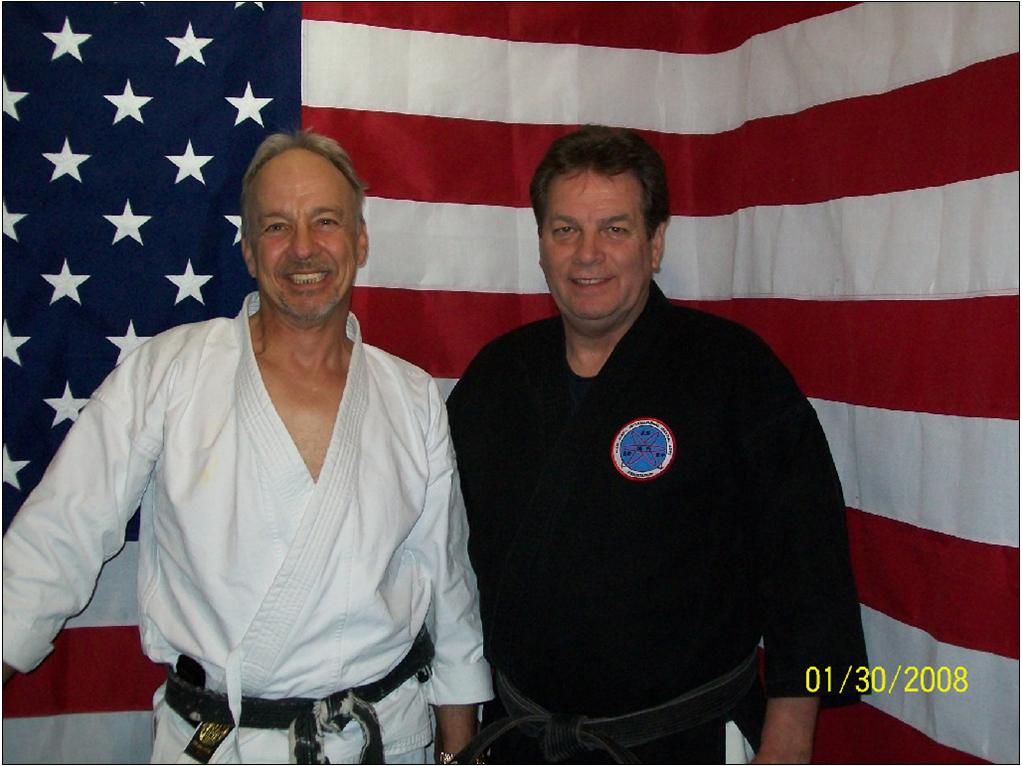 Grandmasters Jim Grubb and Jim Washington taught their method of Ju-Jitsu and Karate first. Grandmaster Grubb has competed and medaled nationally and internationally in ju-jitsu and other events. Dr. Grubb was the assistant coach to the U.S. Ju-Jitsu team for the first World Cup in Copenhagen, Denmark. Grandmaster Washington began his training at an early age in judo and jujitsu. Later he began training with Master Bob Long. Dr. Washington later went on to compete and medal in multiple national and international competitions.


Grandmaster Irving Soto demonstrated his art. Grandmaster Soto has been training for 52 years in jujitsu, aiki-jujitsu and atemi. He is a U.S. Dept. of Justice, Federal Correction tactical defense instructor. He holds a 10th Degree Black Belt and Red Belt; he is President and Founder of the New GGMAHF International Martial Arts Hall of Fame; 8-time World Kumite Champion 4-time World Kickboxing Champion; 4-time Grappling Champion; 3-time World Jujitsu Champion; 5-time Bare Knuckle Champion, Full Contact; and a 13 time inductee into the Martial Arts Hall of Fame. He has received awards from Col. John T. Wright, US Army Deputy Installation Commander, APG for teaching military personnel, civilians and police officers at Aberdeen Proving Ground. He is the winner of 3000 trophies, holds four World Championship Belts, and is the author of five books. He is also the holder of 39 high-ranking black belts and 8 masteries in the martial arts science. At the World Professional Martial Arts Organization with Great Grandmaster Aaron Banks, founder of WPMAO, 2005 Hall of Fame held at Madison Square Garden inducted Grandmaster Irving Soto as "World Renowned Instructor and Demonstrator and World Champion." Grandmaster Soto is currently a police officer for the U.S. government, Department of Defense with Homeland Security.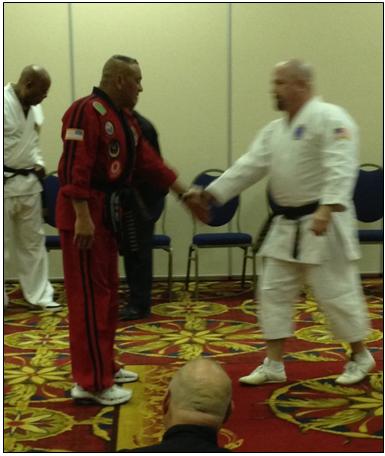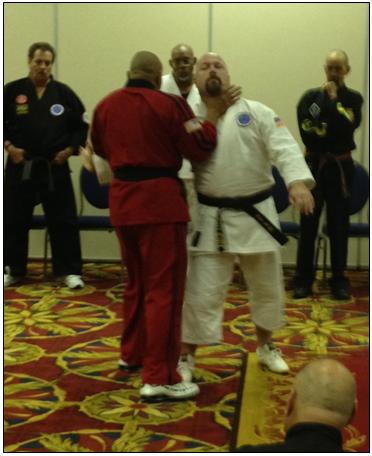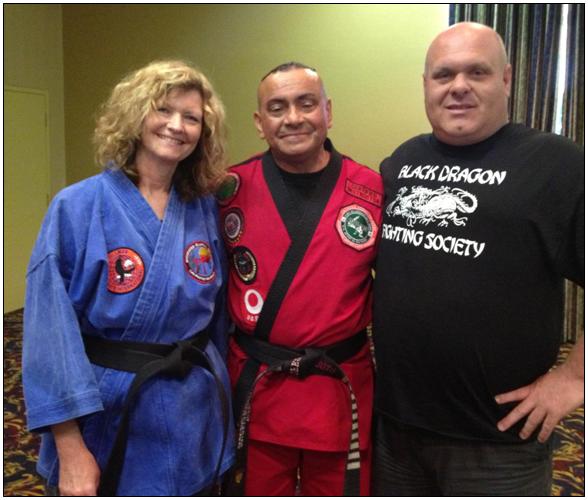 Grandmaster Soto in class and with Dana Stamos and Mike Ahern
Sky Benson explained the subtle ramifications of proper positioning to align muscles and open the channels of energy. He began training in martial arts at age 9. First, with the art of Shaolin Kung Fu; and was awarded a Red Sash under Sifu Chu. By age 15 he had distinguished himself as a point competition champion. He then started anew training under Bloodsport Legend, Hanshi Frank Dux whereupon, after more than 25 years of study, he is ranked as a 7th degree Black Belt in the art of Dux Ryu. Sky Benson is one of a handful of instructors familiar with Dux FASST (an acronym for Focus Action Skill Strategy Tactics). It's tactics are adopted and in use by elite police and military units (e.g. US Navy SEALS, Russian BERKYT, Burbank Police Dept. etc.) world-wide. Throughout his years of training Shihan Benson cross trained in and acquired Black Belts in Tae Kwon Do, Tang Soo Do, Goju Ryu as well as trained in several other martial art forms. He has done many seminars with Hanshi Dux and is his top student. He has proven himself with the BDFS as a Grandmaster in the organization.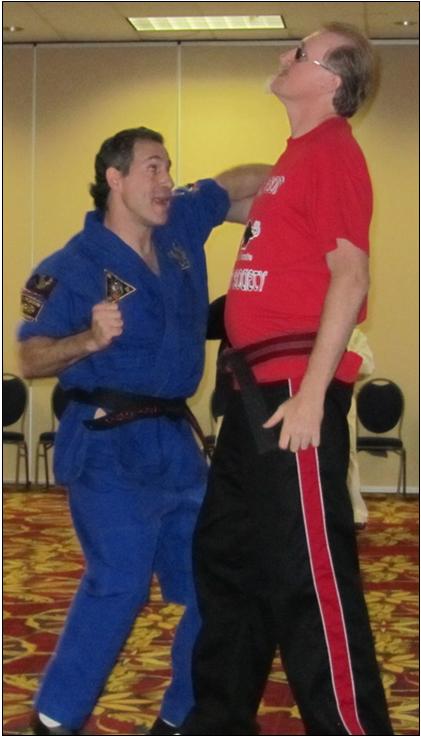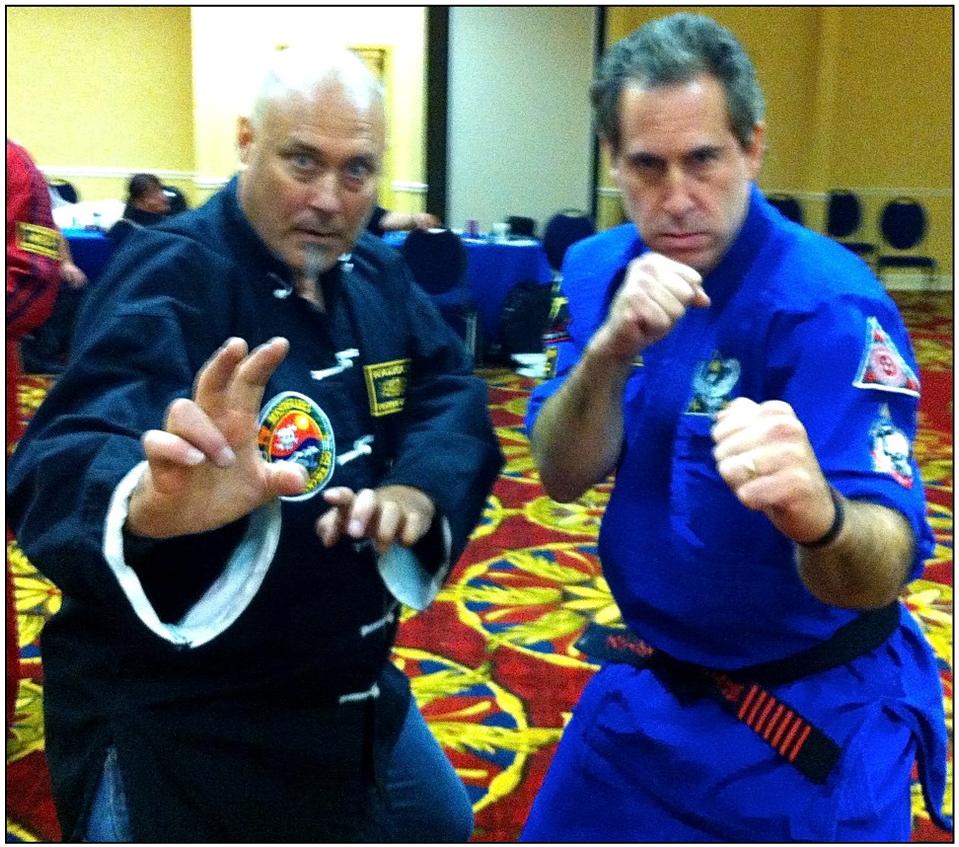 Grandmaster Sky Benson with Grandmaster Soto and Master David Lee
Mike Glynn provided instruction in Tai Chi Chuan and Qi Gong. He began his investigation and study of Chinese martial and healing arts about 30 years ago and has been a student of Grand Master Lawrence Day since 1995. "I began my training mainly as an effort to rehabilitate a knee injured playing football. I've had three surgeries and no longer have an anterior cruciate ligament, but in some ways this has been a help more than a hindrance. It has helped me to have a greater degree of sensitivity to my body, mind and life. I could easily look at that injury and curse the fateful day when it first occurred. However, if I had not had my knee torn apart, I probably would not have found the martial arts and never reaped all the rewards that come with this type of training. Martial arts has given me so much. I try to return the favor with my students and find rewards everywhere I look. I work with the senior citizens community teaching Tai Chi for Health for a living, teach kung fu students, practice and teach Reiki. I feel like a beginner and wish to maintain that attitude for as long as I live."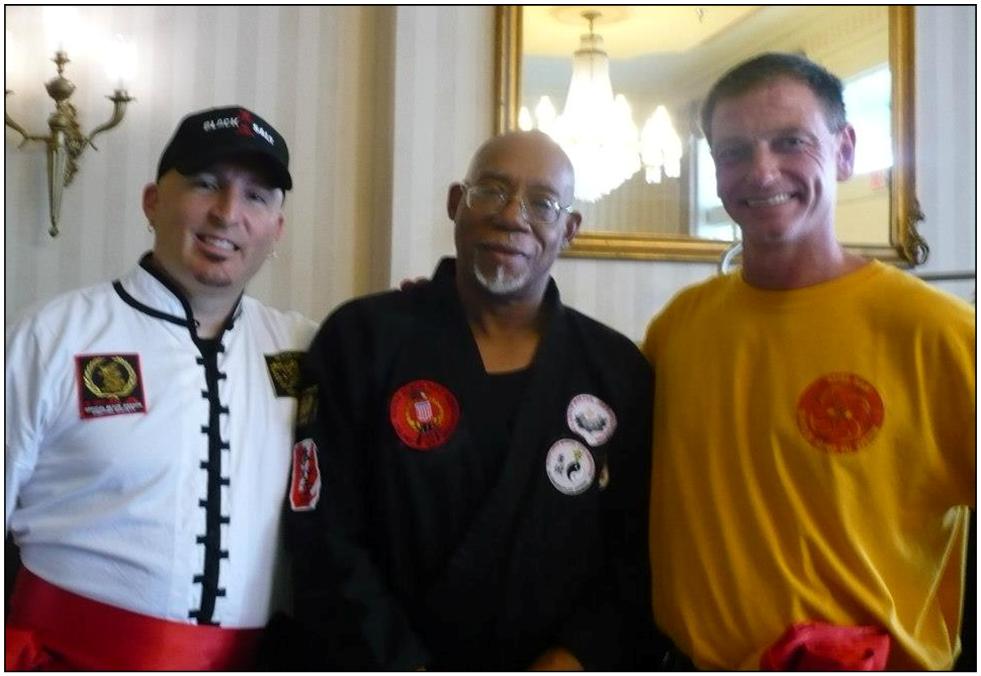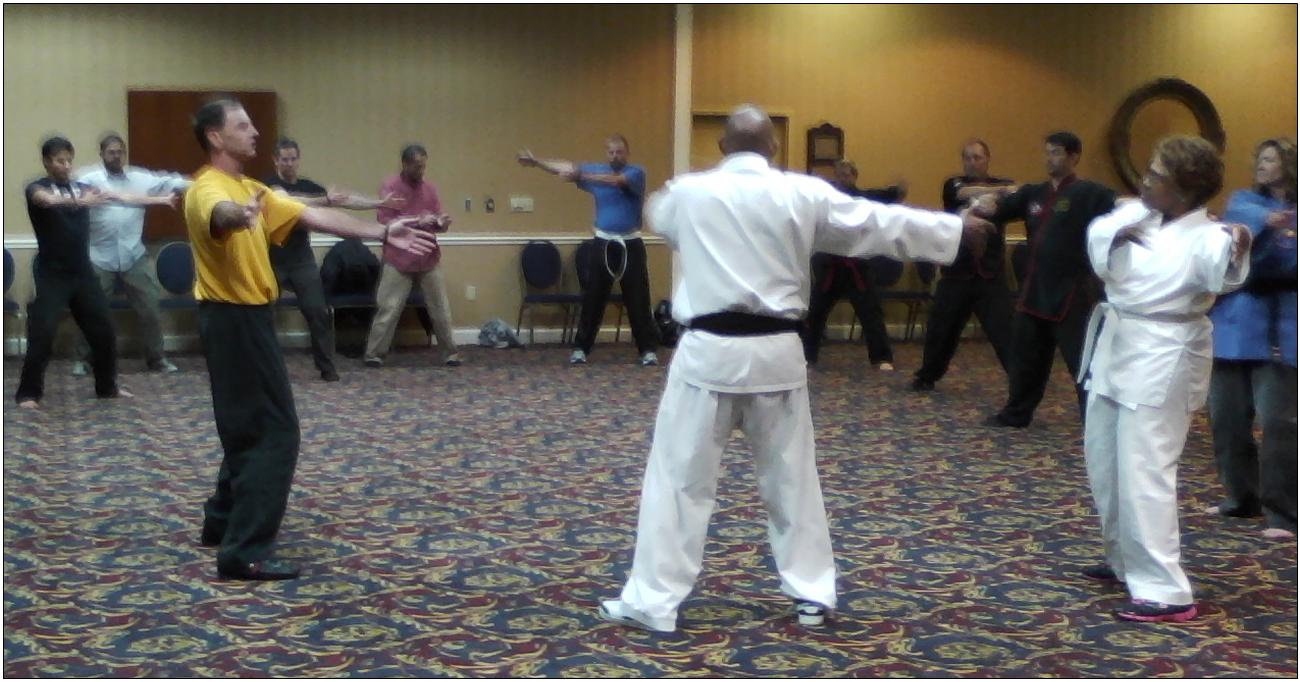 Sifu Mike Glynn with Si-Gung Brian Robinson and Grandmaster Miskel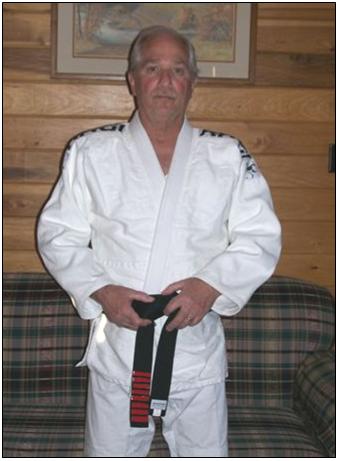 Local MMA promoter and Black Belt Champion Jim McMurtrie gave a short history of the early days of martial arts competition and expressed his martial arts philosophy to those assembled. "I want to point out some facts, so there is no confusion between the sanctioned Go-No-Sen matches I fought in and the underground invitation only matches that were held 10 years later and were called the Kumite. These were matches held over a year after the Go-No-Sen fights were last fought. These underground matches were fought by some great fighters as John Keehan and Frank Dux. These matches were brought to light by the movie Bloodsport which was modeled after Frank Dux. From the time I can remember I loved competition and enjoyed street fighting at the age of 5. By 7 years old I had a reputation on the streets and had no fear of anyone. My grandfather took me to a YMCA where I meet Mickey Ballard the boxing instructor, who would be with me for the next 23 years. During that year period I was a 4 year high school wrestler, a Go-No-Sen fighter, a points Karate fighter, and a pro black belt Kickboxer."
"In 1959 I meet a small Asian man who enjoyed coming to my boxing matches. He asked me if I would like to come and watch one of his Martial Arts classes. I was amazed at his speed and the aggressive style he had. His name was Steven Mitsu and held the rank of 8th Degree black belt or Grand Master. I joined his school and became a member of the Go-No-Sen style of fighting. In 1964 I was awarded a 1st Degree black belt. I was his first American he had given this honor. In 1964 I was invited to fight in the Go-No-Sen matches in Okinawa. I won the title that year and became the first American to ever win these matches. In 1965 I returned to Okinawa and defended my title. Making me the only person to have back to back wins in this event."
"In 1966 I entered Ed Parkers Karate tournament in San Francisco. These were points matches; and, for 3 years, I competed. In 1969 I retired from amateur boxing and was tired of points Karate. I spent 20 months in Vietnam, coming home in late 1970. By this time I started to compete in pro kick boxing where I went undefeated. I retired from all combat sports in 1975 at the age of 30. From that point till now I have trained Boxers, Go-No-Sen fighters, and in 2002 I brought Mixed Martial Arts to Kentucky and became the first MMA promoter and longest running promoter. In my 58 years of combat sports, 52 of them in Martial Arts, I have been blessed with a lifetime of friends, and a family that understands that I never disliked anyone I competed against; and, to the day I die, I will always treasure my life's work in promoting my sports and for the friends it has brought me. My accomplishments are the rewards that I hold close to my heart. My God, My Country, My Family, My Friends and My Martial Arts. I know my bio should include my fight record, but I would like my record to just say I fought in 5 different styles and I never lost. I hold the rank of 8th Degree black belt and have earned the title "Grandmaster Undefeated."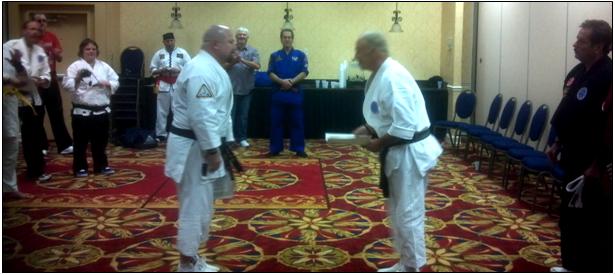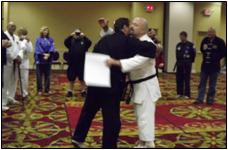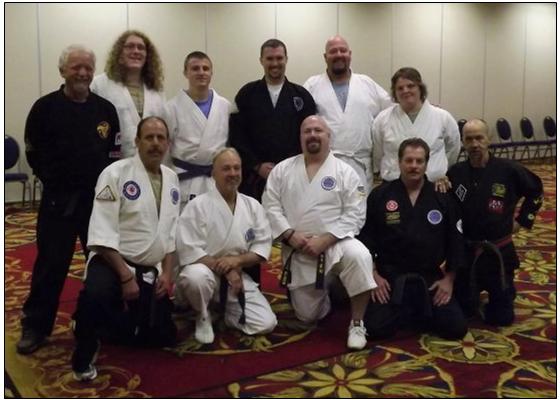 The afternoon ended with the promotion of several students who formally received their certifications and congratulations before those assembled; and, the advancement of Sensei Kelly Oliver to Shichidan, Black Belt 7th Degree.
Friday Night
Friday evening many of those attending had dinner at the Sports Page Bar and Grill located in the hotel. Local singer and DJ Ty Devers Karaoke Night was on tap and the masters participated fully. From "golden oldies" to rock-and-roll, the music flowed and all the party sang and danced the night away. Some reports have them closing the place down at 3 a.m.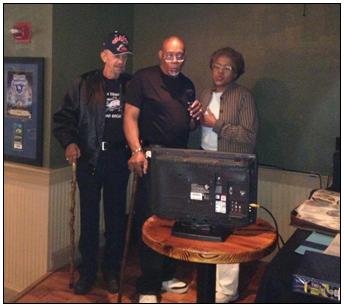 Grandmasters Soto, Brian Robinson, David Harris, Sky Benson LIVE ONSTAGE! Grandmaster Day, Dr. and Mrs. Miskel serenade the crowd!
Nonetheless, next morning everyone was standing tall for Dr. Miskel's invocation, as the Official Chaplain and Director of Chaplain Services for the BDFS, reminding us all to be grateful for the life, liberty, freedom and opportunity to enjoy our camaraderie and fellowship.
Saturday, 6 October 2012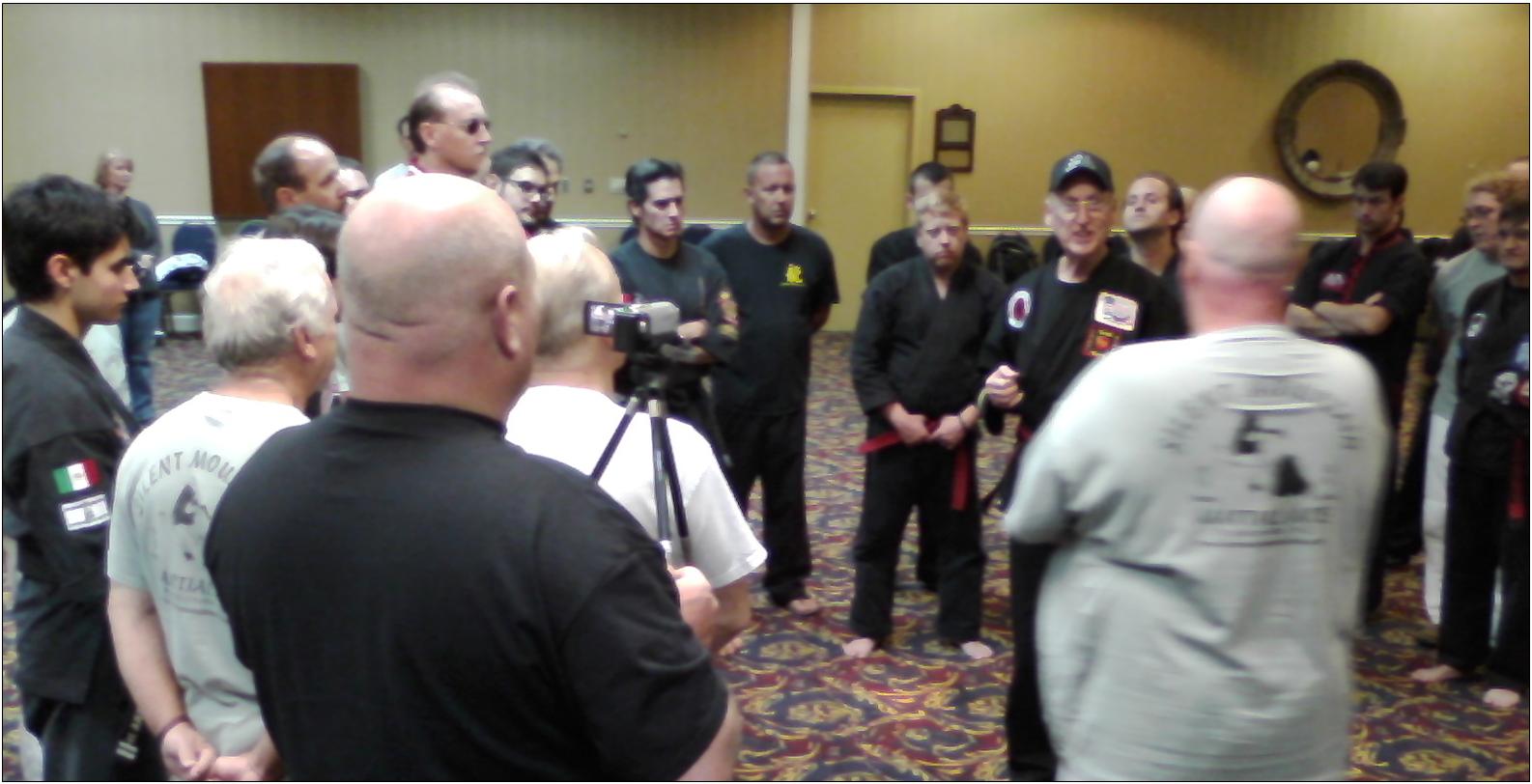 The day began with a dramatic presentation of Chi Master Walter Rice demonstrating his ability to project his internal energy through solid objects in such a way that a volunteer on the other side can actually feel the pressure of his touch or tap, even over great distances. Grandmaster Rice describes this effect as gamma radiation based on his research of the subject. Chinese medicine refers to it more as a wave of energy that is transmitted from particle to particle along the course of the projection. That is why the density of the barrier and the distance it travels is irrelevant. It is much more difficult to transmit Chi through air or water than solid objects. Chi is the electromagnetic life-force that binds the universe together. It manifests as Yin and Yang, the Five Elements, and flows within, around and through the ten thousand things. It is in the air, in food, in water. All things have Chi that can be extracted, collected, cultivated and circulated for good health and longevity. Grandmaster Eugene Rice led the class in practicing the exercises used to develop this skill. He began studying Shaolin in 1970. He has trained in Karate, Kung Fu, Iaido Sword and Tai Chi. He has an 8th Degree in Karate, an 8th Degree Kung Fu and an 8th Degree in Iaido Sword. The room was filled with warmth and healing energy.
Then Chris Page and Jason Frasure taught Count Dante's infamous Dance of Death. Without doubt the most savage and terrifying self-defense form known to man. It is composed of twenty-seven of the deadliest Poison Hand techniques ever devised by the mind of man; each one of which is guaranteed to kill, cripple, or maim any opponent. This form is not for the squeamish nor the weak at heart. The effective execution time, when mastered, is five seconds.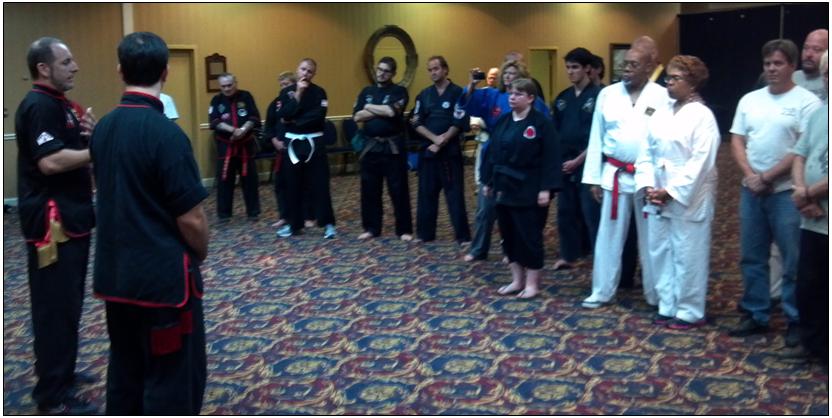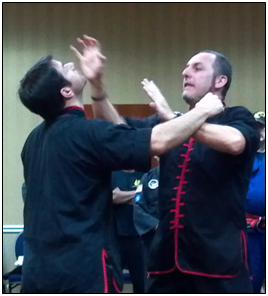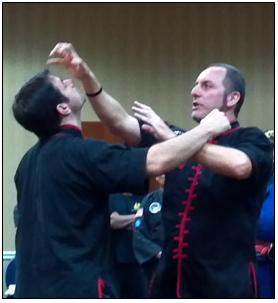 It is one of the few acceptable forms that can be used to become a member of the Black Dragon Fighting Society and was taught by Count Dante through mail order advertisements in the sixties. Early attempts at publication were rejected because of the brutal and horrifying nature of the techniques. It made him famous and was one of the first martial arts manuals ever published by an American.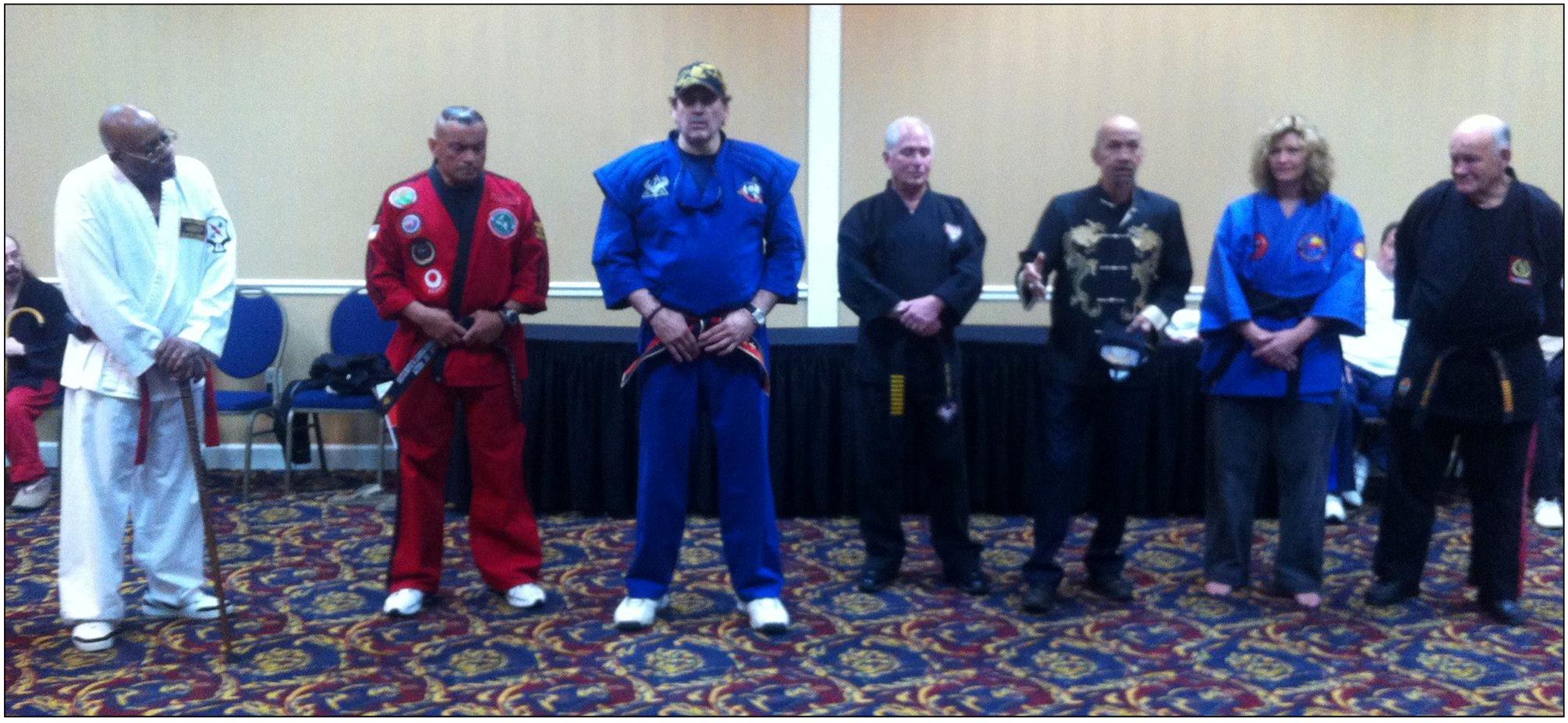 GM Don Miskel, GM Irving Soto, Hanshi Frank Dux, GM Jim McMurtrie, GM Lawrence Day, Black Belt Guest Dana Stamos from WorldWideDojo.com, Shihan Ernie Reynolds
Hanshi Dux and the other Patriarchs went on to explain that Count Dante's philosophy was that martial arts were only for soldiers and fighters and should not be taught to the general public. You would be shown a technique and sent out onto the street to try it out. If it failed it was because you didn't do it properly. There was no "trash-talking" in the old days. If you got word that someone was bad-mouthing you or the club, everyone just loaded up and went over to settle the score. But, as we grew and became more mature, things changed. We became less about beating people up and more about healing them and helping them find their way.
His instructional seminar dealt with the Twelve Angles of Attack and the corresponding Twelve Angles of Evasion that are the foundation of the fighting system that has enabled him to survive and prosper; and so, permit him to be of service to others.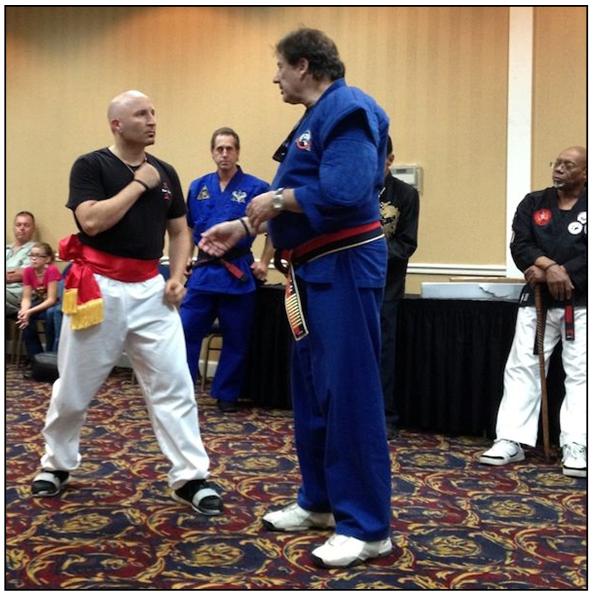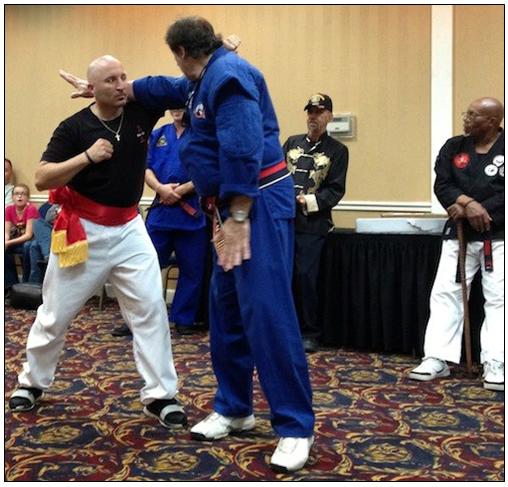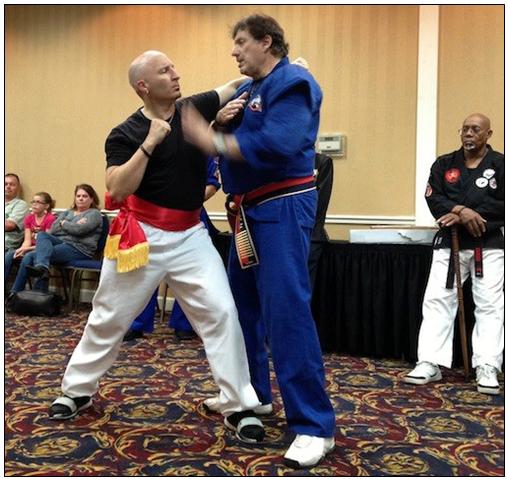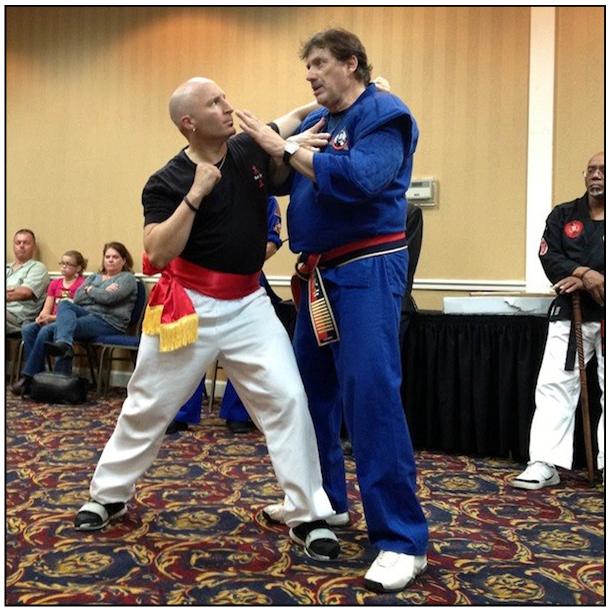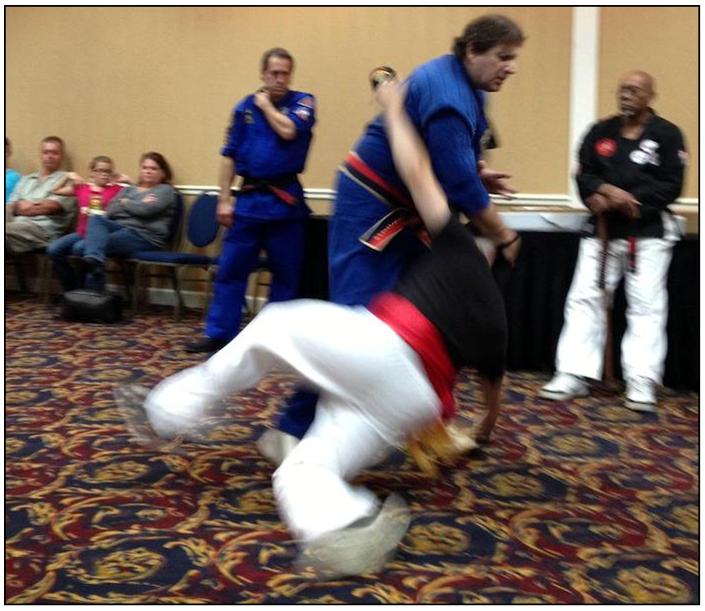 Being a black dragon in name and paper work is one thing and to have pride in that alone would be folly. But, living up to all that being a black dragon means is something worth having pride in; because, in essence, it means being true to oneself. We have defined ourselves to include being someone that others can turn to and rely on. Members of the Black Dragon Fighting Society or Kokuryukai are not typical martial artists.
Black Dragons are warriors, many of which are blessed to be in the armed forces or otherwise serve their nation of origin. Black Dragons strive to be a positive force wherever we find ourselves, making our communities better. We are all proud of our affiliation and fellowship. But that pride is balanced by an understanding of the price we pay for belonging to this brotherhood. We are outlaws in the eyes of many, much like many motorcycle clubs, marking the society as being in the 1%. The price for being one percent in this sense, is that we must all back each other, being all for one and one for all. To face one of us is to face all of us, for we represent more than mere martial arts. Yet by being brothers, we are encouraged to express ourselves and be proud of what we do. What each of us does adds to or takes away from the Society. We take pride in what I have done, but take even more pride in what we are going to do now. This is the true treasure of the dragon and the legacy of the Black Dragon Fighting Society.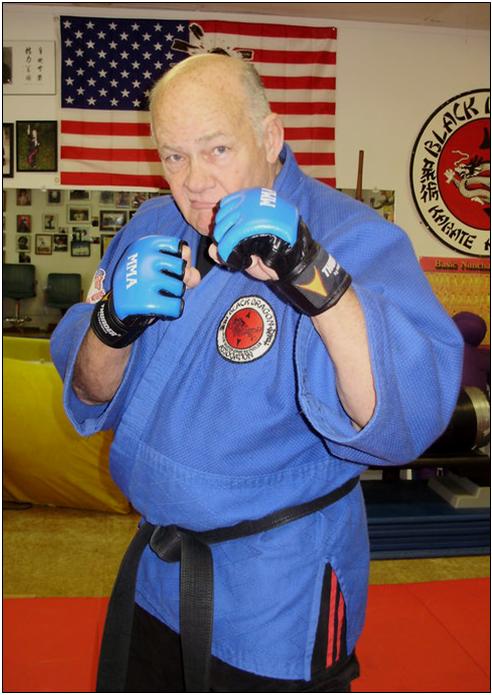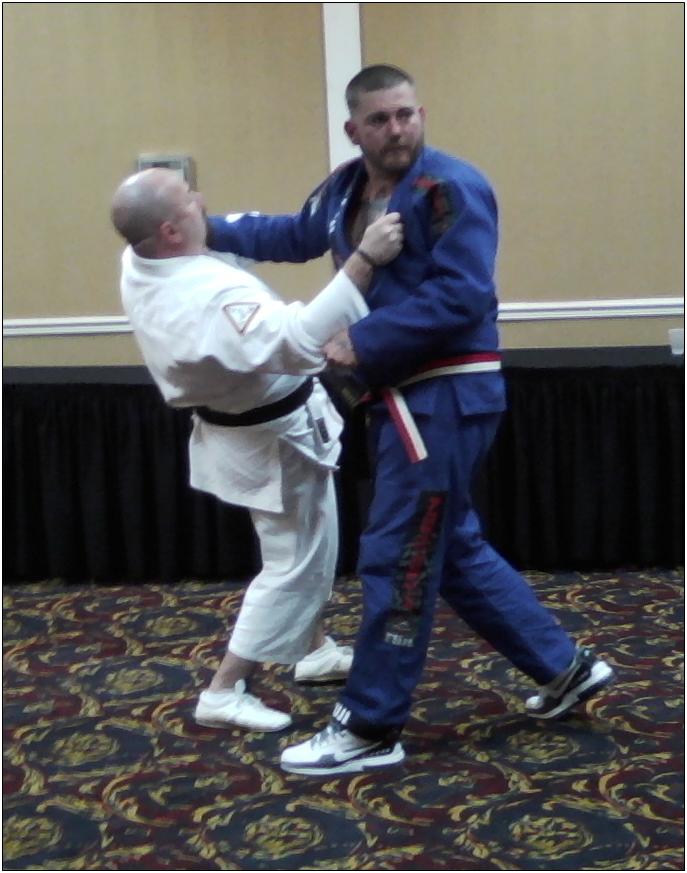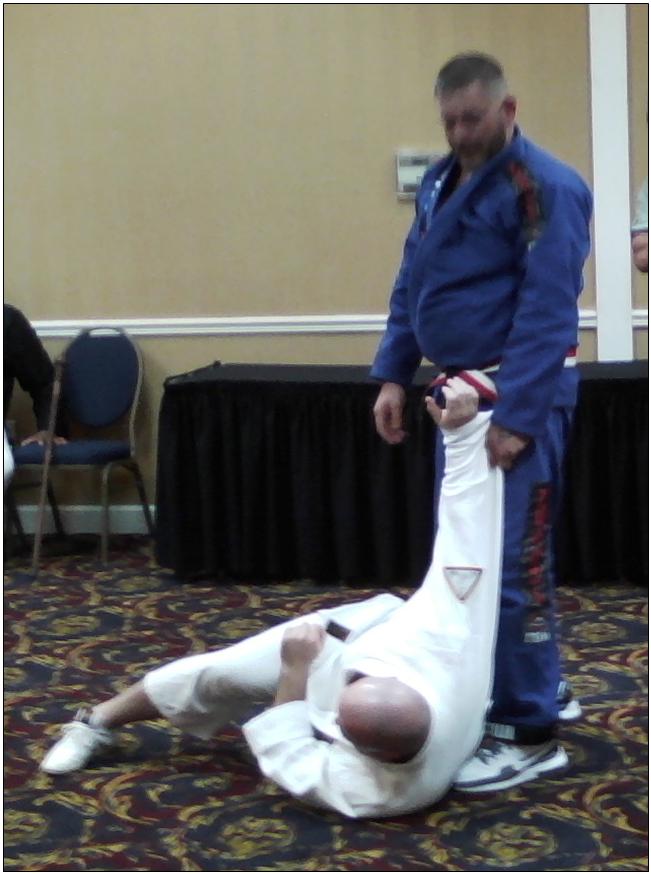 The last official class of the day was Shihan Ernie Reynolds Judo Instruction. Kendo player, Judo player, bodybuilding champ, grappling expert, karate master and Martial Arts Hall of Famer. These are just a few of the accomplishments of Dr. Reynolds. Ernie was an energetic youth with little freedom but lots of creativity. A sense of justice emerged in Ernie even as a young child. Many times he had to "take care of the bullies" because he could not stand to see anyone "picked on." Like many American boys he played football and generally liked school. He has appeared in many books and has a series of 25 video tapes on Iaido, drawing of the live blade. As an instructor he has taught countless children and adults. He has taught many handicapped children martial arts also. Blind, deaf, autistic, not one was ignored. His personality and dedication never fail to inspire. One of his sons, Sensei Shane Reynolds presented an excellent program on Kuzushi, "breaking the opponent's balance." A fitting lesson, since "balance is a lesson for whole life."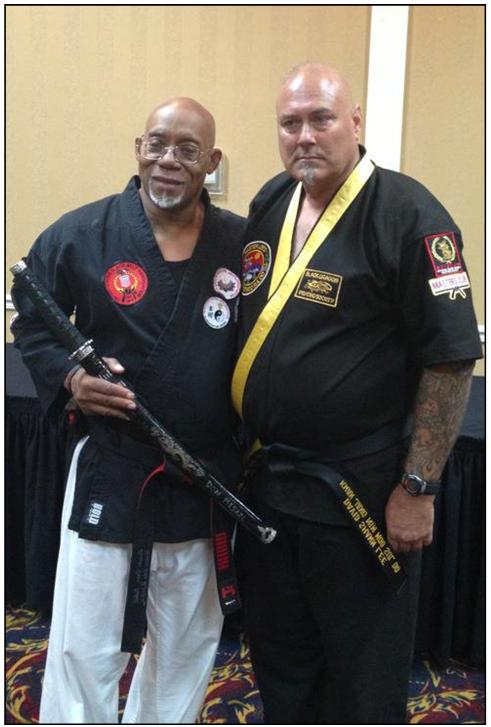 At the close of classes Saturday Master David Lee of Reno NV gifted Grandmasters Miskel, Day, Dux, and Kim with ceremonial black dragon swords in commemoration of the event. To each he asked: "Sensei, will you accept this sword?" As the sword was passed cradled between the outstretched hands and accepted likewise in return, "I will with honor." replied Dr. Miskel, bowing in the traditional manner. The others each bowed in turn and did as well. It was a solemn moment of respect and brotherhood.
As the crew dissembled there were many pictures taken, addresses and e-mails given out, handshakes and hugs warmly exchanged. It had been another wonderful day, sharing techniques, learning and growing, making new friends and reminiscing with old ones. No one wanted it to end. Little groups gathered in the corners to practice "one more thing." But, soon it was time to go. The room had to be set up for the Military Honors Ceremony that night.

Just time for a quick group picture and we adjourned for the day.
Saturday Evening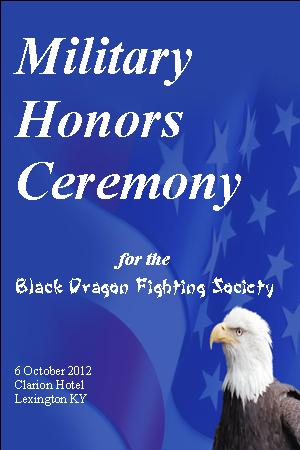 At 5 p.m. a special Military Honors ceremony exclusively for attending veterans of the Black Dragon Fighting Society began. Master of Ceremonies Deborah Cobb welcomed those assembled to Lexington. Pastor Donald Miskel gave the invocation, followed by presentation of the colors by the 138th Fires Brigade Honor Guard. Everyone stood in respect and covered their hearts as the flag of our nation passed by. Those on active duty saluted. Next, singing of the National Anthem by Michael Brian Welch and the P.O.W./M.I.A. ceremony performed by Richard Burrows, Robert Arnold, Lawrence Day, Allen Day and Dwayne Day. It was a stirring tableau, placing the POW flag over the empty chair, the table set for one; a single red rose in the center with a red ribbon; a plate with salt to symbolize the tears of loved ones, and the lighting of the candle for those still held prisoner and missing in action. Then the mournful history and meaning of Taps, the haunting melody played solemnly at every military funeral since the Civil War to express the utter futility of war and great personal cost to civilization and man.
Then each member was called to receive the recognition of the State government and be awarded the honorary rank of Colonel in the Kentucky Militia; in recognition of "brave and courageous service as a veteran of the Army. Inasmuch as this outstanding citizen demonstrated a laudable willingness to boldly and skillfully do what was required to maintain peace and preserve freedom in the world, this august body is honored to join in saluting this exceptional individual for both the courage he has exhibited and the sacrifices he has made while serving his fellow man. As this valiant citizen has given much to gain victory and ensure freedom, he has brought great honor to his family friends, and is hereby honored for the dignity he has enabled us to maintain in this Commonwealth and Nation as a member of the United States Armed Forces."
There were then several special award presentations by Douglas Day, the honoring of the families of Deceased Veterans and closing remarks by dignitaries attending and distant. The colors were retrieved by the Honor Guard and the meeting ended with the benediction by Pastor Miskel.
Sunday Morning



Hanshi Dux opened the meeting to discuss some of the allegations and misconceptions about the Black Dragon Fighting Society. First, was the accusation that the BDFS awards rank and has promoted some individuals unfairly. Not so, says us! We are a fellowship of martial artists. We have among our membership many schools and many teachers. We do not test for, nor award rank. We only recognize rank earned and certifiable from legitimate Sensei and organizations. We are not recruiting members, nor giving people rank to enlist them. We only invite those we feel are worthy to join us in our noble mission to preserve, practice and promote the martial arts.
He spoke about the code of conduct among martial artists and the traditions of honor and respect. And, with sadness, about how even a loyal student can sometimes violate that code and be banished for it. How it is the duty of martial artists to keep the peace, defend the helpless, to set a good example for all, just as the legendary boxers did in China.
We spoke about how internet rumors and lies from third-party conspirators had become the weapon of choice for keyboard commandoes and basement dwelling trolls to stir up trouble or trash and bash not only our members, but indeed, anyone who did not pay their extortion. How we had extended a Facebook invitation to all the naysayers and challengers to come to Lexington and meet us instead of living in their fantasy world. To see for themselves that we are not giants or monsters, just men, who have come a long way down a hard road and know some things. And, how not one had shown up.
We talked about where the Black Dragon Fighting Society had been and where it was going in the 21st century. How best we could uphold the standards placed upon us by our teachers in so many fields and pledged our honor to do our best. Everyone who was there received an 11x17 Certificate of Membership in the Black Dragon Fighting Society, sequentially numbered, embossed with the gold corporate seal and signed by the Patriarchs, Dr. Don Miskel, Dr. Lawrence Day, Hanshi Frank Dux, Grandmaster Jim McMurtrie and Sensei Ashida Kim. As we parted ways Grandmaster Day remarked, "You know, I've gone to a lot of karate events over the years, but I think this was the best one I've ever been to." To which we all gave a hearty Amen!
This note was posted on Facebook by Mike Ahern following the weekend. "Dr. Day: Hanshi Dux, Sky Benson and myself can't thank you enough for putting us up here for the Reunion!" And, a good time was had by all! And then, it was time to go. So, we made our farewells and parted friends and brothers forever...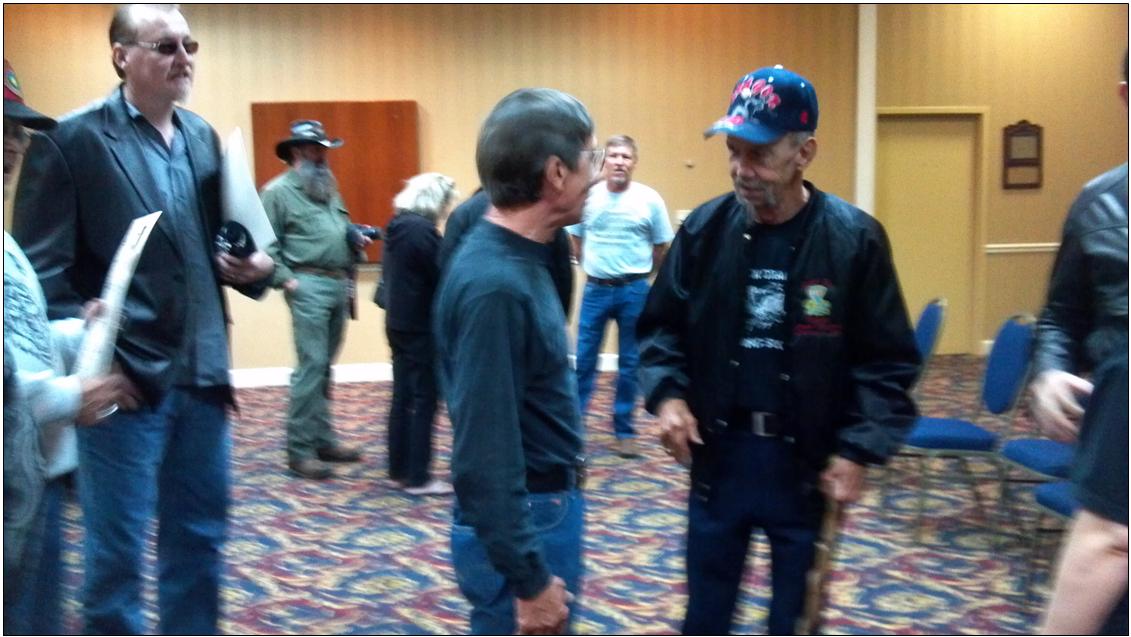 Once in a lifetime the great masters of the martial arts assemble. It happened in 1890, and 1920, and in 1975 when Frank Dux became the first American to win the Bloodsport Kumite. You have all heard of the early masters who didn't stop training till there was blood on the floor; who practiced "mess 'em up good" kung fu before anyone knew what Kung Fu was. Well, they came together in Kentucky and everyone was invited to attend. If you wanted to learn from the real masters, from the pioneers who made it all possible, this was your chance to come to the dark and bloody ground and meet the living legends of the Black Dragon Fighting Society. But mostly it was so old friends could get together and talk about the "old days" and how far we have come. It was to let people know that the Black Dragon Fighting Society has moved on, to a new level and a new direction. Real history is being written right now, we can learn from the past, let it go, and move on to a better future. All it takes is determination, and we've got plenty of that.
Later that year, Dr. Day passed away. He was an inspiration to us all. We shall not see his like again. It was his dream to see the Black Dragon Fighting Society continue as a fellowship of martial artists who would carry on the traditions and teachings of the ancient masters who passed it to our care. Each year we gather to honor his memory and renew our pledge to this Great Work.
You might also enjoy from DOJO Press: